DuPont Textiles & Interiors (DTI), Wilmington, Del., has received Federal Trade Commission
(FTC) approval for a new generic fiber subclass, elasterell-p, for its T-400 elastic fiber.
Introduced in 2001, T-400 is based on Sorona 3GT polymer from DuPont's bio-based business. The
comfort-stretch fiber, marketed under the DuPont Lycra® brand, represents the first significant use
of Lycra on garments that do not contain spandex, DTI reports. The fiber has superior stretch
and recovery and yields a smoother finish when compared with textured yarn, according to DTI. It
also offers dimensional stability, easy care and chlorine resistance. Suitable for use in woven and
some knit apparel, including socks, it also has potential home textile uses.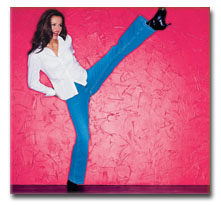 DuPont's T-400 elastic fiber adds comfort stretch to denim jeans.

Fabrics containing T-400 are available through the Lycra Assured Mill partner network. Fiber
production facilities are located in Chattanooga, Tenn. Toray Industries Inc., Japan, is licensed
to produce the fiber for the Japanese market.
In other news, DTI has established a 50/50 joint venture with Shinkong Synthetic Fibers Corp.
(SSFC) to manufacture T-400 in Taiwan. SSFC has already converted spinning machine equipment for
the T-400 products. The companies plan to begin operations in the third quarter of this year.

February 2003