Investments That Work
Avondale Mills' ongoing capital investment plan positions the company for low-cost delivery and
high-quality production. With a rich history of investment, acquisition, and focus on
quality, Avondale Mills is no stranger to innovation. A closer look at the companys technical
history reveals a well-honed strategy of plant and equipment upgrades, always positioning the
company for low-cost delivery of high-quality products.Since the acquisition of the Graniteville
Company in 1996, Avondale has invested more than $300 million in capital equipment. In 2000 alone,
more than $115 million was invested by this privately held firm. How does a private firm with
more than 5,600 associates, 20 plants and sales in excess of $600 million stay on course In
Avondale Mills Chairman G. Stephen Felkers words: More than 100 years ago, the visionaries who
formed Monroe Cotton Mills incorporated into their creed some fundamental precepts of doing
business, goals that we adhere to today.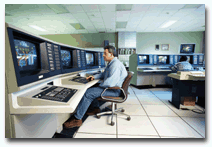 Avondale's Gregg Finishing Plant uses the latest computer technology to monitor its dye and
resin ranges. According to Felker, these fundamental precepts include:producing a product that
meets the needs of customers;ensuring a safe working environment for associates;taking pride in
manufacturing quality products;delivering on time; andpaying scrupulous attention to costs so that
a reasonable profit can be made.Weve made investments in good times and bad. Our dedication to
keeping Avondale modern and competitive is absolute, Felker continued. By reinvesting in Avondale,
weve equipped ourselves with the tools to fight not only domestic competitors, but imports from
low-wage countries as well.With an ongoing capital investment plan and plants that span spinning,
weaving, dyeing and finishing, Avondale Mills offered
Textile World a peek inside some of its most recent plant modernization
projects. Horse Creek PlantThe Horse Creek Plant, Graniteville, S.C., is a sound example from
Avondales acquisition and modernization history
(See Full Steam Ahead, TI, May 2001). As part of the 1996 Graniteville purchase, the plant
became the focus for consolidating Granitevilles weaving from other facilities, as well as a
platform for continued expansion as a world-class denim operation.With help from Suitt
Construction, additional space was added to make room for 240 Picanol Omni air-jet weaving
machines. These machines are fed by two computer-integrated Morrison indigo warp-dyeing ranges and
18 beaming machines, the most recent purchased from McCoy-Ellison. Hubtex beam-handling equipment
facilitates moving product, while West Point FoundryandMachine Co. provided four
computer-controlled slashers that deliver high-quality warps to the weave room.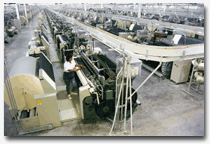 With quality at the heart of the weaving operation, the Picanol Omnis feature Alexander
Machinerys (ALEXCO) off-loom take-ups. As well, four Ingersoll-Rand air compressors were essential
additions to the air-jet installation. Pneumafils filtration systems and Luwa Bahnson/Parks Cramer
traveling cleaner systems ensure the proper weaving environment.Horse Creek was the first new
facility built by Avondale in some time. According to the company, the project was on a tight
timeline, but the efforts of Suitt Construction, Pneumafil, Picanol and the Avondale Engineering
Group kept the project on schedule so that it finished on time and within budget.It was an amazing
process to see the bare ground become a modern weaving mill in a matter of months, said Tim
Stansell, vice president, Manufacturing Services. Coosa's Linked UpgradesAvondale Mills Coosa
Plant, Rockford, Ala., is the companys first linked spinning operation. Specializing in carded
yarns for its sales yarn business and weaving operations, Coosa features Crosrol bale opening and
cleaning equipment, which leads to eight new Marzoli roving frames and 23 Marzoli ring-spinning
frames. Schlafhorst placed 12 winders, and most recently, seven Savio Orion I winders have been
added. Filtration systems by Roy L. Hartness keep Coosas environment contamination-free.Mark
Tapley, executive vice president, Western Operations, said, The upgrade at Coosa spearheaded our
entry into linked ring yarn production. The improvements we realized in quality and costs
buttressed our effort to be the leader in the yarn markets. They also not only reinforced our
determination to expand in carded yarns, but also convinced us to proceed with a linked yarn
approach in combed cotton sales yarns. Alexander City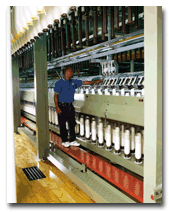 May 2000 brought the announcement that Avondale would invest $32 million in the conversion of
a portion of Bevelle Plant, Alexander City, Ala., to form Alexander City Plant. Bevelle continues
to produce high-quality denim fabrics, and the newly minted Alexander City Plant has been
fine-tuned to produce combed cotton yarns for the knitted apparel industry.Rieter, Marzoli and
Savio are at the center of the investment. There are two Rieter opening lines and 24 Rieter C51
cards with integrated grinding and Advanced Blowroom Control (ABC). Tateishi sliver cans feed eight
Rieter SB-D 10 drawframes for pre-drawing, monitored by Rieters SPIDER web system.Twenty Rieter E72
combers and eight RSB-D 30 finish draw frames with sliver guard utilize the UNIlap E32 transport
system to feed eight Marzoli FT 1-D roving frames with auto doffing. A roving transport system from
U.T.I.T. delivers roving to 25 Marzoli RST 1 ring-spinning frames that have a total of 32,400
spindles. Auto creeling of roving, automatic bobbin doffing and linked winding maximize
efficiencies. Savio winding systems take the form of 12 30-position and 13 38-position Orion I
winders with Uster Quantum Clearers to maximize yarn and package quality. The Orion I winders with
twin splicing produce quality yarn packages with strong splices, said Tapley.The yarn we are able
to produce at Alexander City has defined a new level of quality in the combed-cotton sales yarn
market. The level of technology achieved at Alexander City is the highest that is available with
current machinery, said Wayne Spraggins, corporate vice president and president, Manufacturing
Operations. Swint And TownsendThe Swint and Townsend Plants, both in Graniteville, provide the
spinning and weaving operations for Avondales sportswear and utilitywear fabrics. New machinery
complements and adds value to existing equipment that was kept after recent upgrades at the
plants.Swint, after a two-phase construction project, now weaves sportswear and utilitywear fabrics
using 110 Picanol Omni air-jets and 72 Omni Plus air-jets, in addition to the existing 101 Nissan
weaving machines. Townsends 80 Picanol Omnis round out the plants loom installation, which includes
49 Tsudakomas and 47 Nissans. Todo warp-tying equipment is used in both locations.Townsend houses a
new, modern linked ring spinning department, which includes nine Zinser roving frames, 27 Zinser
ring-spinning frames and 27 Schlafhorst winders. The department makes yarns ranging from 6/1 to
20/1 in size and, according to Avondale, the increased capacity is producing a stronger yarn for
optimum weaving performance.The capital investments at Swint and Townsend have enabled them to make
a better product at a lower cost, said Bo Bonner, executive vice president, Eastern Operations. In
fact, half the spinning production from Townsend is used to supplement the increased weaving
capacity at Swint. From start to finish, these mills are making a better-quality yarn, which, in
turn, makes a higher-quality fabric, Bonner added. Gregg Plant: Reinvestment In FinishingOur
investment in Gregg Plant supports our strategy of building a piece-dye, sportswear and utilitywear
unit in Graniteville. Swint, Townsend and Gregg Plants give us the flexibility and quality we need
to succeed in todays marketplace, explained Keith Hull, corporate vice president and president,
Marketing and Sales.Greggs modernization represents more than $30 million in Avondale reinvestment.
Central to the operation is a new 300-foot-long, high-speed dye range from Kusters that was
installed in 1998. The range features full monitoring and control by ABB, and dyes fabric at the
rate of 150 yards per minute.With a wash range and sanforizers supplied by Morrison Textile
Machinery, the finishing operation is rounded out with six sueders from Lafer. Despite Greggs huge
capacity, a wide array of finishes and surface treatments, and an infinite color spectrum are
available to our customers. Flexibility is a requirement of a full-service company like Avondale,
said Tony Royster, vice president, Dyeing.Krantz inspection tables and 10 EVS fabric-inspection
systems provide the tools necessary to ensure that quality is delivered in every yard. To earn the
large orders necessary to sustain the high volumes demanded by an operation such as Gregg, we must
deliver quality greater than that of our competitors, and deliver it on time, Hull said. The
knowledge of this requirement drives our management approach to machinery selection, plant
staffing, scheduling and quality control. Consider The WholePlant modernization and equipment
selection is just part of the story at Avondale. Talented and motivated associates make our
investments work; without qualification, these people are Avondales greatest asset, said Felker. We
rely on our machinery suppliers to provide us with leading-edge technology. As it evolves, we will
embrace this technology to enhance our competitiveness in terms of quality, cost and customer
service. It is not enough simply to buy new machinery; investment in technology must be justified
by improvements that are realized in the workplace and in our product and service. We will continue
to make every effort to ensure not only that we have the finest technology, but also obtain the
benefit from it.With a successful track record of more than 150 years, it would be easy for
Avondale to become trapped by the weight of its own history. On the contrary, Avondale Mills builds
on the past with a strong sense of its customers needs and its committed associates, seemingly
always ready to invest strategically to remain competitive and stay on course.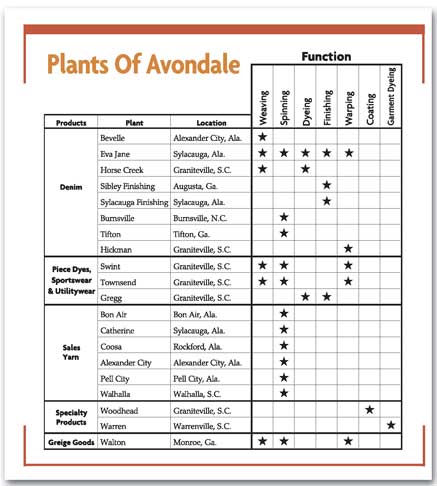 June 2002