ATMI Focuses On Trade
Will Washington keeps its promises Textile executives attending the American Textile
Manufacturers Institute (ATMI)s 53rd annual meeting heard repeated promises from government trade
officials and members of Congress that they are strongly committed to carrying out President George
W. Bushs nine-point program to help the ailing textile industry, but many members remained
skeptical. In the major address of the annual meeting, Secretary of Commerce Donald L.
Evans said: I want you to know that you have a friend in us and you can trust us to keep our word.
When George W. Bush makes a commitment, we know he will honor that commitment.After hearing the
repeated promises, outgoing President Charles A. (Chuck) Hayes said: The proof of the pudding is in
the eating.Last December, the Bush administration, in response to pressure from textile-state
congressmen, outlined a nine-point program that includes a commitment to seek greater overseas
markets for U.S. textiles and apparel, resistance to liberalizing U.S. import quotas, a crackdown
on illegal imports and tax relief.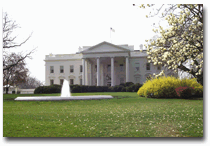 Washington provided the venue for this year's ATMI annual meeting. Evans Promises
SupportEvans said the administration already has taken some steps to fulfill that commitment, and
others will be forthcoming. Some, however, will require congressional action, and that could prove
to be the most difficult and contentious area. He said the tax carryback provision of the economic
stimulus package passed by Congress and signed by the president should help address what he called
the textile industrys severe liquidity problem. Although the textile industry had wanted to recover
taxes paid in profitable years going back 10 years, the final legislation provided for a five-year
carryback, which the industry views as a major improvement over the current two years. Evans also
said the administration is resisting an effort by some developing countries to have the 2005
textile quota phase-out accelerated. We have said no consistently, and we will continue to say no,
he said.We have promised we are going to work aggressively to open markets for you, Evans said. It
is time to get other countries to knock down their barriers. We no longer will settle for just
words; I want results. Evans said the administration is equally committed to enforcing laws and
regulations combatting illegal transshipments, smuggling and copyright violations. I want to send
everyone concerned a clear message, he said. This president is for free trade, but he also is for
fair trade and a level playing field. We are going to demand that countries live up to their trade
agreements, and we will enforce our trade laws. Will Promises Be KeptIn a closed meeting of
the ATMI Board of Directors, two of the administrations key trade officials David Spooner, special
textile negotiator, and James C. Leonard, deputy assistant secretary of commerce for textiles and
apparel and consumer goods were peppered with questions about their determination and ability to
carry out the administrations textile trade commitments. While many of those attending the meeting
were impressed with the textile trade team, some said they have nagging concerns because of the
failure of previous administrations to follow through on commitments made to the industry. ATMI
Executive Vice President Carlos Moore said that while ATMI has a thick file of broken promises,
many of the promises were made by presidential candidates, who, once they got into office, were
unable or unwilling to follow through. The difference in this case, Moore said, is that these
commitments have been made by an incumbent president.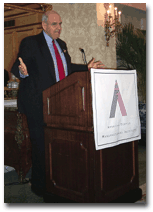 As the administration was making its case, members of Congress from textile-producing states
assured those attending the meeting that they will use everything at their disposal to ensure that
commitments are fulfilled. Rep. Robin Hayes, R-N.C., who has been under heavy fire in his home
district for his crucial vote granting Trade Promotion Authority to the president, reminded the
textile executives that as a result of that vote, he was able to extract concessions from the
administration to address some of the textile industrys economic problems. I have signed agreements
from the secretary of commerce, with the concurrence of the president, and commitments from the
Republican leadership in the House that they will support positions we have been advocating and
help bring about fair trade, Hayes said. We have the word of the president and the speaker of the
House, and I believe both are men of high faith, and that is the single most important indication
they will keep their word. I want to assure you that I will fight with all of the power in my being
to see that these commitments are met. While textile industry leaders and members of Congress are
willing to give the administration the benefit of the doubt, at least for the time being, they are
wary of concessions that might be given to Asian nations in return for their support of the U.S.
war on terrorism. The United States already has given Pakistan a $480-million increase in its
apparel imports over the next three years, and Pakistani government leaders have indicated this
might be only a first step. Several other nations already have lined up for similar treatment. Rep.
Virgil Goode Jr., Ind.-Va., told ATMI members, to a resounding burst of applause, that the
government should reward its friends with a direct Department of Defense appropriation rather than
textile trade concessions. Looking Back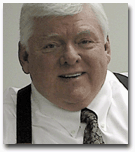 Outgoing ATMI President Hayes described his year as head of the industrys central trade
association as hell on wheels, as the industry faced its most adverse business conditions of his 50
years in textiles. In spite of difficulties, he cited a number of positive accomplishments that
could help the industry work its way out of its current economic slump. He said the Congressional
Textile Caucus has been retooled and reactivated; the industry has been successful in getting its
message across through the news media and with one-on-one meetings with government officials; and
it has letters from top government officials saying they understand the industrys problems and are
committed to doing something about them. Hayes noted that he had several meetings with the commerce
secretary and other government trade officials, and he is convinced Commerce Secretary Evans is a
true friend of the industry.Hayes warned that something must be done about the strong dollar, which
has made imports cheaper and exports more expensive, but no one at the meeting seemed to have a
simple or immediate solution to that problem. Looking ForwardStating that he is a consensus
builder, incoming ATMI Chairman Van May, CEO of the Plains Cotton Cooperative Association (PCCA) in
Lubbock, Texas, said he brings a new perspective to some of the textile issues, and he hopes to
link good farm policy and good trade policy. He strongly denounced the U.S. governments one-sided
trade policies that have opened the door to ever-increasing imports, while failing to open overseas
markets.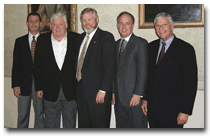 Left to right: Joe Gorga, Chuck Hayes, Van May, Billy Moore and Carlos Moore He said it
is absolutely unfair that countries such as India can ship millions of dollars worth of textiles
and apparel to the United States, while keeping its markets virtually closed. Our trade policies
have been so unfair, our biggest export is jobs, he said
(See Dont Mess With Texas, TW, March 2002).Looking at the agenda for the coming year, May
said one of his goals will be to work with government officials to develop a model for all future
trade pacts that will protect the interests of all segments of the textile industry.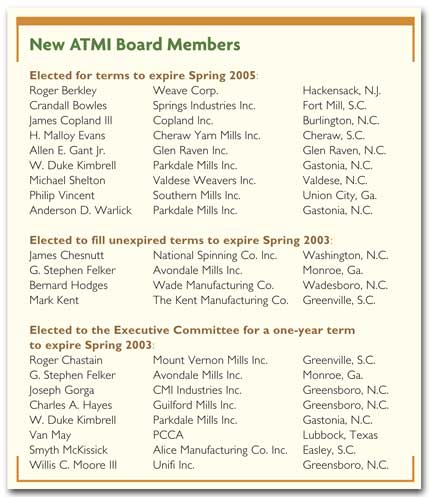 May 2002