Weaving PreparationBy Jim Phillips, Executive Editor Warp Speed
Drawing-in, warping and sizing programs save time, decrease cost. Weaving is an
ancient art, dating back more than 7,000 years to when the first baskets were woven from the reeds
that grew along the Nile River in Egypt.And for about as long as mankind has been inserting weft
into warp in some form or fashion, research has been underway to improve the speed of the process,
the quality of the finished product and the weavability of materials.Today, of course, weaving has
evolved into a high-speed, high-technology craft that stresses components and allows little margin
for error. The demands of a global marketplace have put increased pressure on weavers for quick
turnaround, so time to change from one style to another takes on added importance. Much has been
written about the modern weaving machines from such companies as Picanol, Sulzer, Promatech,
Dornier, Toyota, Tsudakoma and others. But an often neglected aspect of technology is the range of
machinery, between spinning and weaving, that enhances yarn properties and creates efficiencies
that allow for faster, better fabric formation. Drawing- And Tying-In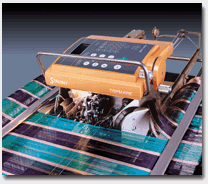 Among the most laborious of all textile processes is the drawing-in and tying-in of warp
yarns. Most plants throughout the world continue to do this process by hand. Stli Corp. of
Spartanburg, a well-known manufacturer of dobbies and jacquard heads, however, has systems
available that automate this process and save significant time and labor.There are so many
advantages to this system, said Don Hunt, the companys manager of textile systems. By hand,
drawing-in is a struggle that requires a lot of labor and a lot of time. But with our systems, such
as the Delta 100 and 110, a single person can draw in up to four warps in eight hours. With two
draw-in trucks and two people, up to eight warps can be drawn-in in a day. The number of warps that
can be drawn-in depends upon the average number of warp threads per warp and the warp material.Adds
Ludovic Petrois, sales technical administrator: The speed of these systems is up to 100 threads per
minute. This adds a tremendous amount of flexibility for the weaver and allows a quick changeover
in order to respond to market demands.The Stli Delta 100 is designed for filament weaving mills
that draw warp threads into the heddles and reeds, but which use no drop wires. The Delta 110 draws
in the warp threads through the drop wires, heddles and reeds in a single operation.For tying-in,
the Stli Topmatic Tying System features reliable formation of up to 600 knots per minute, Petrois
said. Saving Sizing Costs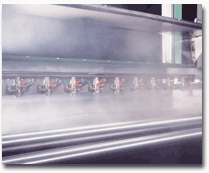 In an era in which every penny spent for raw materials and labor must be carefully
scrutinized, a number of proactive textile machinery manufacturers have looked for ways to save
their customers money in virtually every step of the manufacturing process. It is to this end that
West Point Foundry and Machine Co., West Point, Ga., has developed its SAS Pre-Wet (PW) Sizing
System. The SAS-PW system uses patented technology to apply atomized water to warp yarns before
they enter the size box. Sizing is, of course, the application of chemicals usually starch, acrylic
esters, polyvinyl alcohol, wax, carboxymethyl cellulose to warp yarns in order to lubricate them in
preparation for weaving, as well as to provide additional strength and smoothness.The West Point
SAS system, according to Scott Warren, general sales manager, is unique in that it precisely
controls the volume of water applied to the warp yarns in order to maintain consistent water wet
pick-up. Also, the system is designed to increase the dwell time between the pre-wet chamber and
size box to maximize water penetration. Warren said studies of pre-wet sizing have shown that size
chemical costs can be reduced by as much as 20 to 50 percent, depending upon yarn styles, without
affecting weaving efficiency. This reduction, he said, is the result of applying water to the warp
yarn before sizing. The water penetrates into the center of the yarn so the sizing material is only
applied to the outer surface of the yarn bundle, reducing the amount of sizing chemicals required
for efficient weaving.Sizing chemicals are the single largest daily cost in this process, Warren
said. The SAS-PW is the lowest-cost pre-wet system available. It has a self-contained control
system and a narrow footprint that will allow it to run on any slasher, regardless of space
limitations or equipment manufacturer. WarpingIn warping, West Points newly designed Model
UWP Warper is designed to accommodate section beam diameters up to 40 inches (1,000 millimeters).
Other features include a pneumatically operated press roll with table doffing, West Points patented
End-Uncrossing Device, and color touch-screen controls. The Model UWP Warper is also equipped with
the companys dust particle collector, which is designed to capture significant amounts of fine dust
particles into the plants air filtration system.Sucker-Muller-Hacoba, Germany, (Symtech,
Spartanburg), offers the Toptronic 2000 sectional warper, which provides fully electronic
determination of the warp table traverse and section positioning. The machine features warping
speeds up to 800 meters per minute (m/min) and beaming speeds up to 300 m/min. As well, the
Toptronic is able to automatically calculate feed from the first meter of the warp, using either
short sample sections or full-length beams.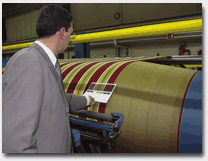 Benninger Co. Ltd., Switzerland, also represented by Symtech, has the Ben-Direct direct
warper, introduced in 2000, which now has more than 100 installations worldwide. The warper,
according to the company, features exact cylindrical winding, high-precision uncrossed thread
laying, precise length and assured winding density.The Ben-Tronic sectional warper features
universal capability for all staple fiber yarns, as well as textile and technical filaments.
Benninger says the sectional warper guarantees uniform length of all ends, which are wound under
absolutely equal tension.
April 2002