Part 2: Intimate Apparel RoundupBy Virginia S. Borland, New York Correspondent Under Cover
Comfort and performance are hidden assets in some of today's high-tech intimate apparel
fabrics.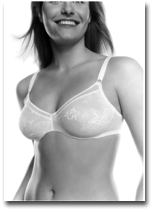 Among the developments prevalent in the intimate apparel market are new yarns that enhance
both appearance and comfort. Greensboro, N.C.-based Unifi, for example, introduced 18 new specialty
yarns last year. Unifi is developing new yarns, modifying and combining existing yarns to provide
innovative products for specific end-uses, said Jay Hertwig, global product development manager.
Many are seeing success in intimate apparel, activewear and swimwear. Novva is a soft, textured
yarn that has the luster of a flat yarn. It is going into seamless, circular and warp knits.Mynx is
a super-soft nylon described as having the strength of a synthetic and the beauty of a natural
fiber. It provides knitted fabrics with a cool, smooth hand, soft drape and subdued luster.Sorbtek
is a breathable, lightweight, easy-care yarn with the ability to move moisture faster and further
than any other yarn on the market today, according to Unifi. It is going into seamless, circular
and warp knits and has had immediate success in activewear.A.M.Y. is a new high-performance
antimicrobial yarn with permanent odor-control properties engineered directly into the
yarn.Recently, Unifi formed a joint venture with Israeli nylon producer Nilit Ltd. Products
developed will come out under the UNF label. One recent introduction is Sensil Arafelle. Arafelle
the Hebrew word for fog is 100-percent nylon 6,6, which can be piece-dyed for tonal, heathered
effects. It has a cotton-like touch and is aimed at lingerie, activewear, swimwear and legwear
markets. Arafelle has been adapted by Sara Lee Hosiery.Kimberley Lewis, marketing manager, Unifi,
sees intimate apparel focused around sheer fabrics with subtle luster and control. There will be
emphasis on comfort achieved through stretch and engineered yarns, she said. FabricsOne of the
fastest-growing knitters catering to the intimate apparel market is McMurray Fabrics, a
family-owned firm with three factories in North Carolina. In 2001, the company purchased the
circular-knit business, as well as the warp-knit elastic fabrics plant in Jamesville, N.C., from
Sara Lees Liberty Division.Kim Williams, director of design and apparel merchandising, said there
will be an inventory correction. She sees a business pickup well before the end of the year.For
bras and panties, Williams reports that a lot of sheer, power-net fabrics are still turning up.
Reporting on the Interfili show in Paris, she said prints and embellishments were some of the
newest lingerie developments. Mesh with lace overlays, metallic and lacquered surfaces, laser-cut
edges, ruffles and jewelry-type applications were all there. A lot of stripes were shown, along
with small, random florals, geometrics that resemble computer printouts, and the look of
denim.Clean piqu#44; small box-patterned jacquards and matte/sheen surfaces are other looks
Williams mentioned. And its all about nylon and microdenier nylon, she said. Colors are brighter.
There are a lot of pinks and blues that look like gum-drop candy colors, and a lot of red and
white.Going forward, Williams mentioned antibacterial and anti-odor fabrics. She sees these going
into socks and activewear, as well as items such as the sports bra. Fabrics In Demand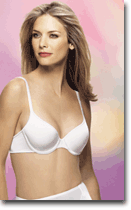 Debra Cobb, merchandising director, Ge-Ray Fabrics, said, Lace, shimmer, silky and sexy
fabrics will always be there, but fashion is less important. Performance and comfort are what sells
today.Were looking at new fibers and yarns, Cobb continued. Last year, we came out with our Xen
Collection, which is a blend of Supima/Micromodal. The fabrics are soft, relaxed and comfortable.
They are taking off for yoga wear, a very hot activity.French knitter Billon Frs reports lacy knits
are its biggest seller for lingerie. Very fine Lycra®-content fabrics, tiny floral-patterned
jacquards, diagonal stripes, lightweight fabrics with slick finishes or softly sueded surfaces are
other popular items. Color-reverse double-faced fabrics are also of note. Growth In North
AmericaVirgil Simons, general manager, United States, Dogi International Fabrics, said that value,
product innovation, quality and service are contributors to Dogis success. He added that with the
North American Free Trade Agreement (NAFTA) and the Caribbean Basin Initiative (CBI), there will be
major growth in North America. Dogi is headquartered in Spain, with marketing offices around the
world. You need to be there with your customer, Simons said.Dogi produces a variety of knitted and
woven apparel fabrics, including circular, single and warp knits; and electronic jacquards.
Eighty-four percent of its fabrics are sold for intimate apparel. Last April, the company acquired
four Penn Elastic factories from the Sara Lee Corp., giving them manufacturing capacity in Europe,
the Asia/Pacific region and the Americas.Simons sees growth in activewear, with areas like
cheerleading and classical dance being exceptional. Danskin and Capezio are some of the companies
Dogi sells to in this area. The activewear line takes its direction from fashion and adds
performance. A sanded microdenier fabric for warm-ups is knitted using Meryl®/ Lycra.
Supplex®/Lycra in solid rib coordinates is going into juniors.A recent innovation for intimate
apparel and dancewear is stretch fabrics with engineered zones, providing more stretch in certain
portions of the fabric. Extra muscle support in key areas relieves fatigue; softer stretch in other
areas gives extra comfort.Narrow-width fabrics with selvages that provide clean, finished edges;
moldable fabrics for the bra market; and moisture-transport mesh are other recent Dogi
developments.For mens underwear, Dogi is selling a heather-shaded cotton/nylon/ Lycra opaque/sheer
stripe. A lot of the same fabrics are selling for underfashions for men and women. Victorias
Secret, Vanity Fair and Triumph are among the companys customers. New TechnologiesNew fabrics
introduced at Interfili by the British company Berne-Welbeck focus on new technology to provide
both fashion and performance. Airpak® two-sided fabrics with cushioned centers were shown at
Premiere Vision in October 2001. This range is now available embossed with a broad design
selection. Airpak fabrics are breathable, moldable and easy-care.A group of lux surface effects
includes transparent polyester meshes with embossed designs, wet-look sheers, moirffects and cir
There are iridescent fabrics that have a fluid appearance, and jacquards and coordinates with a
shimmering luster.Other Berne-Welbeck fabrics for intimate apparel are knitted with DuPonts Tactel®
Strata. These include monofilament stripes, metallics and two-colored jacquards. A range described
as Second Skin fabrics has a paper touch or silky hand. The Natural Collection incorporates viscose
with elastane and ProModal to impart a natural touch.There are moisture-management fabrics
containing Supplex and Coolmax® in a Berne-Welbeck collection called Sporty. These include ribs and
tubular jacquards for swimwear and activewear.X-Static®, the silver-coated textile fiber from Noble
Fiber Technologies is going into a broad range of new fabrics in both filament and spun varieties.
At Premiere Vision, Berne-Welbeck featured X-Static in a fabric collection for bras and sportswear.
Fabrics have thermodynamic properties, and are anti-static and anti-odor.The Star Groups Lance T.
Whitaker, vice president, sales and marketing, said that in narrow fabrics, as a secondary
supplier, we have less control. With full-package manufacturing now coming out of the CBI, sources
can become hidden. Because were not the main part of the garment, it is difficult to mandate that
they use our product.The Star Groups answer is to become more innovative. Some of its recent
developments are microdenier channeling for glue bras; sonic seaming for nylon taffeta; and
micro-brushed products providing added comfort for bras. Our narrow fabrics and trimmings give
intimate apparel both visual and tactile appeal, said Whitaker. FashionThe number-one selling
bra in America today is Vanity Fairs (VF) Illumination, a lightly lined seamless bra knitted with
Tactel Strata. In panties, the best-sellers are low-rise seamless styles knitted in
microfibers.Vanity Fairs Ellen Rohde, president, VF Intimates, reports there will be a return to
shine and femininity for Spring/Summer 03. Lace is cyclical and on the upswing. Underwire bras are
also in an up-cycle. Seamless, molded and racer-back bras are other popular items, she said. There
is a resurgence of cotton and cotton-touch fabrics. Cotton connotes comfort, she added. Alice
Papazian, who handles color development and print design for VF Intimates, said colors of inner
fashion closely follow outerwear. Bras and camis have been designed to show.For Spring, Papazian
shows three color ranges: washed-out and whitened pales; vintage shades; and fun, young brights.
And there will be a lot of white. She sees a continuation of sheers, embroidery and lace.By the end
of the year, all VF apparel production in the United States will cease. Garments will come from
Mexico, the Caribbean Basin and the Far East.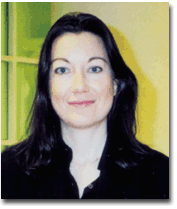 At Jockey International, Anne Ewing, senior designer, Intimates, Jockey Brand, said, Intimate
apparel is a comfort-driven product and not a high-ticket item. Our business is healthy.A year ago,
Jockey introduced a line called No Panty Line Promise. It was an instant success. This year, it has
added a mesh collection knitted in a blend of 80-percent Tactel and 20-percent Lycra. There are
thong, brief and bikini styles with coordinating bras.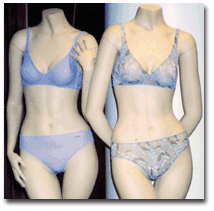 The Jockey Spring 03 collection is all about comfort. There are cotton/Lycra fabrics knitted
using Santoni seamless machines, as well as nylon/Lycra- and microdenier-content fabrics. Ewing
shows a lot of lace. Some is cross-dyed in fashion colors. Most is shown in coordinating sets. New
prints are floral and leaf designs and all-over metallic to give a shimmer to garments. Bra styles
are underwires, padded with seamless cups, and softer, under-constructed styles. Many use bonded
fabrics and are almost stitch-free, made with ultrasonic and seamless equipment. Seam-free
underwire bras using a flat wire are new.Colors are more sophisticated with outerwear influences. A
small, outlined floral is shown in a combination of black on gray. For Spring 03, Ewing said colors
will be soft and feminine. Along with bras and panties, there are coordinating camis. Some are
ruffled and lace-trimmed, others are padded. Plus sizes are available in a lot of styles. At
Liz Claiborne Intimates, a full-fit collection was recently introduced that is fashionable,
lightweight and sexy. One popular bra is the seamless minimizer, available in soft, stretch lace
with mesh details that reduce the cup by one entire size.
Editor's Note: In March, Textile World published the first of a two-part feature about the
hottest trends in the intimate apparel industry. In this issue, New York Correspondent Virginia S.
Borland continues her look at the products and processes that are turning heads in this dynamic
market segment.
April 2002