Techtextil North AmericaBy Janet Bealer Rodie,Assistant Editor Techtextil: Industry Hotspot
Exhibits, symposium will offer North American visitors a comprehensive overview of technical
textiles today. W hen it comes to market size, innovation and the use of engineered fiber
products to solve problems, North America leads the world in the textile industrys technical
textiles sector, according to Germany-based Messe Frankfurt, producer of Techtextil International
Trade Fair for Technical Textiles and Nonwovens. The German trade fair organizer projects annual
growth rates in this specialized sector will exceed 5 percent through 2005. In an effort to serve
the North American market, Messe Frankfurt introduced Techtextil North America (TTNA) on this side
of the Atlantic in March 2000 as a biennial event that is juxtaposed to the original German
exhibition held in Frankfurt in the spring of odd-numbered years. Messe Frankfurt also stages
Techtextil exhibitions in South America and Asia in the fall of alternate years.For North America,
the location is Atlanta, and this years TTNA will take place April 10-12 at the Cobb Galleria
Centre.According to Messe Frankfurt, the shows are recognized as the most comprehensive technical
textiles and nonwovens trade fairs produced, representing all aspects of this growing and promising
sector of the textile industry. Other trade shows for this field, and also for most other segments
of the industry, focus on particular aspects, such as fabrics and yarns, or machinery.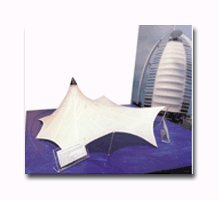 Architectural membranes are among the many technical textile applications that will be shown
at Techtextil North America.The inaugural TTNA in 2000 brought together 254 exhibitors and more
than 4,300 visitors from 16 countries. This year, more than 300 exhibitors and 5,000
buyers/visitors from around the world are expected to participate in the show. In addition to
individual exhibitors, there will also be national pavilions grouping exhibitors from several
countries including France, Germany, Spain and Taiwan.Representatives from
Textile World and
Textiles Panamericanos will be on hand at the exhibition to meet with Techtextil
exhibitors and visitors and distribute complementary copies of both magazines. A Comprehensive
ExhibitionAt TTNA, technology, research and development, planning, consultation, machinery and
equipment manufacturers, associations and publications will exhibit alongside the entire material
supply chain from raw materials; to fiber, yarn and fabric manufacturers; to converters and
finishers; to end-products and recycling. To help visitors find exhibitors in specific categories,
the exhibition manual will group exhibitors according to products and services offered:research,
development, planning, consultation international institutions, national research institutes,
universities and polytechnical institutes, industrial research centers, planning and consulting
companies;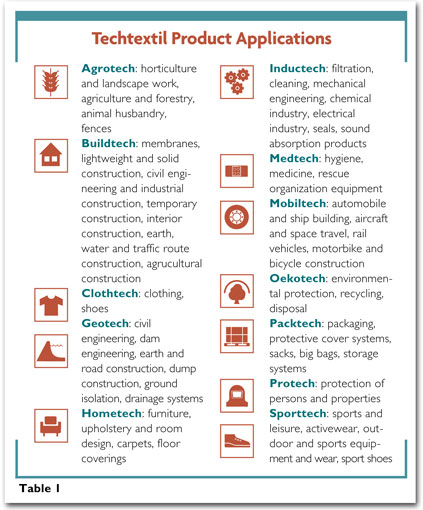 technology, machinery, accessories production processes, processing technology, machines and
equipment, control and monitoring methods, purification and regeneration technology, technical
accessories, laboratory and measuring equipment, quality assurance;fibers and yarns;woven fabrics,
laid webs, braiding, knitted fabrics tapes, strings, cords, belts, ropes, cordage,
nets;nonwovens;coated textiles, laminated, textiles, tent fabrics, packaging materials, tarpaulin
fabrics, awning materials, manufacture of end products, accessories;composites reinforcing
textiles, composite textiles, prepregs, structural components and mouldings, fiber-reinforced
materials, membrane systems, films and sheeting, textile-reinforced plastics for concrete
components, pipes and containers, textile sheet products for lamination with solids such as metal,
plastic or glass;bondtec finishing, adhesive, sealing and moulding materials, laminating and
coating materials, raw materials and additives, application processing, material pretreatment,
plastics and other hardening masses, adhesive mixing and application equipment, robot technology,
surface treatment technologies, plasma treatment, flocking, foaming; andassociations,
publishers.Companies also will be listed in the manual according to product applications (See Table
1). Techtextil SymposiumTTNA is coupled with Techtextil Symposium North America (TTSNA),
which opens April 9 with a keynote address by John A. Boland III, GTMA (The Association of Georgias
Textile, Carpet and Consumer Products Manufacturers) executive in residence at the Georgia
Institute of Technologys School of Textiles and Fiber Engineering, Atlanta. Boland will present
observations on the evolution of industrial textiles. Following the opening general session, which
includes presentations on the state of the industry, new directions, a global perspective and other
subjects, TTSNA will offer three days of seminars covering such topics as new and emerging
technologies, standards and testing, research, construction textiles, interior textiles, product
development and marketing, nonwovens technology, developments in high-performance fibers and yarns,
transportation textiles, and developments in protective textiles. Future Techtextil
EventsMesse Frankfurt will stage Cinte Techtextil China in Shanghai September 25-27, 2002.
Techtextil will again be held in Frankfurt April 8-10, 2003; and Techtextil South America will take
place in SPaulo, Brazil, November 11-13, 2003.The list of exhibitors that follows is up-to-date as
of
TWs press time.
For more information about Techtextil North America and Techtextil Symposium North America,
contact Messe Frankfurt Inc., 1600 Parkwood Cir., Atlanta, GA 30339; (770) 984-8016; fax: (770)
984-8023; e-mail: info@usa.messefrankfurt.com; www.usa.messefrankfurt.com. Techtextil
Exhibitors, Booth LocationsAATCC138AccuMotion Control Technologies715Acordis Industrial
Fibers720Aderly301-303Adhesive Films Inc.621Ahlstrom Fiber Composites332A.H. Rice Corp.335Alexander
Fabrics Inc.237Allied ConvertingTechnologies715American Kynol Inc.224American Liba639Apex Mills
Corp.105APIM203ATI Advanced Testing Instruments Corp.735Atlantic ThreadandSupply325Auto
Interiors735Bafatex Bellingroth1138Bally Ribbon Mills121BASF Corp.1011Beaver
Manufacturing433Bekintex751belChem Fiber Materials GmbH938Bemis529bluesign Technologies825Bond Cote
Corp.233Paul Bonte – Fils Techniques205Bostik714Boston/Bacon Felt Co.239Bradford
Industries820Brawer Technical Yarns Division828British Millerain Co. Ltd.724Business Link
NorthManchester1121Christoph Burckhardt429Canadian Textile Journal132Cargill Dow LLC334CarbonX
PerformanceFibers Division1319Carrington Performance Fabrics Ltd.722Cavalier Textiles839Cavitec
AG1020Cerex Advanced Fabrics910Chapman Thermal Products1319Clariant Corp.536Club Textile
Integral305Clubtex203Coatema EngineeringGmbH c/o Bollinger432Consoltex Inc.914Conwed
Plastics1310Cooley Group, The810Cortex S.A. 210Culimeta America Inc.1301Dailytec201Deerfield
Urethane/A Bayer Co.644DHJ International120Dietze+SchellMaschinenfabrik1035Dilo Inc.1000Dimension
Polyant123Dickson PTL307DMT313Dow Chemical920Dubar Warneton211Duflot – non-tisstechniques100Duro
Industries538S.A. Philippe Ebelmann200Elk Inc.935Ems-Chemie (North America) Inc.828Engineered Yarns
Co.750Enka Tecnica GmbH429Espace textile de Lyon et region301-303Europlasma NV732Everest Textile
Co. Ltd.605Fabric Development Inc.240Fachhochschule Hof,Abteilung Munchberg1151Fairview Machine
715Febeltex745Fi-Tech429Fiber Dynamics Inc.336Fleissner GmbHandCo.1029Flexabar835Future
Materials136Gehring Textiles/Militex320Gem Urethane537Gentug Technical TextileProducts221Gerlingher
GmbH1050Girmes In-Tex GmbH1028Glenro Inc.1300Glo-Tex International Inc.434Green Textile
Associates837Guilford Mills Inc.220h.k.o. Isolier- und Textiltechnik GmbH928James H.
Heal735Heberlein North America124H. Hergeth GmbH1144Highland Industries Inc.300Honeywell
Performance Fibers900HunterLab635Huvis/Republic of Korea504IBENA728Industrial Specialty
Fabrics532Interkordsa Inc.421Industrie-Vereinigung Garne-Gewebe-Technische Textilien849Institut fur
Textil- und VerfahrenstechnikDenkendorf1136Institut frans du textileandde lhabil301-303
International Fiber Journal127InterprojektGPITS Publishing633ITW Dynatec924Jaeger Textile
Tapes Corp.937Johnston Industries500Jomar Softcorp International628Jowat Lobers u. Frank GmbHandCo.
KG1032Kappler Protective ApparelandFabrics528Keith Manufacturing Co.1303Keramab NVGPKings Metal
Fiber Technologies Co. Ltd.605Kleinewefers Textile Machinery Corp.428Klevers GmbH
1149Klieverik314KoSa1010Kruss USA234Eduard Kusters Maschinenfabrik GmbHandCo.314Kuraray America
Inc.1120Lacent Technologies Inc.520Lacom Vertriebs GmbH1129Laroche S.A.208Lawson-Hemphill
Sales739Lectra1305Lenzing Fibers/Ivodex338Leesona Industries330C.A. Litzer Co. Inc.140Lumat B.V.
Netherlands729Mahlo America325Martin Color-Fi634Mayer Textile Machine Corp.428McAllister
Mills510Mehler Engineered Products GmbH1114Messe Frankfurt GmbHTBDHerbert Meyer GmbH1049Miller
Weldmaster Corp.236MillikenandCompany700Murtra Leon910N.C. State University College of
Textiles143Narcote LLC129National Drying Machinery Co.107National Jet Co.324Nawon USA
Inc.337Nonwovens Industry238Nordson Corp. Fiber Systems615Noveon Inc.229Olbrich314Outlast
Technologies338P-D Glasseiden GmbH1146Pennel Industries104PGI-Polymer Group Inc.539Pharr
Yarns811Plastibert915Polimeros y Derivados S.A. de C.V.1124Porvair International228Powerloom
DevelopmentandExport Promotion Council103Precision Fabrics Group1015Proline Textile
S.a.S.122Protechna Herbst GmbHandCo. KG1134Pyradia715Reichhold Inc./Swift Adhesives1120Reimotec
GmbH1036Rieter Perfojet241rokona Textilwerk1128Robatech USA Inc.736Roscontract, The FederalContract
Corp.345Rovitex 309Royal Ten Cate810Rubans Gallant S.A. 110Rue Polotsk PASteklovolokno738Safety
Components Fabric Technology310Georg Sahm934Saint-Gobain Quartz838Sarna Xiro621Saunders Thread
Co.514Seaman Corp.1308Service Thread Mfg. Co.534Schaetti AG611Schoeller Textil GmbH1043SGL
CarbonGPSGL Technic Ltd.1039Shanghai Sealtex Co.235Shawmut Mills933Sider Arc S.p.A.614Sitip
S.p.A.614Sourex Co. Ltd.436Southern Felt Co.829Southern Mills Inc.800Spinnkock USA Inc.1004Spunfab
Adhesive Fabrics632SSM Industries438R. Stat S.A. 206Stockhausen Inc.814Stoll H. GmbHandCo.946Stork
Screens America128StotzandCo. AG524Stre+Hess GmbHandCo. KG.1133Struto LLC710STT
311Sunfil-Turati-Fil Man Made Group1316SynteenandLuckenhausTextil-Technologie1140Tah Tong Fiber
Technologies Co. Ltd.605Techtex Vliesstoffe 1132Teijin Twaron USA Inc.400Telsonic AG130Tetratec
PTFE Technologies1306Textile Engineering Auburn UniversityTBD
Textile WorldTBDTextiles Human Resources Council733
Textiles PanamericanosTBDTextiles Tecnicos S.A. de C.V.741Textest Instruments741Thai
Taffeta Co. Ltd.1302Tietex International Ltd.815Tissavel 102Titex Vertriebs GmbH944Toom Tekstiil
Ltd.109Tournier JulesandFils 315TUT – Technical Usage Textiles 301-303Ubifrance301Ungricht
GmbHandCo. KG429Uretek/Coated Fabrics Group414Wacker Silicones Corp.610Wenzelband GmbH324Western
Nonwovens Inc./Needlepunch Div.638Wise Industries328W.L. GoreandAssociates435Xirion747Xymid
LLC339Yamuna Industries Ltd.1124YKK (USA) Inc.535Zenith Products Division Parker Hannifin
Corp.125Zima Corp.314J. Zimmerman Maschinenbau GmbH721Zoltek437Zwick USA341GP: German Pavilion
March 2002