Winding And TwistingBy Jim Phillips, Executive Editor Bowling Green Spinning
Investing for flexibility in the combed-cotton ring-spun market In an era in which
the most common comments about textile manufacturing in the United States tend to be moans about
business conditions and the continuing siege by imports, a few companies are quietly adapting to
the requirements of the world marketplace and positioning themselves to take advantage of available
opportunities.Certainly, some of these companies are large Fortune 500-sized enterprises, the names
of which are household names throughout America. But many are relatively small, family-owned
businesses that focus on innovation and the flexibility to be nimble-footed in production, delivery
and service. Bowling Green Spinning Company, a one-plant, combed-cotton ring spinner in Bowling
Green, S.C., is just such an operation.A walk through the Bowling Green plant, which is located a
few miles south of Gastonia, N.C., reveals an operation that has an eye for efficiency and
effectiveness. The plants venerable roving and spinning frames models from Saco Lowell, Whitin and
Zinser have been meticulously maintained and upgraded over the years. While not the latest in
high-technology yarn-prep machinery, the equipment more than adequately addresses the needs of
Bowling Green Spinning and its customers. But where the company really shines is at the beginning
and end of the yarn-manufacturing process. It is in these areas that Bowling Green has invested
considerably over the past few years and can be considered as high-tech as just about any plant in
the country. Staying On Top While Keeping In LimitsOur sole product is combed cotton,
ring-spun yarn, said Daniel S. LaFar III, president of the company. We have carefully maintained
and upgraded our machinery over the years, and we feel it provides us with exactly what we need at
the moment. We have looked at other spinning options, but we felt that our objectives were better
served by focusing on other areas of the process.Indeed, when LaFar and his father, LaFar
Industries Chairman, Dan S. LaFar Jr., examined the production process from top to bottom, they
came up with a clear-cut plan that would modernize the plant within the limits of the companys
budget and provide the necessary improvements to keep the company on the cutting edge of
quality.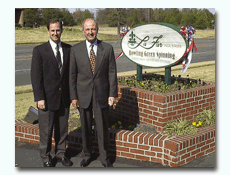 Daniel LaFar III (left), president, and Dan LaFar Jr., chairman, have made flexibility the
cornerstone upon which the success of Bowling Green Spinning Co. is built. The primary
objective of the company is to be highly flexible in order to maintain the capability of meeting
the demands its customers. The bulk of Bowling Greens product line is used in the knit apparel
market, and the companys yarn is prominent in the offerings of some of the worlds foremost names in
fashion.If there is a word that describes our company, its flexibility, the younger LaFar said. We
decided to focus on a specific area of competence and serve that market to the best of our ability.
That enables us, within the framework of our core competency, to be as flexible as possible in
meeting the needs of our customers. We feel like trying to be all things to all people would be a
weakness for us. It would cause us to spread ourselves so thin that we could not adequately serve
the market we serve best.To that end, the company, over the past few years, has divested itself of
a rayon operation and discontinued open-end spinning.When we looked at upgrading machinery, it
became apparent that our needs and those of our customers would best be served by looking at the
front and back of the process. So we have concentrated on opening and winding.We havent
over-leveraged ourselves, LaFar said. Weve upgraded a little at a time. Obviously, we would like to
upgrade the whole plant overnight, but prudence demands otherwise. Opening And Winding
Upgrades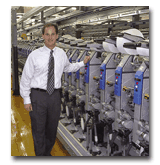 The first step of the process was upgrading opening and cleaning equipment. Bowling Green
installed a Cleanomat CVT system from Charlotte, N.C.-based American Truetzschler Inc., as well as
a Truetzschler Dustex DX dedusting machine.We eliminated about five steps in the opening and
cleaning process with the installation of the equipment from Truetzschler, LaFar said. We felt like
we had been throwing away a lot of good fiber, so it made a great deal of sense to upgrade and
become more efficient in this process.In winding, an older series of machines was replaced by new
Orion-series winders from Charlotte-based American Savio, part of the Itema group of companies
based in Italy. The Savio machines are manufactured in Italy by Savio Macchine Tessili.We were
spending a great deal of money in maintaining the older machines, LaFar said. There comes a time
when you have to make sure youre getting a return on what you are spending.We felt, as well, that,
as the last process in the plant, we had to put the yarn in the most presentable package possible,
verify the reliability of the package, and ensure it is defect-free. The combination of Orion
winders from Savio and Loepfe clearers would do just that.The Orion series from Savio is among the
newest generations of automatic winders on the market. It features a computer-aided package that
maintains constant control and adjusts yarn tension throughout the winding process.Impressed with
the offerings from other companies as well Murata and Schlafhorst, in particular Bowling Green made
its final determination based on the dual-lot availability of the Orion winders.Daniel and I, along
with Robert Montgomery [plant manager] saw several plants with the Orion installed in Italy. The
quality, speed and control were impressive, said the elder LaFar.Added the younger: Our machines
represent Savios only dual-lot stand-alone machine installation in the United States. We do not
link spinning and winding. It limits our flexibility. That was the real selling point to the Savio
machine. It enabled us to maintain flexibility in manufacturing. We can use two yarn counts on the
dual-lot machines and dedicate any number of spindles to those separate counts.Bowling Green
installed six Orion winders, three of which were the dual-lot machines.As weve said before, it all
comes down to flexibility for us, LaFar said. There will always be a certain percentage of goods
that will change quickly because of fashion. It is our goal to be able to adapt to those changes
and help our customers get products to market quickly.While Bowling Green Spinning is a supplier to
a number of noted brands, the company is also positioning itself as a supplier to a number of the
quick response, foreign-sourced programs, LaFar said.We feel our flexibility allows us to compete
in this arena very favorably, he said. Made-To-Order CapabilityAs a result of the companys
dedicated quest for flexibility, Bowling Green Spinning maintains almost no inventory. Were almost
a made-to-order company now, LaFar said. Thats the thing that will continue to set us apart being
able to quickly respond to the needs of our customers with a quality product that few others can or
will produce.As a small, stand-alone company, however, Bowling Green considers the worlds economic
and political climate to be of utmost importance. Recent trade concessions to Pakistan in exchange
for military privileges in the war on terrorism concern the company, as does the phase-out of
quotas in 2005. But both of the LaFars are confident that Bowling Green will continue to carve out
its niche and remain successful in the face of increased competition.There will always be a niche
as a high-quality, quick-turnaround, quick-response supplier, LaFar said. And that is exactly what
we are. New Winding Equipment Improves QualityIn the high-technology yarn preparation arena,
news is dominated by the latest offerings of new spinning technology.Obviously, any process that
speeds both the production and quality of yarn deserves attention. But the methods and techniques
of converting roving to thread arent the only determining factors of production quality and
efficiency. Often overlooked are the automatic winding machines and the accompanying clearers that
encompass the final stage of the spinning process.Ultimately, the winding stage is the final
opportunity to inspect and correct material for defects, as well as for creating a vehicle for
effective presentation of the yarn to customers.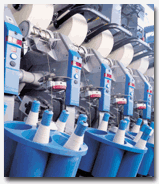 Savio introduced its Orion series of winders at ITMA 99 in Paris. That introduction,
according to one Savio executive, changed the rules of the game. Savio developed the Orion based on
a thorough analysis of customer needs, the company said. The aim was to improve the total quality
of the wound package, reduce overall process costs and increase manufacturing flexibility.At ITMA
in Paris, the Orion was introduced in two models, E and I. The Orion E is an independent winding
machine, and the Orion I has an automatic bobbin loader than can be linked to spinning frames. The
Orion series is also available in a dual-lot configuration in which two separate yarn counts can be
wound on any number of dedicated spindles. The frame for both models is available in six- or
eight-head sections. The number of heads per machine ranges from a minimum of six to a maximum of
64 in steps of two. Take-up speed ranges from 400 to 2,000 meters per minute (m/min). Now, with
worldwide acceptance of the Orion design, Savio, a unit of the Itema Group in Italy, has introduced
two additional models, the Orion M and the Orion L.Both encompass the same features as the original
Orion models but have different levels of support automation. The Orion M is an automatic winder
with manual bobbin feeding and manual package doffing. The L model has manual bobbin feeding as
well, but includes automatic doffing.Another machine one that was the talk of the recent 7th OTEMAS
in Osaka, Japan is the new 21C Process Coner from Japanese manufacturer Murata (See Spinning In
Control,
TI, December 2001).One of the key issues of the new Muratec brand winder is its Perla
system for reducing hairiness, said Bill Gray of Murata of America Inc., Charlotte, N.C.The new
Perla Hairiness Reducing System comes in both mechanical and air derivatives. The Perla-A, an air
system, can be used in conjunction with Muratas tension-control system to reduce hairiness at up to
1,800 m/min. The Perla-D system employs a disc-type design and can operate at up to 1,200 m/min.
The D system shows a higher hairiness-reducing effect than the A model, according to Murata
executives.Of the other major manufacturers of winders, Schlafhorst has as its flagship the
Autoconer 338, which, according to the company, features constant yarn tension, driven by the
companys balloon controller, electromagnetic yarn tensioner, and Schlafhorsts proprietary Autotense
yarn tension sensor. SSM Schr Schweiter Mettler AG, Switzerland, features among its winding
offerings: the PW1-W preciflex precision package winder for filament yarns and silk; and the CW1-1
cone-to-cone winding machine for weaving, warp knitting, and circular knitting operations. New to
the market for American Sahm Co. LLC, Greenville, S.C., is the 240E winder targeted toward flat and
circular loom warp packages, as well as the 2000E take-up winder that can be used to retrofit most
spinning lines. Barmag Spinnzwirn, Germany, has developed the babyASW900 winder. Compared with the
conventional ASW winder, its dimensions are significantly smaller. It can especially be used for
winding up BCF as well as PP-FDY and POY yarns.An oft-overlooked element in the effectiveness of
winders is the technology for clearing defects. The Loepfe Yarnmaster® clearer detects foreign
fibers, neps, short thick places, long thick places and thin places as well as splices. A
long-standing offering in the area of clearers is the Uster® Quantum Clearer from Zellweger-Uster,
Switzerland.
January 2002