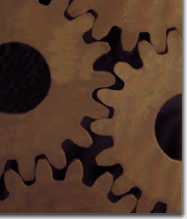 Rolling Out The Red Carpet
Carpet capital hosts three-day event presenting the latest in floor-covering
technologies. This years Carpet Technology Show® began its three-day market in Dalton,
Ga., on September 11. Devastated by the events of that day, the show continued as best it could
with the business at hand. Vendors displayed and promoted their machinery, equipment, services and
supplies. Attendees saw the latest in equipment, machinery and support for their businesses. Some
of the countries represented included the United Kingdom, Canada, Australia, Belgium and Japan.The
Dalton Floor Covering Marketing Association (DFCMA) produces and promotes the Carpet Technologies
Show. Wanda Ellis, executive director, was very upbeat about this years show despite the
difficulties caused by the tragedy of September 11. Normally, we attract about 3,000+ attendees,
and we were off about one-third, partly due to the fact that many who had planned to fly in on
Tuesday couldnt get here.Global Outlook 2001, an international forum, showcased six industry
experts from Europe, Japan, South America and the United States. The forum was an undertaking of
Dalton State College (DSC). According to Marilyn M. Helms, Sesquicentennial Endowed Chair and
director of DSCs Center for Applied Business Studies, DSC is taking a more active role in the
carpet industry. Exhibitor CommentsRieter ICBT Greensboro Inc., Greensboro, N.C. Chuck Crow,
product sales manager, said the firm is primarily involved in the twisting of carpet face yarns.
Machinery sales have been slow for the past six to eight months, but there are indications that
things are picking up. Last year saw false starts, and most believe we wont see anything
significant until the first of the year but given whats happened with the tragedy, all bets are
off. He continued, saying that changes would have to be significant for him to get excited. We need
to be selling more machines, and we feel this particular show is good for us, he said. Our machines
handle both two-for-one twisting on single-end filament, spun yarns; and direct cabling for bulk
continuous filamant (BCF) yarns. This is a twisting (direct cabler or two-for-one, depending on the
application) machine, he continued. This particular type of equipment has been in operation and
part of Rieter ICBTs product lines for five or six years.Zima Corp., Spartanburg, S.C. Bill
McAndrew, vice president, sales and marketing, explained that Zima is a sales agent for several
companies, including Kusters, IMTEC and Mitter. The firm handles sales, engineering service and
spare parts for all three companies. We have project managers to handle large projects for each one
of them, and service technicians, McAndrew said.Information was available for all product lines,
with emphasis on Kusters dyeing and finishing, and the combination of its Instacolor/Instatachem
and Quick Change Dye Applicator. Rotary screen printing equipment was available from Mitter, and
shearing equipment from IMTEC. It appeared some of the biggest interest was in the new Quick Change
Fluidyer. McAndrew noted that one of these machines is installed at each of Zimas major customers
facilities, and the company is working to install others.McAndrew felt that carpet is not as
import-sensitive as other textiles. The carpet industry will hold up better, in our opinion, than
the textile industry. The nonwovens industry and paper industry are basically like carpet, down a
bit but not as bad as textiles. We feel theres a huge future in the U.S. carpet industry. The
people here are as efficient as anywhere in the whole world. Theyve got the best machinery, the
best people and best carpet made right here in Dalton, he said.NICCA U.S.A. Inc., Fountain Inn,
S.C., was exhibiting with and representing Suminoe Textile Co. Ltd., Japan. The two companies enjoy
a strong supplier/manufacturer relationship. NICCA is a chemical manufacturer in Japan and the
United States, but Suminoe has no facilities in the States. Kazu Ikebata, R and D manager for
NICCA, explained, Suminoe is our biggest customer in Japan. Satoru Tanaka, general manager,
administrative services for NICCA, added, NICCA supplies a lot of chemicals to Suminoe in Japan and
represents them in the States. Suminoe has a great cleaning system that has been used in Japan for
about 10 years, but nobody in the United States has used it yet, so we are hoping to find buyers in
Dalton. Both feel Carpet Technologies is a good market for their products, but they had hoped to
see more people.Pierret, North American Division, Spartanburg Todd Cooper, sales and marketing
manager, stated he is an optimist. The market may be down now, but Im positive the future will see
things getting back to normal. Theres not a lot of money right now, and folks are holding the purse
strings tightly. We do understand because were doing that, too. Cooper talked about the firms
CT6020 cutting machine. Our equipment is very common in this industry. We have at least 15 or 20
companies in the Dalton area using our size-reduction equipment. Most are using recycled carpet
yarn in some form or other some cutting edge-trim and so forth. We also have an in-line tool cutter
that is made for cutting edge-trim.Cooper continued, In Europe, there are more government subsidies
for recycling. Here, its more common that customers, if they cant make a profit off of it, they
dont want to deal with it. Its something that we have, and the market is developing and growing for
us. Were continuing to push our products in this industry and feel confident well continue to grow
when the economy gets back on its feet.Belmont Machinery Inc., Mount Holly, N.C. Dean Smith, Jr.,
vice president, marketing, works from Belmonts sales office in Dalton. Smith was upbeat and said he
had seen a fair number of customers. The customers weve seen have been quality people in
purchasing. We like to see everybody, but we especially need to see the guys in charge of
purchasing. With the tragic events, a fog has been cast on everything, but its not anybodys fault
and we have had some fairly good traffic and activity. Were probably spending fewer dollars for
prospects here than anywhere else in the world. So it pleases me very much to exhibit.Belmont was
showing new winding equipment, which had been introduced at the American Textile Machinery
Exhibition-International (ATME-I) 2001. According to Smith, one of the units is in operation at the
Mohawk twisting plant in Calhoun, Ga. It appears to be attracting interest. We also have a
space-dyeing line and twisting machines, but winding is our core business, he said. Belmont has
introduced an automated package-handling system. What were trying to do is eliminate or reduce
labor in a winding operation, he explained.Saurer Textile Systems, Charlotte, N.C. Ted Street,
regional sales manager, noted, We see signs of the industry picking up, and Saurer has made some
good sales in the last two weeks. Saurer was showing videos of machinery how its set up and
maintained. There was also a display of spare parts and literature, plus some new items relating to
tension and gadgets that help run specialty yarns. The firms Volkmann CarpetTwister, a machine
range for twisted and cabled carpet-yarn production, appeared to attract a lot of interest.Eltex US
Inc., Greer, S.C. Peter Titcomb, district sales manager, also feels the market seems to be picking
up. Some of the spinning mills Ive called on are busy running seven days a week, 24 hours a day.
BCF seems to be holding steady. Air entangling is a little slack but will pick up later. Eltexs
equipment line includes warping, weaving, winding and other applications. The Eltex QTV Yarn Break
Detection System reacts to a yarn break in milliseconds. The number of ends to be monitored in the
creel are automatically detected and displayed by the QTV systems central unit. The Weft Yarn
Tension Monitor has created a small revolution in weaving technology and makes it possible to
significantly increase weaving efficiency, according to Titcomb.

Van de Wiele, Belgium Arthur Phillips, president, and Gilbert Moulin, sales manager,
discussed Van de Wieles face-to-face carpet weaving machines, which Phillips said are mainly for
area rugs but also for wall-to-wall contract carpet. Several examples of carpets and rugs woven by
customers were shown. Our collection shows a trend toward better qualities by using better yarns,
such as wool, and finer densities, which means more pile knots per square meter or per square yard,
Phillips said. Moulin added, There are better and finer designs in high-end quality. Imports are
already successful, and now the American market is going forward. Wool has been successful at Shaw
Industries and Karastan. Both have a collection of carpets in wool.Van de Wiele will complete a
range of carpet weaving machines with another Axminster weaving machine. Moulin said it is under
development and will be running sometime about the middle of next year.Mahlo America Inc.,
Spartanburg The market has been fine for us, we had good meetings, but with the tragic events,
traffic has been slow, related Alan Lavore, sales and marketing manager. The main product were
displaying this week is our PCS-10, a pattern-control system in which we can use camera-based
technology to image the surface of the carpet and look for patterns within the carpet whether they
be structural or color, he said. The system detects distortions and repeats within the actual
pattern of a material. This is important because distorted carpet or fabric loses its value as a
usable finished product and gives rise to complaints.Mahlo also had on display some process
monitors and control systems for moisture monitoring, weight measurement and exhaust
humidity.American Superba Inc., Dalton Frank Walburger, president, and John Cornelison, regional
sales manager, were on hand to talk about the companys equipment. Superba developed the ARG/M for
computerized regulation of saturated-steam, pressurized, continuous heat-setting of carpet
yarns.Were also introducing the B401, which is the narrowest winder on the market. It is an upgrade
for the B400 introduced in 1999. It will be coming out soon. Were also introducing a MF3 Frieze
unit that will be coming out within the next two months. The show has been good for us. The traffic
weve had is high-quality traffic. Were happy with that, Walburger affirmed.Americhem Inc., Concord,
N.C. Americhem is a manufacturer of custom-color masterbatch for polypropylene, polyester, nylon
fiber and fibers used in floor covering and textile applications. Americhem can produce color for
anything that is solution-dyed. According to Paul Mrzlak, sales and marketing manager, Americhem is
known as a high-performance company in terms of lightfastness and spin performance of its products.
We pretty much service the floor-covering industry, and have for 15 years. Were a custom
manufacturer, with everything being designed specifically for customers, he said.Customers are in
25 countries worldwide. Mrzlak said that despite the slow economy, he sees positive signs that
things are turning around. Of course, with the tragic events, it could change things. Our total
commitment to innovation and quality will not be diminished, no matter what, he stated.A.B. Carter
Inc., Gastonia, N.C. An unusual and interesting product was being demonstrated by A.B. Carter. Its
Sliver-Join splicer was designed specifically to improve the consistency of the sliver-splicing
process at the ring-spinning frame, resulting in fewer ends down, reduced waste and lower
maintenance cost. This very different splicing technique also requires little training, allowing
new and inexperienced employees to quickly become skilled at producing consistent, high-quality
splices. Fred Rankin, vice president, Mill Devices Co., said the splicer has demonstrated superior
performance in major carpet spinning operations.Fi-Tech Inc., Richmond, Va. Weve seen old faces and
weve seen new faces here at the show, and generally speaking, we certainly like to see both. Its a
good show for us, said Keith Wise, spare parts manager, sales and marketing. Wise was especially
promoting the firms biggest item Euro-Spares, a source for European spare parts.Fi-Tech is a
technical service company and North American representative for European equipment manufacturers.
Offices are maintained in the United Kingdom, Germany and Italy, enabling speedy pricing and
availability, and other related services. Fi-Tech identifies and locates parts; works with
currency; arranges shipments; clears customs, tariffs and duties; and receives at its warehouse in
Richmond. The company also inspects for damage in transit and a very important service bills
customers in U.S. dollars.BTSR (Best Technologies StudyandResearch), Italy BTSR was represented
well by Scott Yates, general manager, PAF Sales LLC, Greensboro. PAF is the exclusive distributor
of BTSR yarn control systems. BTSR was showing different systems for the industry on-line
tension-monitoring and on-line twist-monitoring systems, and a smart clear system.Yates said the
firm is cycle-proof when it comes to the economy. We sell when other things are down (such as
apparel), and we have staples niche-market items such as fiberglass and carpet industry items.
Others areas include medical, hosiery, tire cord and things that are not your typical textile
market items. Were very optimistic and upbeat. We intend to continue carrying our products to the
industry. Our products can be contoured into anywhere. Find a yarn strand or fabric formation, and
were there.Lawson Hemphill Sales Inc., Spartanburg Richard Doyne, Industrial Sales Division, said,
Weve had interest in our principal accounts here at the show, and we will follow-up. Our lab
equipment has been observed and favorable comments received. The firm was promoting Colortronic, an
extrusion control unit. Doyne said the Colortronic can simplify line startup and job changeovers
and reduce scrap accumulation during string-up. In co-extrusion lines, it guarantees that all
extruders will run in layer ratio control.The TYT-EW electronic yarn tester offers a user-friendly
format that channels yarn-quality data via a network to a central database, enabling rapid and
precise performance analyses by production and quality-control management. The FST 3000 force
shrinkage tester increases flexibility to capture and transfer data to a companys computer system.
Test results can be stored and retrieved easily for analysis at any time.Textube Corp., Greer C.P.
(Butch) Moss, Jr., sales manager, said he always looks forward to this particular show because a
major segment of his business is the carpet industry. On opening day, we had tragic events that
changed the overall schedule, but the traffic has still been pretty good for us, and weve seen a
lot of customers, said Moss.Textube had many products for the carpet industry spinning tubes,
twisting products, finish winder combs and others. The company carries a full product line in
plastic as well. Moss, like many others, talked about the effects of the slow economy. It has been
a slow economy, but we hear about new housing starts and the trickle-down effect, which takes a
while to get to us as a carrier. It seems the younger generation is having a preference for
hardwood flooring as opposed to carpeting. That could change too! A lot of people in this country
have carpet in their homes and just might use it an extra year or few months longer rather than
replacing it. But I do feel theres still a bright side of business.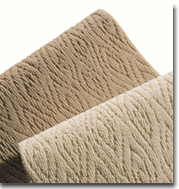 Freudenberg Nonwovens Group, Durham, N.C. According to Jean Skinner, marketing, the firm has
been, for a long time, incorporating post-industrial recycled content into its product up to 12
percent. This year we have the capability of adding up to 50-percent post-consumer recycled
content. Weve had a lot of customers asking for this, so weve used a lot of capital investment to
be able to incorporate that amount of recycled content into the product. And were the only backing
company in the world that can offer up to 50-percent post-consumer recycled content in the primary
backing. Freudenberg has 17 plants producing nonwovens in 12 countries worldwide.A new breakthrough
primary carpet backing has already begun to show phenomenal results, noted Skinner. This product,
Lutradur type 059, delivers improved face appearance, tighter backstitch, better pile-holding
capabilities, improved mending properties, reduced noise at tufting, and minimized bow and
skew.Currently the firm is investing $40-million to increase the capacity of its spunbond plant in
Durham. Production is scheduled to begin during the first quarter 2002. Freudenberg will be the
largest producer of polyester spunbond for its primary market segments: automotive carpet backings;
interior soft trim; carpet tile backings; and broadloom backings, according to
Skinner.International Baler Corp., Jacksonville, Fla. Jerry Wise, sales manager, talked about his
firms products. The auto-tie balers have many features and are engineered for maximum performance.
The equipment meets tough standards due to its hydraulically operated wire inserters for safer,
more dependable operation and more uniform ties; variable bale length control and automatic
tensioning control cylinders for tighter bales and ease of operation; electronic eye sensors for
trouble-free operation in the automatic start cycle; components for minimum down time, ease of
maintenance; reliability; plus much more. There are 16 Auto-Tie models.The industry in general will
pick up through 2005, and after that we should cross our fingers and hope that China wont ruin us,
Wise said. Why 2005 Because thats when all the quotas come off products coming into the states. The
carpet industry as a whole should be fine up to that point. After that, all bets are off.EPIC
Enterprises Inc., Southern Pines, N.C. Epic is a replacement parts company for the carpet industry
and fine count. Product lines shown included twisting and heat-setting. Claude Crisp, director of
sales, said Epic has been in business for 23 years. The firm handles replacement parts for Verdol
and Volkmann two-for-one and cabling equipment; replacement parts for Superba Heatset, Signal
Equipment, and Suessen Heatset; ring assembly cleaning and rebuilding; and EPI-Mark yarn and fabric
markers.Our EPI-Mark has many non-fluorescing colors and is cold-water-soluble. It does not melt,
contains no wax and easily cleans with no mess. Our EPI-Mark crayons are rapidly replacing chalk
markers for cotton, carpet, wool, worsted and man-made yarns and fabrics, Crisp said.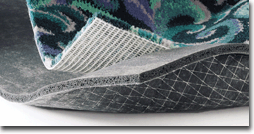 Williams Sales Inc., Nashville, Tenn. This was Williams Sales first time to exhibit. Were
excited about this industry, said Dan Williams, vice president. Were showing a flex strap machine
by Felins that wraps stretch film around a roll of rug. Most have been doing this by hand, which
can cause problems such as carpel tunnel. The stretch film is held by front and rear grippers below
the bed of the machine, the product to be wrapped or banded is placed into position, and the foot
switch is depressed. When the required number of selected wraps has been made, the stretch film is
automatically cut and sealed. The procedure works especially well on smaller rugs, such as 5-by-7s,
play rugs. And, according to Williams, its a cost-saving alternative to using a rigid poly plastic
strapping-type machine. He said it usually pays for itself in less than a year. The Felins machine
is made in the United States.New Binders Group, Miamisburg, Ohio New Binders Group manufactured the
first bobbinless, portable carpet-binding machine. Most carpet-binding machines are made from
modified home sewing machines, but New Binders Durabind is a stronger and faster heavier-duty
industrial machine, according to Bruce Dellert, vice president, sales and marketing. It is designed
to increase productivity and efficiency, is economical and simple to operate, and adapts to
carpeting of all grades and backings, among other benefits. It is portable and can be taken to job
sites.Dellert stated, This is our first time at the Carpet Technologies Show, and we are somewhat
disappointed with attendance, but with the tragedy in our country, we understand many could not get
here. However, were looking forward to the next show in two years and to selling more machines. The
Durabind machine is made in Hudson, Ohio.Electric Systems Integrator, LLC (ESI), (an NSC Groupe
Company), Chattanooga, Tenn. Bill Gains, sales engineer, said the trade show has been somewhat busy
in his area, but he would like to see more participation from the carpet industry. Theyve done a
good job with the show here, but we need more support from the carpet industry, because thats what
were here for. ESI was showing an ABB600, which features Allen Bradley, Reliance, Siemens and
Yaskawa drives networked via remote 1/0 on Profibus and Device Net.According to Gains, the
simulated nonwoven line utilizes soft PLC (Programmable Logic Controller) technology based on
Wonder Ware. It has an in-touch and in-control platform, which is somewhat unique in the industry,
he noted.CYG, Santa Monica, Calif. CYG is an investment firm that handles mergers, acquisitions and
financial data. Greg Yorkison was on hand promoting one of CYGs clients, Syndesis Inc.,
manufacturers of Syndecrete®, a lightweight, hard-surface application that incorporates carpet
waste such as the latex backing and polypropylene tape. The product can be utilized for multiple
applications including floor covering, table tops, counter tops, wall panels, and bathroom
fixtures. The product can go indoors and outdoors. This is a multi faceted, very flexible product,
said Yorkison.IRO Inc., Charlotte IRO handles a full range of yarn-feeding devices and yarn-tension
controls, according to Thomas Hansen, president. The firm provides tension control for all types
and counts of yarns. By controlling tension and yarn feeding, it will increase production and
improve quality. The firm showed a full range of yarn guides, ceramic tensions and stop motions, as
well as its latest electronic yarn-tension meter and yarn-speed and rate meter.Day International
Inc., Greenville, S.C. Day International manufactures and sells rubber cots and aprons to assist
carpet manufacturers in creating top-quality carpet yarn. Day was exhibiting two brands of cots and
aprons, DAYtex® and Accotex®, to cover a wide range of applications and machinery. According to
Bill Howle, director of technical services, Day also provides top-quality rolls for Superba
machines, as well as balloon rolls and clearer covers for carpet yarn spinning machines. Another
product being shown was roll covering for tufting machinery.Day has been serving the textile and
carpet industry since 1938. Howle said he enjoyed being at the show and appreciated the opportunity
of exhibiting to an enthusiastic crowd of carpet mill personnel.

November 2001