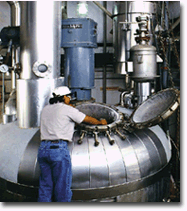 Better Chemistry
Textile chemical suppliers offer manufacturers value-added opportunities. Demand for
textile chemicals in the United States is expected to surpass $3 billion by next year, driven in
large part by the increased use of high-value formulations that increase production efficiency and
add value to fibers and fabrics.As the U.S. industry strives to compete in a global marketplace,
against odds outlined time and again in these pages, the industry is examining virtually every
facet of manufacturing to improve quality, efficiency and effectiveness.In this report,
Textile Industries looks at some of the chemicals and companies that provide the means for
more efficient manufacturing, whether in yarn and fabric preparation or in dyeing and
finishing.Bayer Corp., Pittsburgh, last year acquired Sybron Chemicals Inc., a U.S.-based producer
of polymers and specialty chemicals. This year, the company has announced significant worldwide
investment in its polymers and coatings business.Bayer plans to invest $1.6 billion globally in its
polymers segment, according to Werner Spinner, a member of the Board of Management of Germany-based
Bayer AG, the U.S. companys parent. Of this total, $1.3 billion will be assigned to new production
facilities, with the lions share going into expansion of polycarbonate capacities. The United
States continues to hold a key position for Bayer, he said. With a U.S. polymers market share
already totaling more than 30 percent, the company aims to invest another $250 million in the
polymers segment on top of a recent expansion program that totaled $2 billion between 1996 and
2000.Polymers are and will remain a core business for Bayer, Spinner said. We will continue to
build on our market leadership in the field of high-grade polymers. To this end, we will eliminate
capacity bottlenecks and exploit every opportunity for regional growth, while at the same time
analyzing and optimizing our portfolio and our cost structures.Among recent product additions for
the company is a low-temperature bleaching (LTB) system that produces results comparable to those
from conventional systems, but at lower temperatures and in less time. With conventional bleaching
systems, typical process temperatures range from 200°F to 230°F, depending on the substrate and
equipment used. But with Bayers LTB system, fabrics can be bleached effectively with hydrogen
peroxide at significantly lower temperatures. The most significant benefit associated with the new
LTB system is increased productivity, which is generated by significantly reducing the processing
time by as much as 1.5 hours, according to the company. It takes less time to heat the process
water, and the system has a neutral pH at the end of the bleaching stage, eliminating the need for
rinse and neutralization baths.The system can be used to bleach a variety of fibers and fabrics,
including cotton, viscose and nylon, as well as pH- and heat-sensitive blends. According to Bayer,
it eliminates the need for hazardous chemicals (hypochlorite and hydrosulfite) and has been proven
to improve fiber whiteness and fabric integrity.Bayer also offers Baysolex® RP and RP Assist, which
comprise a new generation of aftersoaping agents for reactive dyeings. A special enzyme system
removes color components from the unfixed dyestuff hydrolysate, saving water, energy and time,
according to the company. As well, the new products maintain or improve fastness properties. The
Baysolex enzyme system is primarily intended for deep shades, especially dyeings based on Reactive
Black 5 (black and navy). The system comprises Baysolex RP, an enzyme component, and Baysolex RP
Assist, a special process regulator. The products are generally added in the fourth or fifth rinse
bath after reactive dyeing, but the exact method depends on the customers operating
conditions.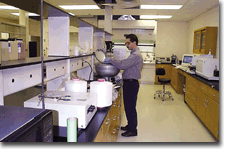 Seydel-WoolleyandCo. Inc., Pendergrass, Ga., has a full line of products for garment
processing and dyeing; preparation chemicals for knits and wovens; and dyeing auxiliaries for
indigo, cotton, polyester, acrylics, rayon, nylon, lyocell and blends. As well, the company
features a full line of finishing chemicals including resins, polyvinyl acetates, and many
hydrophobic and hydrophilic silicones. These silicones are used mostly as microemulsions, softeners
and bases, as well as lubricants, antistats and buffers.Seydel-Woolley has recently invested more
than $1 million in its laboratory to facilitate product development, according to Steve Adams,
president. We have the people, the technical support and the equipment in place to anticipate and
respond to the needs of our customers, he said.The companys Seycote SR-25R is a polyester
dispersing and antiredeposition aid designed to provide maximum dye antiredeposition properties in
garment wet processing and other washing and scouring systems. It can also be used as a
dye-leveling agent when used with disperse dyes on polyester and blends.Seyco Finish ESA Liquid is
a liquid film former based on a highly soluble and resoluble carboxilated starch of low viscosity.
It was designed to be applied as a hand builder for fabrics made from cellulosic fibers, especially
indigo-dyed denim. The product is used, as well, to stabilize elongation and shrinkage of finished
fabrics.Seyco Antizone is a complex cationic liquid softener specifically designed to provide
ozone- and ultraviolet (UV)-inhibition properties. According to Seydel-Woolley, it features
excellent antiozonate/UV inhibition on denim, is non-yellowing and does not alter shades. It
creates excellent hand and works well as a general-purpose softener for wovens or knits.A
microemulsion silicone designed to provide an extremely soft hand and increase color vibrancy,
Seyco Soft LM-5 will blossom dyed shades and make them appear darker. The product will not
adversely affect crockfastness and will not cause spots.Seyco Scour LFB is a low-foaming,
biodegradable wetter/scouring agent used for desizing, scouring, bleaching or dyeing. The product
can be used with alpha amylase or cellulose enzyme with decreasing enzyme
performance.Seydel-Woolleys Seyco Wetter 2EH provides detergent emulsification when used in
preparation dyeing and finishing. It is an effective scouring agent with penetrating properties
that make it useful for dyeing marginally prepared or difficult-to-wet-out goods. In continuous
indigo dyeing of denim, it has excellent wetting with low foaming, according to the company. The
wetter emulsifies wax and oils; is caustic-stable; can be used in exhaust or continuous dyeing;
features instant penetration for dyeing; can be used for jet-dyeing applications on all fibers and
most dyestuffs; and is excellent on indigo dye ranges in a sulfur dye mix or in finishing as a
wetter in the sulfur dye mix.Seyco Wetter IFR is a nonionic wetter and scouring agent designed to
remove loom oil from griege fabric. As well, the company says it performs well as an after-scour
for dyed goods. The product works on natural and synthetic fabrics, and is readily soluble in
water, resistant to hard water and metallic salts, and resistant to acids and alkalis.A one-piece
finishing system from Seydel-Woolley, Seyco Lube YLW, contains a nonionic wetter, an ester-based
sanforizing lubricant and a polyethylene softener. This combination enhances hand and provides
excellent wetting and fiber-to-fiber-to-metal lubrication.Seyco Lube SR is a nonionic-based
lubricant that prevents streaks in denim-dyed garments. It can also be used with fiber-reactive,
direct or acid dyes. The product can increase load size without streaking and can help prevent
broken stitches and nicks on heavily abraded garments.Seyco LEV HTP, a leveling agent for disperse
dyes, is widely used on polyester and polyester blends dyed on jet-dyeing machines at elevated
temperatures in the 240°F to 265°F range.Other offerings from Seydel-Woolley include Seyco HB-55, a
milky-white polymeric emulsion that builds hand and provides dimensional fabric stability to knits;
Seyco Fix Right, a non-formaldehyde fixing agent for direct and fiber-reactive dyeings that
increases washfastness, maximizes wetfastness and prevents migration during drying operations;
Seycozyme NEC, a buffered neutral enzyme blend designed to provide the same properties of liquid
acid or engineered acid cellulase enzymes without the deleterious effects on fabric strength
sometimes found with acid cellulases; Seycozyme L-2020, a high-strength, bio-engineered cellulase
enzyme system for both textile and industrial use; and Seycozyme HCE, a high-strength, acid-stable
cellulase enzyme effective on cotton and all natural and cellulosic fibers and blends.Additionally,
the company offers Seyco Sperse SPW, a concentrated mixture of low-molecular-weight polyesters and
other polymeric dispersing and antiredeposition agents; Seyco Defoamer 2341, which is a 40-percent
active non-silicone defoamer for textile dyeing; Seyco Defoamer AJA, a 100-percent active
non-silicone defoamer; Seyco Desize 2K, a 4X-strength thermal-stable alpha amylase effective in
removing starch; Seyco Buffer IDB, which is designed to provide the optimum pH for indigo dyeing to
give consistent shades in both rigid and wash-down shades; Seyco Buffer 480, a concentrated liquid
buffer that maintains pH from 4.5 to 5.0; Seyco Antimigrant 347, a liquid, sodium alginate-based
product for use in the prevention of dye migration; and Seyco Cat MC, a catalyst for thermosetting
glyoxal reactants based on magnesium chloride. Another company, Cognis Corp., (formerly
Henkel Textile Technology), Charlotte, N.C., offers chemical solutions that span the entire process
chain from spinning preparation for fiber and yarn production; through pretreatment, dyeing and
printing; to the finishing of the end product.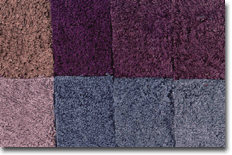 Chlorine fastness evaluation on 100-percent cotton towels.1.5-percent owb fixative (Cognis
Chromaset CBF) was applied. Towels were dried at 300°F4A Wash Test with chlorine was performed at
160°F.Courtesy of Cognis Corp.Among the specific products manufactured by the company is
Syntergent® APW, a low-foam scouring agent and penetrant designed for use on natural and synthetic
fibers and blends. It provides detergent emulsification and wetting properties when used in
preparation, dyeing and finishing. Syntergent SL CONC provides the same properties for use in batch
and continuous preparation of knit fabric. Syntergent TER-1, as well, is a scouring agent and
penetrant for use on natural and synthetic fibers and blends. During continuous indigo dyeing of
denim, the product imparts wetting properties without causing excessive foaming. Securon® 540
from Cognis is a bleaching and dyeing assistant designed specifically to prevent the formation of
silicate scale in alkaline bleach baths containing sodium silicate. In addition, it inhibits the
formation of insoluble fats and waxes from cotton and prevents their precipitation on the
manufactured goods. Stabilol® HCN is a multifunctional bleaching assistant for use in continuous
and batch operations in both cotton and polyester/cotton woven goods and knits. Stabilol HCN
eliminates the need for silicate in the system.Other products offered by Cognis include: Osimod®
CLD, a dyebath dispersant and leveling agent that can be used to disperse oligomer and prevent
redeposition on the fabric; Chromasist® 1487-A, a dispersant and leveling agent that minimizes dye
agglomeration without causing excessive foaming; Chromaset® CBF, a chlorine barrier that has
anionic ionicity and no reportable levels of phenol or formaldehyde compounds; Nonax® 1166, a
durable polymeric antistat; and Foamaster® 340, a non-silicone defoamer designed for use in jet- or
pressure-dyeing machines.CHT R. Beitleich (formerly Catawba-Charlab Inc.), Charlotte, has
introduced Sarabid LDR, a dispersing agent with sequestering and leveling properties for improving
the solubility of reactive dyestuffs. The product features low foaming and good salt stability and
is suitable for exhaust or continuous dyeing.CHT R. Beitleich also manufactures a variety of
softeners and lubricants; dyeing auxiliaries; printing auxiliaries, binders and block-outs;
binders; coatings; pretreatment products; and colors and pigments.

November 2001