ATMA Chairman InterviewBy Jim Phillips, Executive Editor Reinventing ATMA
ATMA Chairman, Kurt Scholler, talks about the current and future state of ATME-I and the
textile industry. Kurt Scholler is a dapper, well-dressed gentleman who projects an air
of quiet confidence. He looks as if he would be as comfortably at home as a diplomat in Washington
as in his office at American Truetzschler in Charlotte, N.C. The silver-haired German is quiet and
well-spoken, and has a finely developed sense of humor. His easy smile puts those around him at
ease.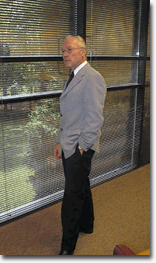 Kurt Scholler, ATMA chairman andCEO of American Truetzschler But flowing beneath the
gentle exterior is a current of steel and determination, qualities Scholler will need if he is to
realize his goals as chairman of the American Textile Machinery Association (ATMA). Scholler,
midway through the first year of a two-year term in office, inherited the helm of ATMA at a time
when it was embroiled in deep controversy over its flagship event, the American Textile Machinery
Exhibition-International (ATME-I).As well, he seeks to significantly expand the membership of the
association and bring ATMA into active participation in the Textile Alliance, the 13-member
confederation of associations and institutions that is seeking to protect and promote, as well as
unify, the voice of the U.S. textile industry. Revitalizing ATME-IOf all the things on
Schollers plate, however, nothing supercedes the importance of revitalizing ATME-I, once a thriving
show that attracted visitors from all over the world to the Palmetto Expo Center in Greenville,
S.C., and provided a conduit for the worlds textile machinery manufacturers to show off and sell
their latest offerings.Declining attendance during the past few shows has cast a pall of
uncertainty over the shows future, and has created a rift between ATMA and Textile Hall Corp., the
former parent of the Expo Center and an ATME-I co-sponsor.The issue, as reported previously in
Textile Industries, is relatively simple. ATMA seeks to combine the two segments of the
show one dedicated to yarn preparation, the other to fabric formation and finishing into a single
large show. Textile Hall wants the show to remain in Greenville, regardless of whether it is a
single show or has a split-segment format. But it is not certain the facilities at the aging center
will be able to accommodate a combined format, so ATMA has been looking elsewhere, with the most
likely candidate being Atlanta.Add to the mix the recent financial difficulties of the Expo Center
its default on a bank loan and ensuing purchase by the City of Greenville and the ultimate
resolution of the issue may still be some time in coming.ATMA has asked Textile Hall to continue as
a co-sponsor, even if the show leaves Greenville. As well, ATMA is contractually obligated to hold
the next edition of the show, which would most likely be in 2004, in Greenville. A major issue at
this point is whether Textile Hall will release ATMA from this arrangement. ATMA has offered to buy
out the contract on at least one occasion, but that offer has been refused.We need to redefine and
reorganize the ATME-I exhibition, which for many years has been in Greenville, Scholler said. The
market demands a consolidated show. That is something weve been working on. The relationship with
Textile Hall Corp. has been a long-standing one, and I think that there will be some
accommodation. Partnerships Establish NeedsAnother goal is to create partnerships with other
associations and industries both foreign and domestic in order to establish common interests and
needs. Maybe we can find ways to help each other, to create some synergies, particularly with
regard to the textile show, he said.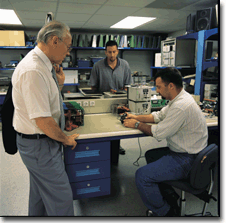 Maybe, for example, it would make sense to have a bigger show, like a machinery show that is
also taking place at the same time as other shows in the textile industry perhaps the Bobbin Show
or the knitters show or other important shows in our industry. Also, perhaps we should get together
with associations in other countries, particularly Latin America. We have talked about the
possibility of creating a show for all of the Americas that could alternate between a South
American city and a U.S. city. All of these things have been discussed and will, hopefully, help
the industry. These are all, of course, long-range thoughts. Our immediate priority is to work out
exactly what is going to happen with the next edition of ATME-I, Scholler continued.The real
question, of course, has been whether Greenville can host a combined show. The overwhelming
majority of the machine manufacturers and textile customers all seem to agree on at least one thing
and that is, we need to have a consolidated show. Thats a rare thing for there to be so much
agreement, and we must listen. My personal position has always been that if Greenville can host a
combined show, then it should stay in Greenville. But if not, we should look at alternate locations
in the Southeast. Atlanta, because of location and facilities, would be a particularly good
candidate. Whatever the ultimate resolution, it must occur relatively soon, because suitable
facilities are booked-up well in advance. Trade InequitiesBut ATME-I aside, other issues of
significance must be addressed, including the steadily declining market share of U.S. textile
manufacturers, due in large part to escalating foreign imports, nebulous trade agreements and
inefficient U.S. enforcement of trade arrangements.Other industries have been hit hard in the past
with a drastic increase in subsidized, unfair foreign competition the U.S. automobile and steel
industries come to mind but have rallied to compel the U.S. government to strengthen its backbone
in forcing international trade to be conducted on a more equitable basis. The textile industry
however, is a collection of diverse, fragmented and fiercely independent entities, many of which
have conflicting agendas in governmental relations. Importance Of Unity Within IndustryIn
March of this year, Chuck Hayes, chairman of Guilford Mills and president of the American Textile
Manufacturers Institute (ATMI), told TI in a very frank interview that the hopes of the American
industry rest on the willingness of its individual components to come together and work with an
unwavering commitment toward unity
(See ATME Evolution, ATI
, March 2001).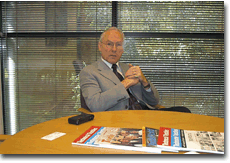 Since then, ATMI and the American Yarn Spinners Association (AYSA) have apparently mended a
rift that began during the final stages of lobbying for the Caribbean Basin Initiative (CBI), in
which the organizations took opposing stances about certain country-of-origin rules. As a result,
the Textile Alliance is again alive and well and is, ostensibly, working to provide the industry
with considerable clout and influence on Capitol Hill and in the White House.Scholler sees ATMAs
participation in this alliance as a vital tactic in the organizations overall strategy. Everything
that works to strengthen the U.S. textile industry is something ATMA should work very actively to
support. Unfortunately, a lot of times, it is all about money, said the CEO of American
Truetzschler. The textile industry has never had its money concentrated in the right places. It has
been too scattered, with not enough people saying the same things to the same people. Working
together, perhaps we can change that. Perhaps we can stand as one and be a loud, strong and
effective voice for the interests of the U.S. textile industry. ATMA Goals Include Increasing
Membership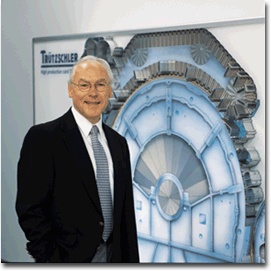 Another item on Schollers agenda during his term as ATMA chairman includes seeking to change
the by-laws of the organization in order to increase membership.Currently, a company must actually
manufacture machinery in the United States to qualify for ATMA membership. But a number of
companies that maintain manufacturing facilities in Europe Sulzer and Promatech for example also
commit considerable resources to providing technical support, training and sales offices in the
United States. These companies, Scholler says, should be eligible for membership in ATMA.Schollers
own company, American Truetzschler, manufactures in Charlotte much of the yarn-preparation
machinery the company sells in the American marketplace.American Truetzschler was founded in 1969
to serve the U.S. and Canadian customers of Truetzschler GmbHandCo. of Germany. The company
maintains manufacturing, sales, spare parts, technical support and training facilities. The company
manufactures and distributes equipment ranging from bale openers to high-performance draw-frames,
as well as equipment for the nonwovens industry. The German parent company is more than 110 years
old and is owned by the Truetzschler family. Heinrich Truetzschler and Dr. Michael Schuerenkraemer
are the fourth generation of the family to be actively involved in the management of the
company.Scholler said Truetzschler, like many of its customers, is seeking to offer more
value-added services to ensure its competitive position in years to come. Weve added a few more
functions that go beyond manufacturing in order to better meet the needs of our customers, he said.
We have added repair and maintenance to our product and service offerings. Historically, many of
our customers have done their own repairs. But with many mills downsizing maintenance departments,
this is a service we feel we can offer that will be of considerable benefit.Like so many others, we
find it necessary to make the transition from being exclusively a manufacturer to being both a
manufacturer and a service company.That is a transition that many American companies know very
well. And make no mistake, Scholler considers American Truetzschler to be a U.S. company, with its
fate indelibly tied to that of the U.S. industry.Are things difficult right now for the entire
industry he asks. Of course they are. But that doesnt mean the industry is going away. It is
changing, transitioning. And when it does reinvent itself, the U.S. textile industry will once
again assume a position of global competitiveness and profitability.Scholler intends for both ATMA
and American Truetzschler to share in that regeneration. The American Textile AllianceAmerican
Fiber Manufacturers AssociationContact Paul ODay (202) 296-6508 American Cotton Shippers
AssociationContact Neal Gillen (202) 296-7116America Sheep Industry AssociationContact Peter Orwick
(303) 771-3500American Textile Machinery AssociationContact Harry Buzzerd, Jr. (703)
538-1789Alabama Textile Manufacturers AssociationContact Rebecca Camerio (334) 279-1250American
Textile Manufacturers InstituteContact Carlos Moore (202) 862-0555The Association of Georgias
Textile, CarpetandConsumer Products ManufacturersContact G.L. Bowen (404) 688-0555Knitted Textile
AssociationContact Peter Adelman (212) 689-3807National Cotton Council of AmericaContact Gaylon
Booker (901) 274-9030North Carolina Manufacturers AssociationContact Dennis Julian (919)
782-8416Northern Textile AssociationContact Karl Spilhaus (617) 542 8220South Carolina
Manufacturers AllianceContact Jim Morris, Jr. (803) 799-9695Textile Distributors AssociationContact
Bruce Roberts (212) 869 6300

September 2001