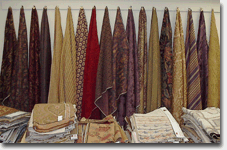 Valdese Weaves ERP Success Story
Jacquard weaver reworks work flow to improve efficiency, response and
control Imagine, if you will, a scenario in which a company is well-respected for the
quality of its work, the efficiencies of its infrastructure, its relationships with customers and
its commitment to on-time delivery.The company is successful in what, under the absolute best of
conditions, is a stressful and highly competitive marketplace. It has spent years developing and
refining its operational philosophy and has honed it to a razor-sharp edge. Yet, something is
missing a final piece that will complete the puzzle and add needed diversity and capacity to its
product capabilities. Then suppose the company finds out that even to be considered for business in
several of the new markets in which it is interested, it must change its whole business
structure.Such was the situation that confronted Valdese Weavers in Valdese, N.C., a jacquard
weaver with an established reputation for excellence in all phases of its contract and consumer
upholstery fabrics business.For Michael Shelton, president and CEO, the solution was simple, just
not very easy. The company would scrap its time-worn but effective method of operation and
re-engineer its approach to business with an Enterprise Resource Planning (ERP) system. The
implementation of the system literally required Valdese to examine every aspect of its methodology.
ERP, properly implemented, allows the synchronization of the entire supply chain throughout the
manufacturing process, from ordering of raw materials through shipment and tracking. Valdese
selected German software supplier SAP AG to supply the software and training for its ERP
system. A Road Fraught With PerilAlthough the solution Shelton and the Valdese management team
selected was simple, its implementation was anything but. As anyone who has been through a similar
experience can attest, the accompanying pain sometimes causes extreme doubt about the sanity of
such an approach. Ultimately, things worked out as planned for Valdese. The company is now,
according to Shelton, completely networked from design all the way through financial
reporting.Shelton and his management team can smile now. But just a few short months ago, while in
the midst of change, anything but smiles would have been evident. Recalling those days, Shelton
shrugged and said, If I had only known . Despite the potential for eventual profit, the road to
change was fraught with peril, much of it totally unanticipated. To get an accurate assessment of
how seemingly overwhelming those problems were at the time, Shelton said if he had multiplied
anticipated difficulties by 10, he would have been close to what the company experienced in the
interruption of its work processes.To the credit of everyone at Valdese, though, not once in the
more than 18 months it took to implement this program did we miss a single delivery, he said. The
commitment by the entire team was astounding.Had Shelton really known what was in store, would he
have stopped the process There were times when I desperately wanted to go back to the reliable way
things had worked in the past. But by that time, we were committed, and we thought the absolute
worst thing would be for us to be stuck halfway between old and new methods.Had they stopped the
process, Valdese would not have been the only company thus caught. More than 70 percent of ERP
installations fail, said Janet Kuck, vice president, information technology. The biggest reason is
that many companies get to the same critical state as Valdese did and then fold. They get trapped
between two radically different ways of doing things.This [ERP] system works, she said, but you
have to know how to work it. It is very gratifying to know that we are one of the 30 percent that
has made it work.Added Shelton: We managed our business very well. People both within and outside
our organization kept asking us why we were undertaking such a radical change. In the end, the
answer is simple to get better. Steady Growth Amid A Sea Of ConsolidationsEstablished in 1935,
Valdese is a weaver of jacquard and multi-purpose fabrics. In an era when many companies are
downsizing and consolidating, Valdese spent much of the 1990s with double-digit growth. Its main
plant has been expanded seven times since 1974 and now encompasses more than 320,000 square feet.
In addition, the company recently opened a second plant a few miles from the first, giving it more
than 500,000 square feet of manufacturing space. Valdese now ranks among the worlds largest weavers
of jacquard upholstery fabrics.The companys 97 Somet and 43 Dornier weaving machines, a mixture of
both air-jet and rapier technology, produce fabric mostly from natural fibers, although some
synthetics are used for certain properties and price points. All the Valdese weaving machines are
equipped with Staubli electronic jacquard heads. The company both package- and beam-dyes yarn in a
dyehouse dominated by the products of International Dyeing Machines. Forty percent of the companys
business is dedicated to fabric for furniture manufacturers such as its sister company, Century
Furniture, and Ethan Allen. Approximately 28 percent goes to fabric distributors such as Kravet
Fabrics and Waverly/ Schumacher. Eighteen percent is for the specialty fabrics market, including
Springs Industries and WestPoint Stevens, and 14 percent goes to the contract business.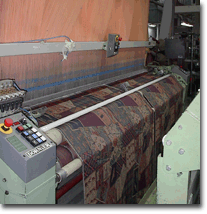 If there is any word that best describes the products of Valdese, that word is creative,
Shelton said. Our pursuit of excellence always begins with the creative touch. Whether using simple
ideas or intricate designs patterned after rich museum classics, our design team seeks inspiration
from all over the world. Creativity, combined with strong marketing knowledge, precise information
about industry trends, and most importantly the taste of our own designers gives our fabrics a look
we believe to be truly singular.Despite the companys success, the management team began noticing
potential cracks that could put a sudden stop its phenomenal growth. We had taxed the limits of the
technology we employed, Shelton said. We had experienced dramatic growth throughout the 1990s. Some
of our systems were homegrown. They were working well, but were pretty much at the limit of their
capabilities. We wanted to implement a platform that would give us the tools to continue the
pattern of growth we had established.Part of the upgrade was also driven by absolute necessity, he
said. Some of the older systems had Y2K compatibility issues, and the decision was made to
implement wholesale change to better position the company in the future.Shelton knew that a proper
re-engineering would require a considerable investment, both in human and financial resources.
Eight key employees were appointed to a committee to recommend, oversee and implement the new
strategy. There were people vital to the success of our operation, Shelton said. It put a
considerable strain on our day-to-day operations to pull them away from their responsibilities, but
we knew that we had to make the commitment to do it right. Sometimes you have to take a step back
in order to take two steps forward.Among those people were Kuck; Carson Copeland, senior vice
president, manufacturing; Wayne Wheeling, director of manufacturing; and Snyder Garrison, senior
vice president, administration. Implementation BeginsThe decision to implement an ERP system
was initially made in 1997. Formal implementation began in February 1998. The process took almost
18 months to complete. Valdese spent $12.2 million on the program, almost 15 percent of the
companys annual sales volume. Shelton anticipates 2001 sales to be approximately $80 million.Even
with all we knew we had to do, everyone still underestimated the magnitude of the project, Copeland
said. It is easy to underestimate the impact. The first order of business is to get the program
live, and then return the business to where it was previously. You dont do that overnight. It took
us a year to get it where we wanted it, and we are just now beginning to understand how to properly
use it.Shelton added, The capabilities of the system are so vast, we are just now beginning to
realize the benefits internally and the benefits to our customers of all the value-added benefits
of doing business with us. Our ERP system is now, at last, an asset to our
business. Integrated FunctionsThe implementation of the program, according to Kuck,
incorporated integration of the following functions: sales and distribution; materials management;
production planning; financial accounting; controlling/costing/budgeting; and product data
management.For sales and distribution, functionality now includes order entry with options for
piece-size variations and finish selection; the automatic inclusion of customer and
material-specific data into the sales order; customized order explosion program; ease of shipping
by either complete orders or individual pieces; full electronic data interchange capabilities; and
a sales information system for comprehensive reports.In materials management, the system
encompasses real-time inventory movements and postings, a standard costing system to valuate
make-to-stock items, and a logistics information system for reporting.Production planning modules
allow the nightly running of material requirements planning on sales orders entered that day,
capacity planning and leveling to maximize efficiencies and throughput of the product, and
forecasting tools to better manage and predict yarn needs.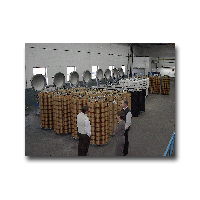 The financial accounting program enables real-time financial postings integrated with
materials management, production planning, sales and distribution, and
controlling/costing/budgeting, as well as establishing an extensive information system for
monitoring customers and vendors.The controlling/costing/budgeting module of the program provides
for standard costing for make-to-stock items, extensive use of budgeting to facilitate cost
controls, and profitability analysis to allow measurement of margins by each division within the
company.Product data management allows for individual project creation and tracking through a
document management system and creates a workflow that allows project visibility from station to
station.To manage product data, sales and marketing personnel enter special project requests in the
Lotus Notes software program. After approval, these requests are uploaded into the SAP ERP program
every 30 minutes, and the project is automatically created. Fabric open-line items are entered
directly into the SAP workflow. Projects are then tracked from station to station through the SAP
program, with key transactions happening automatically in the background. A material master record
is created, along with a bill of materials and routing records. Sales orders are automatically
generated. The project goes through design workflow, then through the regular manufacturing
processes, and back again into design workflow for completion and the design sign-off. The actual
pattern number to be sold is created, costed and priced in the SAP program directly by the design
engineering team.CAD stations are used for finalizing product designs that have been scanned, Kuck
said. The software allows for a simulation of the product pattern on an Iris printer, which, in
most cases, eliminates the need to weave a sample. Creation of a CAD pattern master file enables
all pattern specifications to be downloaded automatically to the loom via loom monitoring software.
This software allows for running changes in patterns, as well as touch-screen declarations of yarn
and machine needs for the next order to be processed.The SAP system also alerts members of the
product design team when projects are ready for their attention. Custom tracking reports and custom
transactions allow for the constant monitoring of projects. Taking The System LiveSo,
essentially, the entire workflow at Valdese is now one, largely automated, network. All of this, as
Shelton, Copeland and Kuck maintain, was a lengthy labor of love in the crafting. But then the day
came, July 12, 1999, when someone had to pull the switch and take the system live.As the day
approached, Valdese closed its collective eyes and held its collective breath. It actually took
almost a week to effect the changeover from one system to another.Valdese is just beginning,
however, to tap its potential. Aside from managing inventory for both Valdese and its customers the
system also gives the company the entry point into high-end customers who demand sophisticated
entry, tracking, billing and service systems.We have built into this system the capability to
handle the most complex requirements our customers and potential customers might have, Shelton
said. We now understand how to interface with our customers and their systems, and our service
capabilities are now very sophisticated. We can completely ensure a continuous and timely flow of
product and implement Just-in-Time inventory management controls on both our end and the
customers.Adds Copeland: A lot of our customers have asked us to carry inventory for them. We can
now demonstrate how we can accomplish the same objective by throughput. More than 85 percent of our
fabric can be woven, finished and handled internally in less than two weeks. We are able to save
our customers the cost of inventory.Shelton said he is just now beginning to educate customers
about how Valdese saves them money through inventory reduction. A lot of them dont factor in this
cost when they look at product cost. The price of fabric is just one part of that. And until you
really know the cost, every other decision you make is incidental.In the past year, Valdese turned
its inventory almost 12 times and the company has the capability of exceeding that figure this
year.We develop about 5,000 new designs every year, the majority of which are custom-tailored for
our specific customers, Shelton said. We have just gotten through a major rethinking of everything
we do, and weve emerged on the other side a better company. There is no limit to what we can do
now.

May 2001