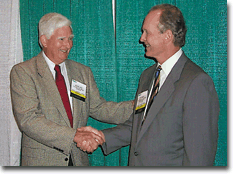 Ted Wirtz (right) congratulates Wayne Hays, recipient of the inaugural IDEA Lifetime
Achievement Award. The nonwovens industry was center-stage at the IDEA01 show held March 27-29
in Miami Beach, Fla.The Association of the Nonwovens Fabric Industry (INDA) and Nonwovens Industry
magazine sponsored the inaugural IDEA01 Achievement Awards, which were presented during the opening
keynote session of the conference at the Miami Beach Convention Center.Wayne Hays, a founding
member of INDA, was honored with an award for Lifetime Achievement in the nonwovens industry. Ted
Wirtz, INDA president said, There are very few people in the world of nonwovens who do not know
Wayne Hays, and certainly everyone owes him a debt of gratitude for his pioneering work during the
formative years of our business.Six additional awards were presented. The 18 finalists are listed
here along with pictures of the award recipient in each category. Every company that was nominated
contributed significantly to the outstanding growth of the nonwovens industry, said Wirtz.Look for
a review of the IDEA01 show by Richard Mansfield in the June issue of
TI.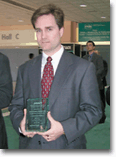 IDEA01 Fibers and Raw Materials Achievement AwardEastman Chemical Co., Kingsport, Tenn.:
Eastar Bio Copolyester (pictured: Jon B. Woods, business unit manager, Packaging, Film and Fiber,
Eastman Chemical Co.)Fiber Innovation Technology, Johnson City, Tenn.: Bicomponent and Specialty
Polymer Staple Fibers3M, St. Paul, Minn.: Nextel Flame Stopping Dot Paper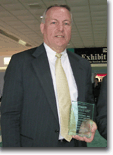 IDEA01 Equipment Achievement AwardDilo Systems Group, Charlotte, N.C.: Hyperpunch Needlelooms
(pictured: Klaus G. Maitre, executive vice president, Dilo Systems Group).KT Industries Inc., Fort
Wayne, Ind.: Stac-PacRieter-Perfojet, Greensboro, N.C.: AirLace 2000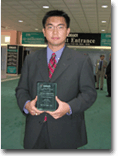 IDEA01 Rollgoods Achievement AwardPTI Inc., Christiansburg, Va.: K-Flex Ballistic Protection
Material (pictured: Alexander J. Park who accepted the award on behalf of his father, Andrew D.
Park, president, PTI Inc.)Freudenberg Nonwovens Group, Durham, N.C.: EvolonKimberly-Clark, Neenah,
Wis.: Intrepid Filter Material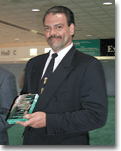 IDEA01 Short-Life End Product Achievement AwardProcterandGamble, Cincinnati: Swiffer
(pictured: Alex Cedeno, associate director, product development, fabric and home care, P and
G)Clopay Plastic Products Co., Cincinnati: Breathable LaminatesKimberly-Clark, Neenah, Wis.:
Huggies Little Swimmers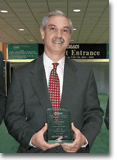 IDEA01 Long-Life End Product Achievement AwardColbond, Enka, N.C.: Electrostat (pictured: Don
L. Brown, director, salesandmarketing, flooring/automotive, Colbond Nonwovens).All Felt/Hollinee,
Ingleside, Ill.: Electrostat Western Nonwovens Inc., Carson, Calif.: PolarGuard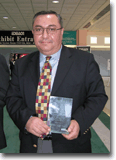 IDEA01 Entrepreneur Achievement AwardMogul SpunbondandMeltblown Nonwovens, Composites, Turkey
(pictured: Ekrem Kayali, Mogul SpunbondandMeltblown Nonwovens, Composites).Jentex, Buford,
Ga.VersaCore Industrial Corp., Kennett Square, Pa.
May 2001