Products That Made News Products That Made News At ATME-I '01Fourth in a series gives some details on products TW editors feel have immediate industry significance.

Tandem head machine, Dotti, can produce 12-cut plain trim with its twin single system carriages working over a 79-in. wide needlebed. The computer operated machine features high and low butt needles and electronic needle selection. Vanguard. www.vanguardsupreme.com

Winder, EcoWinder, is a low-cost machine for standard cloth winding operations. Unit sets up at the weaving machine and winding speeds adjust automatically to weaving machines. Roll width is nominal weaving machine width plus 100 mm. Machine uses a d-c motor and offers a maximum speed of 2 m/min. Neuenhauser (U.S. Rep: Hubtex) www.neuenhauser.de New replacement service replaces top or verge rings and sinker rings at its facility in Greenville. The company offers replacement cylinders for a variety of models including those form Orizio, Terrot and Vanguard. It also offers 46-cut cylinders for Terrot equipment, primarily for industrial uses, as well as cylinders for the recently introduced Charlotte seamless garment-knitting machine from Trustfin-Monarch. Mayer.www.smc-cylinder.com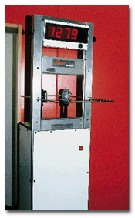 Selvage system, Propeller Leno, produces a full cross fabric selvage on a 2-thread basis. It affords the potential to pull of leno threads from large bobbins. The system enables speeds in excess of 1,200 ppm. Features include customized leno binding sequences, minimum number of movable parts, quick and easy installation using different adapters for respective weaving machines and low operating costs because of its resistance to wear. Components include cross leno cone creels with variable fastening devices for two bobbins, thread reversions with different fastening adapters for two threads and threading aids. Gebr. Klocker (U.S. rep: Grob USA).gebr.kloecker@t-online.de

Four-way loader, Model W-EFY-ES, offers multi-directional handling of warp beams up to 10,000 lb without stabilizers or outriggers. Device has 4-wheel steering and beam carriage offers hydraulic width adjustment. Lift heights are to 236 in., and touch-pad steering allows 360-deg turning range. Williamson. (864) 848-1011.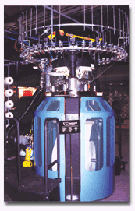 High speed industrial machine, 2SR2/VI, has a speed factor of 1500 and can take up a roll up to 42-ins. in diam. on its industrial frame. The rib unit was exhibited in a 19-in. diam, 14-cut model equipped with a Filter Flow lint cleaning system. It also features one track high-speed camming for the production of 1×1 rib. Vanguard.www.vanguardsupreme.com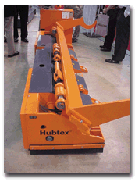 Beam truck, KHW-TSEF-III, has capacities up to 2,000 kg for full and twin beams up to 3,800 mm wide. Machines feature twin drives, power steering, electronic direction selection, steerable cross drive, electronic axial displacement. Hubtex.www.hubtex.com Warp sizing, Penflex 2, a line of products that significantly reduce or eliminate the need for binding materials such as PVA. Strong and flexible. Reduces sizing costs and improves weaving performance. Custom manufactured for each application. Process Chemicals, LLC. www.process-chemicals.com Batching motion, T-2000, requires low maintenance. Dust-tight, heavy steel-end housings, which provide sturdy structural integrity to the machine, enclose all drive components. Features include PermaCoat bed rolls, turning directional rolls, face-in or face-out winding capabilities, adjustable core guides, isolation transformer, high-voltage disconnect, separation of electrical/mechanical components and low power consumption. Options include fabric oscillator, power doff, DA-186 yardage sensors with or without digital readouts and non-lighted inspection stands. Alexander Machinery Inc.www.alexco.com Glove knitting machine, Model SGT, can knit two 14 gauge complete gloves in three minutes. The tandem single system carriages can operate at a speed of 250 rpm and are driven by servo motors. This is a compact computer operated machine available in 7-14-cut. The unit also features two microphones built into the machine to detect any abnormal noises and stop the machine when they do. It also has a vacuum system to clean the yarn trim. Matsuya. matsuya@quartz.ocn.ne.jp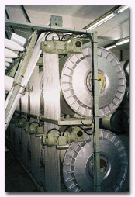 Warp thread tension control, Solex, meets varying weaving requirements on such fabrics as seat belts, airbag fabric selvages, elastic and filter ribbons, fabrics for medical care, etc. The system promotes higher efficiency through fewer thread breaks and machine stops. For higher warp thread tensionsmore than 40 kg per warp, for examplean alternative to the friction drive is available: a power connected drive. The needs come from different industry segments, but particularly tubular weaving. Willy Grob Ltd. 41 55-286-13-4. Wastewater treatment, GTV Size Recovery System, recovery rate of 85%. Reduction of dust emission in the mill. No enzymatic or oxidative pre-treatment for the desizing. Lower fresh water use and smaller wastewater discharge. Reduction of pollution load in the effluent by approx. 50-60%. Lower oxygen demand in aeration tanks. GTV GmbH (U.S. rep: Sourcing Services International). (864) 879-3650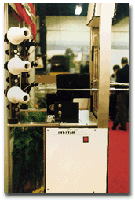 Three-end leno device operates mechanically from the weaving machine by a toothed belt. From the bobbin, the crossing threads pass, via the thread guide, in an almost straight line through high-quality ceramic eyes. This permits processing even brittle, e.g., glass, yarns. With the minimum deflection, you can draw in the crossing threads with the auxiliary needle. The three-end leno device is available in single and double version, for installation on the picking and receiving side of the weaving machine. Schmeing (U.S. rep: Southern Loom Reed). schmeig@schmeig.com

Travelling cleaner, LT-2, is for weaving machines and features automatic sleeve reverse, 14 blowing sleeves, floor sweepers, automatic discharge with electromechanical drive activated by sensors, an alarm light and an individual traction motor. Unit has a 7.5 hp motor and blowing speeds up to 215 fps. Suction speeds are to 158 fps and filtering is 230,000 cfm. Travelling speeds are 36, 72, 92 and 112 fps. Electrojet (U.S. Rep: PSP Marketing)info.jet@electrojet.com Dispensing equipment, liquid and powder equipment, with storage tanks holding from 500-30,000 liters. Computer controlled Interface and Support Package (ISP), can be linked with several color and chemical dispense systems. Stock-control per location. Free programmable dissolving steps and methods. Overview of orders still to be dispensed. Vanwyk Systems. www.vanwyk.nl Drive, Ergodrive, is a servo-device for weaving machines main drive, take-up and let-off. Device offers wide power range and high performances in compact dimensions. Unit operates automatically with any yarn and features input for warp tension control. Communication capabilities allow synchronized weaving, and units are predisposed for remote control operation. Ergotron (U.S. Rep: Lang Ligon& Co.) www.ergotron.it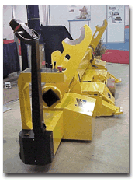 Beam truck, EE-KHUR 30, handles up to 3,000 kg in 1 meter flange diameter or 2,500 kg in 1.1 m flange diameter. Supporting rollers prevent floor damage, and servo motors allow coupled steering. Electronic pulse control allows smooth starting and stopping, and electro hydraulics allow smooth raising and lowering of beam. Genkinger (U.S. Rep: SSI Sourcing International) www.genkinger.deOctober 2001