TW Special Report
Zellweger Uster, Charlotte, N.C., honored Parkdale Mills, Gastonia, N.C., in early August for the successful installation of 30,000 Uster® Quantum clearers.
The management of both companies complimented their cooperation in various Parkdale plants, including Parkdale America and Magnolia Manufacturing. Parkdale conducted a plant tour of the George Bloomquist plant in Lexington, N.C., which permitted a glimpse at the companys modern yarn-manufacturing facility. At the same time, it highlighted all installed Zellweger Uster equipment and put the spotlight on the Uster Quantum clearer.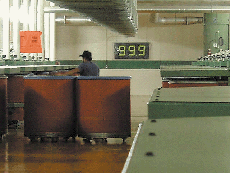 A Walk Through Parkdale's Plant
Beginning with the first production stage in the mill, invited guests and press were introduced to one of the laydown rooms with automatic bale openers from Truetzschler. John Nims, manufacturing vice president, Parkdale Mills, explained that the cotton comes already perfectly selected as a laydown. USDA data for every bale is re-tested in Parkdales central lab on an HVI line. Also, tests on the AFIS tester deliver further valuable information about the desired quality for the laydown. In this particular plant, a 50-bale laydown is used with Truetzschler BDT019 automatic bale openers. The cotton is mainly Memphis territory cotton. Selected North Carolina and South Carolina cottons are also used by Parkdale.
From bale opening through several cleaning and mixing stages, also using machinery provided by Truetzschler, the cotton fibers are either directly conveyed to carding or diverted to the fiber blending lines. At this particular plant, four blending lines for cotton/polyester are installed. Currently, about 75 percent of the production is 100-percent cotton, and 25 percent of it is cotton/polyester blends. However, the 1.5-million-pound-per-week capacity permits production of a higher percentage of cotton/polyester yarns 550,000 pounds per week of cotton/polyester versus 950,000 pounds of 100-percent cotton yarn.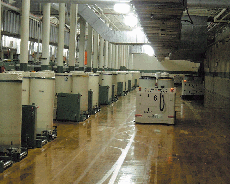 An amazingly high machine efficiency of 99.9 percent was displayed in the cardroom. The cards are the previous generation Truetzschler DK760 models. During the entire visitation period, no red light — which would indicate a machine stop — could be seen.The next stop was the drawing section, where Rieter RSB 851 auto leveler drawframes perform a superior job, according to Parkdale. Based on fundamental trials, the company decided to use only single-stage drawing because of quality and cost issues.
The sliver cans are picked up by automated guided vehicles (AGVs) supplied by the Saurer Group, through Schlafhorst Automation Inc., Holland, Mich. The cans are transported from the drawing section to an elevator, by which they are transferred to the spinning room on the lower floor.
Parkdale also has installed various Zellweger Uster quality control and Expert Systems. These indicate various on-line production CVs, sliver weights and spectrograms to indicate drafting waves and other periodic defects. Zellweger praised Parkdale for doing an outstanding job using Usters Sliverdata to control and correct defects. Both companies worked closely together developing applicable software to avoid long, thick places in the yarn.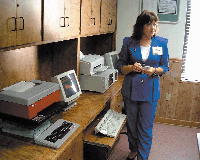 Jackie Hill, textile application engineer, Parkdale Mills, demonstrates Zellweger Uster's Sliverdata and Expert System. "This [the development lab] is the best tool to maintain quality," Nims said. The spinning room provides a clean and bright view of modern yarn manufacturing.
Parkdale's goal is to keep its entire manufacturing facility spotlessly clean and to provide the most efficient air conditioning and lighting. All air conditioning is supplied by Industrial Air, Greensboro, N.C. Efficient air handling contributes to high yarn quality levels and provides a comfortable work environment.
At the George Bloomquist plant, which incorporates two yarn-manufacturing facilities in one location, approximately 12,000 Schlafhorst Autocoro rotor spindles are installed. Each spinning position features the Uster Quantum clearer.
The Quantum clearer delivers continuous control of quality for basic yarn defects and eliminates foreign matter contamination. The system installed at Parkdale comes with computer-aided yarn (CAY) engineering and features Expert Data management to perfect the processes. It provides active quality monitoring and precise productivity control for spinning and winding applications. All spinning positions are monitored by means of spectrograms and classimat data, and Usters Expert System is used to detect, analyze, and correct eventual problems. By employing digital yarn clearing with both capacitive and optical sensing capability in one unit, the Uster Quantum clearer has contributed to setting and achieving Parkdale's quality standards. The parameters can be set precisely to individual customer needs. Cutting out defects is exactly programmed; therefore, there is no unnecessary waste of yarn.
The Quantum clearer was introduced at ITMA 99. Approximately 300,000 clearers have been sold worldwide, and Parkdale has now surpassed the 30,000th installed clearer mark. The final stage of the plant tour went from spinning to yarn storage and, further, to automated yarn palletizing and packing. Parkdale has invested heavily in automation, which seems to be the common theme throughout the whole plant. The entire manufacturing facility is run by only 112 employees.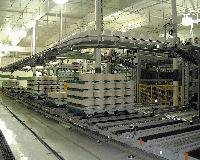 Appreciative Words
Both sides, customer and vendor, praised each other for the high level of cooperation that was necessary to reach the goal of delivering the highest quality yarns. Anderson Warlick, president and CEO, Parkdale Mills, made the pledge to provide superior quality products for customers. Eddie Bradley, head of the Zellweger Uster Division, and Rudy Kagi, president and CEO, Zellweger Uster Americas, presented Warlick with a 30,001st Quantum clearer in symbolic recognition of Parkdale's purchase and ongoing commitment to quality in the textile industry.
September 2000