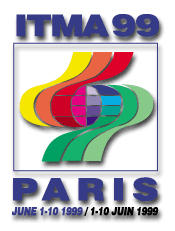 ITMA 99 can be described as the electronics, automation and refinement show. There were no
major new breakthroughs compared to previous shows. Most manufacturers showed wider machines or
faster machines or machines that were capable of conducting additional functions. Sulzer again
attracted a great deal of attention with the M8300 machine, which was weaving a twill fabric.
Picanols new drive system, referred to as Sumo or the Super Motor, was also very popular. All
manufacturers offered less of the new, but more of the improved.The merger of Benninger Holding AG
and Moenus Textile Machinery, a subsidiary of Babcock Borsig AG, was announced. The announcement
declared that the merger will open up positive prospects over the long term. The marketing and
service network will be extended and strengthened worldwide and will facilitate closer customer
contacts. Weaving On DisplayBenninger showed a wide range of warping and sizing machines. A
number of creel configurations for sectional and direct warping were also shown. The BEN-V-CREEL
for direct beaming with low thread tension was shown. Its major feature was assembly beaming with
perfectly regulated tension control offering more flexibility through width adjustment. Reliable
process monitoring via an abrasion-proof infrared touch screen was new for ITMA.Benninger also
showed several sizing approaches. Included in the new developments was pre-wetting, which is
claimed to generate 20- to 40-percent savings in size material. Impregnating the warp yarns with
hot water and prewashing the yarns simultaneously has been shown to assure more size pick-up with
better encapsulation thus reducing yarn hairiness.Another development, which was shown for the
first time at ITMA but has been available for about a year, was cold sizing. Two-sided cold sizing
application by splashing has long been a familiar alternative to waxing. What was new was the use
of cold size with high adhesive power. In this process, size application is followed by cylinder
drying. The Teflon-coated cylinders are steam-heated and operate at temperatures below 100 C°.Bonas
showed four models of electronic Jacquards: the iBJ2, the CSJ, the SSJ, and the high-speed model
called the DSJ. The iBJ2 and the CSJ come in two frame sizes: 1,344 and 2,688 hooks. The SSJ model
comes in sizes up to 6,272 hooks. The DSJ comes in three sizes: 1,344; 2,688 and 3,200 hooks with
only one moving part. This head is particularly suited for high-speed, air-jet operation up to
1,000 picks per minute. The unit also features easy shed change and a balanced mechanism that
produces low torque on the loom. All Bonas heads are supported with the new design series 500
controller.Grosse showed three models of high-speed, electronic Jacquard machines featuring
quick-change technology for expedient harness change.The ESJ-2000 is available in sizes from 896 to
5,376 hooks. A 2,688-hook head was shown over an air-jet weaving machine running at a speed of 950
picks per minute. The EJT is specially designed for terry weaving, with one end per hook for
maximum pattern flexibility using 5,376 hooks.The EJH model is designed for weaving heavy loads at
high speed over rapier and air-jet weaving machines. This model is available in sizes from 1,344 to
13,440 hooks.Dornier showed several rapier and air-jet weaving machines with many new refinements.
One of these was permanent control on timing of all nozzles. If a valve malfunctions one time, a
message is relayed to the main control panel to indicate which valve needs adjustment.Another
refinement shown was the Mobile Tandem Booster Nozzles (TMD) for up to eight colors, all of which
are moving with the lay.An air-operated tucking motion with fully electronic control for flat,
terry and tire cord fabrics was shown. Its operating speed is up to 1,000 picks per minute. A disc
leno operated by a motor, which is integrated with the disc, is available for both air-jet and
rapier machines.Other refinements shown included a triple filling sensor with stretch nozzle to
sense the arrival of the pick; improved start marks prevention program and a 1,500-millimeter
diameter warp beam placed above the machine.Dornier has extended the range of yarns that can be
used for filling on air-jet machines. For filament yarns, these range from 20 to 2,000 denier and
for spun yarns from Ne 5 to Ne 71.The company also showed a 430-centimeter air-jet machine weaving
from two beams with Jacquard at a speed of 600 picks per minute. For rotary dobby with 20 harness
frames, Dornier showed a machine running at 700 picks per minute.The most noted improvement in the
rapier machine is the increased speed to 550 picks per minute for 190-centimeter width. One of the
machines was shown with a Staubli Jacquard head having 10,000 hooks. This machine is capable of
changing the fabric design while it is running. One was shown weaving screen glass fabric, which is
an indication of the wide range of yarns that can be woven on Dornier rapiers.Fimtextile, the
Italian shedding motion manufacturer showed its positive cam motion series ME2000, positive dobby
with mechanical control and positive dobby with electronic control. These machines are available in
three models: RD840, RD860 and RD3000. All are designed to use a maximum of 20 harness
frames. Design ImprovementsNuova Vamatex showed several improvements at the Paris show
including a free transfer system, a motorized leno device and an electronic weft selector.The FTS
(free transfer system), has no guide teeth in the shed to control the tapes. This was shown on two
Leonardo machines: one weaving tie fabric and the other weaving industrial fabric. FTS is available
on loom widths of up to 230 centimeter.Vamatexs electronic weft selector with converging arrows was
demonstrated on the 9000PLUSes. It is a new modular filling selector in which each arrow is driven
by a linear motor. It was shown on an eight-color system.The company also showed its fulltronic
color display, a 10.4 inch VGA color display with TFT technology. It is an option on the Leonardo
machine. The speed range for the Vamatex machines at the show was over 600 picks per minute for the
190-centimeter width and 400 picks per minute for the 360-centimeter version.Picanol showed its
Gamma rapier machine for the first time at ITMA 99. It incorporates several new improvements.One of
these is the free flight system, which has no guide teeth for the rapiers, reducing warp damage for
filament yarns.Another is the SUMO super motor that is capable of changing machine speed in one
cycle while running over a wide range. The drive is maintenance free, since there are no belts or
clutch. A filling tension sensor indicates the filling tension during the weaving cycle.The Gamma
is also capable of double-pick insertion with the possibility of inserting more than two picks
based on the yarn size. The machine has a maximum speed 600 picks per minute for 190-centimeter
width and 350 picks per minute for 380-centimeter width.The Picanol Omni air-jet machines had
on-loom fabric inspection in collaboration with Elbit Vision Systems (EVS). This system can stop
the machine when a major defect is made. Somet featured several rapier and air-jet machines.
The company showed two different rapier machines: the Thema Super Excel and the Super Excel HTP.The
Super Excel HTP is for high textile performance rather than high speed.The Thema machines maximum
width is 360 centimeters. A Super Excel machine was weaving heavyweight fabric from three beams
behind each other. An electronic weft selector and a fully electronic leno device are also new.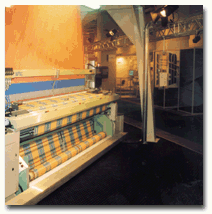 Somet demonstrated the capability of its Clipper air-jet looms in applications from heavy
denim to eight-color jacquard fabrics. The Clipper air-jet machine was shown weaving
14.5-ounce-per-square-yard denim at a speed of 1,000 picks per minute. Another Clipper with a
Jacquard was weaving a complex fabric with eight colors at 580 picks per minute with a
340-centimeter width from one beam. The machines maximum width is 360 centimeters. A new backrest
with low inertia reduces stop marks for very delicate fabrics.The Somet Telesystem Service (STS)
was another new development. It allows machines in Italy to be connected to Somet facilities
through the internet.Staubli showed all three types of shedding systems: cam, dobby and Jacquard.
The company showed a new positive cam motion series 1700 for weaving heavy fabrics at high speed.
It comes in two versions: the 1751 with no shed leveling device, and the 1761 with a shed leveling
device.A new positive dobby was also introduced. It is designed for high speed. It also comes in
two versions: the 2861 for 16, 20, 24 and 28 harness frames, and the 2871 only for 16 harness
frames. Both heads can be mounted low or on a superstructure. Staubli exhibited electronic Jacquard
heads in sizes from 72 to 12,288 hooks. The LX60 with 896 hooks was shown for the first time. Also
new for ITMA was the LX 1600. Its features include double lift with cam drive and coaxial shaft for
3,072; 4,096; 5,120 and 6,144 hooks.The company also showed heads with linear motion and integrated
understructure. These included the LX 3200 for 5,120; 6,144; 8,192; 10,240 and 12,288 hooks. All
these machines can be coupled together for wide looms. The LX 1690 and LX 3290 are designed to
weave all types of velvet. These machines can mix for two or three positions. The shed can be
adjusted to separate the shed for the ground from the shed for the pile.Another new machine is the
LX 2490 for carpet weaving. The same principle of the previous two machines is used here with the
exception of larger shed opening. This head can have 3,042; 6,720 and 8,064 hooks.One of the new
concepts Staubli is developing is the Jacquard head of the future in which no drive shaft from the
loom is needed. The Jacquard head has its own drive. A prototype version was shown.Sulzer Textil
recently announced its name change to indicate the unification of all different divisions of
Sulzer, Ruti and Nuovo Pignone.The G 6300 rapier machine is the first product after the merger
combining some of the features from Sulzers G 6200 and Nuovo Pignones FAST rapier machines. The G
6300 machine has a new drive system, that gives an industrial speed of up to 700 picks per minute.
The G 6300 has a maximum width of 360 centimeters and a maximum speed of 430 picks per minute at
that width.The companys G 6250 rapier machine represents a further development of the proven G 6200
concepts with a 10-percent increase in speed. Refinements were made in the filling yarn path to
reduce friction. It also has new electronics and a touch screen terminal. Other features include
new programming features for filling feeders and filling sensors, and a new electronic color
selector with eight colors for dobby and 12 colors for Jacquard machines.In projectile machines,
Sulzer showed the P 7150, which represents a speed improvement of approximately eight percent
(1,300 meters per minute for 390 centimeter width) due to a newly designed picking unit. A new
electric terminal is used to control filling breaks, projectile identification and basic
information.The P7MR3 (S360-N4-SP-D12) is a heavy-duty projectile weaving machine with increased
warp tension capability. The machine shown had a total warp tension of 6.5 tons weaving a filter
fabric with only a 6.5 kW drive motor.The P 7250 projectile machine was shown weaving a curtain
fabric with four different filling yarns. The machine has a special constant tension cloth take-up
system and a redesigned four-color unit.The P 7300 projectile machine was demonstrated as a
prototype to show its speed potential. The machine width was 390 centimeters weaving at a speed of
360 picks per minute. A new electronic and redesigned drive system with touch screen terminal was
shown on this machine.The L5300 air-jet machine was shown with a host of new features. At
190-centimeter width, the machine had a show speed of 1,200 picks per minute weaving high stretch
fabric and 1,100 picks per minute weaving 14.5-ounce-per-square-yard denim.The T4300, is the
air-jet version for terry weaving using swing reed. It has up to a six-color capability, and a
maximum speed of 540 picks per minute for a reed width of 250 centimeters.Sulzer showed two M8300
multiphase machines. The first was weaving print cloth with a show speed of 3,230 rpm (which is
equivalent to a 6,088 meters per minute rate of filling insertion). The second was shown weaving a
2/1 twill at a speed of 2,430 rpm (which is equivalent to 4,180 meters per minute). Both machines
were 190 centimeter in width. New Name For Water JetsToyoda Textile Machinery Inc. (U.S.A.)
for the first time at ITMA offered water-jet machines, under their name, as it succeeded Nissans
water-jets since April 1999.Toyoda showed three water-jet machines of the LW-600 series. These
machines had greater machine rigidity and reduced vibration, hence improved filling insertion and
fabric quality. Machine speed was increased by as much as 22 percent. The machine has a maximum
width of 210 centimeters at a top speed of 1,000 picks per minute. Improved nozzle design gives
better water concentration for critical styles such as polyester taffeta.Fabric quality is improved
because of the use of a feeder system with brake to reduce filling related defects such as kinky
filling. A double-pump system allows a wider range of filling yarns to be used. Start marks are
also reduced by the use of electronic let-off and electronic take-up.The design of the LW-600
series machines offers wider versatility to weave medium and heavy weight fabrics. This is made
possible by the multi-supported slay sword shaft, rigid machine structure, and higher warp tension
capability of up to 800 kilograms. Four color pick at will capability was shown for the first
time.Toyoda also exhibited air-jet looms with enhanced versatility of the JAT610 series, but they
will not be marketed in the United States. New DevelopmentsTsudakoma, the well-known Japanese
weaving machine manufacturer, showed both air-jet and water-jet machines.There were many new
developments for the air-jets. Highlights for these machines included air-operated, needleless
tuckers which eliminate mechanical parts; electronically activated filling cutter on the insertion
side; eight colors filling insertion with eight feeders; relay nozzles with a tapered hole; and
improved automatic pick removal system.Maximum width for these machines was 390 centimeters weaving
from one or two beams. The fastest machine exhibited by Tsudakoma was a 190-centimeter machine
running at 1,800 picks per minute weaving pongee fabric.Van De Wiele showed four types of carpet
and velvet weaving machines. The Carpet and Rug Tronic is a new generation of carpet weaving
machines with either two rapier (CRT82) or three rapier (CRT83) execution. In the double rapier
execution, this machine with a reed density of 320 dents per meter weaves carpets on a width of 4.2
meters at a speed equivalent to 300 picks per minute. The three-rapier machine increases the
production by 50 percent compared to the two-rapier machine.Van De Wiele also developed the
Plietronic PTX8400 Jacquard machine capable of weaving carpets with up to 12 color frames for these
machines. The Sisal Look Carpet weaving machine SLC83 is a three-rapier machine capable of weaving
sisal look carpets. These carpets have a structured pile surface with few colors.The Velvet Master
VMM22 is a double rapier face-to-face velvet weaving machine for plain and dobby velvet. The
harness frames are controlled by the Dobbytronic Dtr12. Van De Wiele showed their newest technology
in pile delivery; the servo-driven pile delivery. A servomotor drives each separate pile delivery.
This eliminates the use of gear wheels, which usually have to be changed. During weaving the pile
delivery can be changed to weave new designs with high-low effects or Jacquard-look designs. The
Velvet Master VMM32 is equipped with an electronic jacquard machine which controls both the pile
and ground yarns for weaving Italian velvet. More Than EverWest Point Foundry and Machine Co.
introduced and displayed more new products in Paris than at any show in company history. Products
for pre-wet sizing, filament sizing and large diameter beam winding capabilities were
emphasized.The Model 863-PW Size Box with accompanying size concentration control system displayed
the companys solution for precise pre-wet sizing. The concentration control system is applicable to
both pre-wet and non pre-wet.West Point also introduced its new Model 998 filament size box.
Features of the box included a new loading system for a larger immersion roll, independent
adjustment, load-cell monitoring on each end of the loaded rolls, Teflon-coated vat, and both PLI
and PSI loading display.The Model 950-A beam winder featured a delivery roll section and beam
winding section that provides the capability to wind up to 63-inch (1,600 mm) diameter loom beams
while having convenient waist-high access to the comb.

September 1999