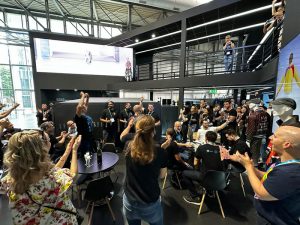 MILAN, Italy — June 20, 2023 — Kornit Digital Ltd. — a developer of sustainable, on-demand digital fashion and textile production technologies — announced today the company successfully concluded its exhibition at ITMA 2023, experiencing high volumes of engagement with new customers from key regions, such as India, Turkey, China, Central and South America.
Hundreds of customers and prospects were immersed in demonstrations of Kornit's innovative on-demand fulfillment portfolio. Driven by industry demand to accelerate time-to-market, create agile inventory management, and achieve the highest levels of sustainability, brands and retailers are now squarely focused on digitally transforming analog supply chains using proven Kornit technologies. As the industry reaches this anticipated inflection point, Kornit is firmly established as the partner-of-choice to power a shift from analog to sustainable on-demand production with maximum quality.
"Our firm strategy is to bring sustainable digital on-demand production to the mainstream, and our presence at ITMA Milan made clear this moment has arrived," said Ronen Samuel, CEO at Kornit Digital. "Digitizing end-to-end fulfillment helps brands and suppliers take control of the supply chain, stabilize and scale operations, create winning consumer experiences, and make textiles a cleaner, more responsible industry. These trends point to even greater innovations to come from Kornit."
With its industry-first vibrant new NeoPigment™ Vivido digital inks, the enhanced Kornit Presto MAXhad a strong reception at ITMA. Also taking center stage was the much anticipated Kornit Apollo platform, which delivers on the industry need for automated, high-throughput digital on-demand garment decoration at scale. Built on tested Kornit MAX technology, the Apollo effectively brings sustainable digital production to the mainstream.
"Our Apollo system was welcomed at ITMA by an industry now realizing that digital is the only solution for making fashion and textile production sustainable, producing closer to the end consumer, eliminating problematic inventory, and delivering the highest quality without sacrificing profitability," said Omer Kulka, chief innovation officer at Kornit Digital. "Mainstream digital production is being fully embraced to preserve and grow business channels in a digitally transforming world. Our success at ITMA 2023 clearly demonstrates that Kornit is the industry leader offering the only proven solution for companies to navigate stringent sustainability mandates, align supply with demand, and increase margins under any conditions."
Posted June 20, 2023
Source: Kornit