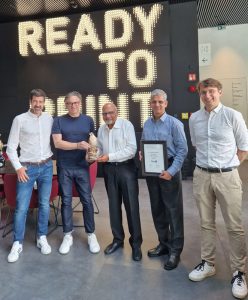 TW Special Report
Durst Group, a digital printing solutions company, is thrilled to announce another successful installation of its Tau RSC printing machine at Kimoha Entrepreneurs Fzco. Among other past installations at Kimoha, a prominent provider of label and packaging solutions in the United Arab Emirates (UAE), this landmark collaboration marks a significant milestone in redefining the label printing landscape.
With a shared commitment to innovation and customer satisfaction, Durst and Kimoha joined forces to embark on a transformative journey. Leveraging Durst's state-of-the-art Tau RSC technology and Kimoha's industry expertise, this strategic partnership has resulted in a game-changing investment that will propel Kimoha to new heights.
"We are delighted to partner with Kimoha in their pursuit of excellence," said Thomas Macina, global sales manager, Labels & Flexible Packaging at Durst Group. "The successful installation of the Tau RSCi printing machine is a testament to our commitment to revolutionizing the printing industry. We are proud to be a part of Kimoha's journey towards success, and we look forward to witnessing the remarkable achievements that lie ahead."
Kimoha has built a reputation for delivering innovative and sustainable label and packaging solutions across various industries. By incorporating Durst's cutting-edge technology into their operations, Kimoha will be able to enhance its production capabilities, streamline workflows, and exceed customer expectations.
"We always had the best digital solution in our facilities, and we wanted to add a inkjet press to our digital portfolio, where we found Durst to be one of the top notch players in the space. Advantage of speed and ease of operation made our choice obvious," said Vinesh K. Bhimani, managing director at Kimoha. "We can say many, but some of the highlights is picked on around improved margins, helping achieve company's sustainability goals by reducing the load on the conventional technology. That's our main winning in putting Durst in our plant."
During a recent visit to Durst Headquarters, Durst Group CEO and Co-Owner Christoph Gamper presented Vinesh Bhimani with a small ward for the record of 75,720 linear meters labels printed in just one day.
June 23, 2023