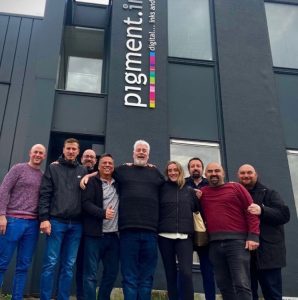 UITGEEST, the Netherlands — March 9, 2023 — Pigment.Inc hosted its distribution partner training event in February at its showroom in Uitgeest, Netherlands. The training event  focused on the company's latest Q Series direct-to-garment (DTG) and direct-to-film (DTF) industrial grade printing platforms. The event brought distributors from across Europe and Turkey to focus on sales, technical operation, maintenance and print management software to ensure optimised output, hardware servicing/performance and longevity of the Q Series printing equipment. Q Series Printers are designed for the versatile application requirements of digital garment decoration. The equipment range consists of the Q1 and Q2 Hybrid DTG/DTF Printers, the Q1-T roll to roll industrial grade DTF Printer and the recently launched Merch Factory QO-T Desktop sheet format DTF Printer designed for smaller print shops and retail environments.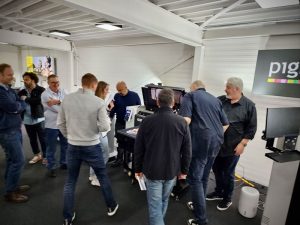 Pigment.Inc CEO Steve Richardson said: "Training events like these are integral to supporting and educating our global distribution network about our products. We want end users to get the best results from our Q Series equipment range. Our team has worked tirelessly on designing and manufacturing industrial grade digital printing systems with competitive pricing. Our aim is to help end users take the next step in improving digital garment decoration processes and grow their businesses by being able to decorate a broader range of fabrics and products with equipment and consumables tailored for the evolving needs of garment decorators.
With increasing demand for industrial grade direct-to-film (DTF) solutions for garment decoration, Pigment.Inc focussed on developing printing hardware for the DTG/DTF market segment. The Q-Hybrid Series DTG/DTF garment printers and the Q1-T roll to roll DTF transfer printer were launched at FESPA 2022. The company expanded its DTF line-up with the recent launch of its Merch Factory QO-T dedicated DTF desktop sheet format printer for garment transfer application.
The QO-T DTF printer is a first of its kind desktop sheet format DTF system paired with Kodak consumables for best in class DTF transfer production.

Pigment.Inc develops and manufactures industrial digital printing hardware for the specialty printing industry under its four distinct brand segments which are DTG Digital – direct to garment DTG/DTF printers, PPS Innovations – Ancillary finishing equipment for DTG/DTF Printed Garments, GoTx – roll to roll fabric printers, and Compress Digital – Industrial UV LED Flat-bed Printers for printing onto both rigid and flexible 2D and 3D products. The company supplies its equipment range through an established worldwide network of long-standing distribution partners ensuring expert, comprehensive sales, service and support. The company designs its hardware solutions at its corporate head office in Sydney, Australia with state-of-the-art manufacturing and service centers in Singapore, Malaysia and The Netherlands.
Posted March 14, 2023
Source: Pigment.Inc