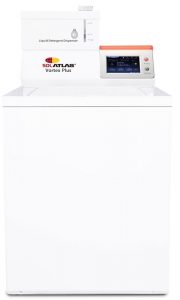 ROCK HILL, S.C. — September 6, 2022 — SDL Atlas introduces the Vortex Plus, the same instrument trusted by major manufacturers and retailers in the sportswear and apparel industries for their AATCC wash testing, now with an automatic liquid detergent dispenser. The instrument is designed to serve the needs of customers that need to simulate the multiple washes that occur in the lifespan of a fabric or garment.
The Vortex Plus holds over 2 liters of detergent which it can automatically dispense for up to 50 repeated wash cycles without operator intervention. The dosing of detergent through the liquid dispenser is fully programmable by the operator, as is all other aspects of the wash cycle such as Bath Temperature, Water Volume, Agitation (Speed & Time), Spin (Speed & Time), and Rinse Volume.
This new instrument performs all of the same functions of the Vortex M6 and meets AATCC wash testing requirements.
The Vortex M6 and Vortex Plus are the only commercial grade top loading washing instruments engineered specifically for laboratory use for meeting global testing standards. The instruments provide programable precision via a user friendly, multi-language (English, Spanish and Chinese) full color touch screen controller that can manage custom cycles with duration up to 100 hours. Both the Vortex M6 and Vortex Plus can be calibrated to ISO 17025 requirements and adjusted back into compliance easily by qualified personnel.
Committed to providing customers confidence in standard based testing, SDL Atlas has offices and experts in the United States, United Kingdom, Hong Kong and China, plus agents serving over 100 countries, SDL Atlas is ready to support its customers with instruments, consumables, and services anywhere in the world.
Posted September 6, 2022
Source: SDL Atlas