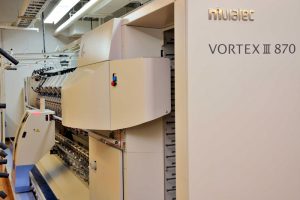 Gaston College's Textile Technology Center (TTC), Belmont, N.C., recently received a Vortex 870 spinning machine from Muratec-Murata Machinery USA Inc. The machinery
supplier also will support the college with training for TTC staff and will service the machine at no cost. The vortex technology eliminates the need for the roving process and combines spinning and winding for efficient production of yarn using a variety of man-made and cotton fibers. Only 156 such spinning machines are in operation in North America, and TTC looks forward to the opportunities presented for new business and also the chance to provide exposure for Muratec's latest vortex machine.
"Bringing the newest Vortex 870 advancements to Gaston College will keep the Textile
Technology Center in the technology forefront for both commodity and engineered staple yarns," said TTC Director Don Rusch. "The Textile Technology Center is fortunate to have such substantial support from a technology leader like Muratec."
"We know the volume of traffic that TTC has, and we want our machine to be at TTC and be part of that visibility," said David Stalvey, director of the Textile Division, and Chuck Butts, sales manager, Muratec-Murata.
January/February 2022