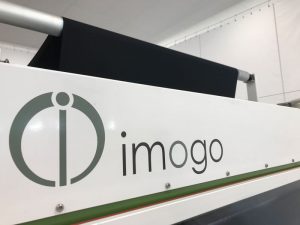 STOCKHOLM, Sweden — November 16, 2020 — In a roundtable discussion during the recent Innovate Textiles & Apparel (ITA) textile machinery exhibition, imogo Founding Partner Per Stenflo and representatives from a number of like-minded European companies discussed the opportunities for new spray application technologies for the dyeing and finishing sector.
These technologies can achieve tremendous savings for manufacturers compared to traditional water-intensive processes it was explained at the event, held online from October 15-30.
Pioneer
imogo — one of the latest companies to join TMAS, the Swedish Textile Machinery Association — is one of the key pioneers in this area with its Dye-Max system.
Dye-Max spray dyeing technology can slash the use of fresh water, wastewater, energy and chemicals by as much as 90 percent compared to conventional jet dyeing systems. This is due to the extremely low liquor ratio of 0.3-0.8 liters per kilo of fabric and at the same time, considerably fewer auxiliary chemicals are required to start with.
Obstacles
Such technologies, however, face a number of obstacles to adoption and during the ITA discussion it was agreed that 2020 has not provided the ideal climate for adventurous investors.
"The textile industry is quite conservative and is definitely in survival mode at the moment and it is not the time to be a visionary," said Stenflo. "Day to day business is about staying alive — that's the reality for many of our customers."
Nevertheless, all of the panelists agreed that sustainable production will remain top of the agenda for the textile industry in the longer term and spray technologies for dyeing and finishing processes will be a part of it.
"Any investment in something new is a risk of course, and we have to be able to explain and convince manufacturers that there's a good return on investment, not only in respect of sustainability, but in terms of making good business sense," Stenflo said. "Here we could use the help of the brands of course, in putting pressure on their suppliers to be more sustainable. Governments also have a role to play, in providing incentives for producers to move in the sustainable direction. Sustainability alone will never cut it, there has to be a business case, or it won't happen."
Marketing
The marketing of sustainable new fibers is comparatively easy for the brands compared to explaining the difficult textile processes and the chemistries involved in fabric and garment production, he added.
"These fibers, however, currently go through all the same dirty processes that we need to get away from, so it must happen," he said. "In developing our technologies, it has been important for us to avoid disrupting existing supply chains, stick with using off-the-shelf chemistries and dyes, and involve the dye manufacturers who are an essential part in how operations are driven today.
"In fact, collaboration across the entire textile supply chain — from the brands right back to the new technology developers — is essential in moving the sustainability agenda forward.
Business models
"We are also looking into new business models in terms of how to reduce or lower the thresholds for investment and minimize the risk for the manufacturers who are looking to be the innovators," he concluded.
Also taking part in the ITA roundtable discussion were Simon Kew (Alchemie Technology, UK), Christian Schumacher (StepChange Innovations, Germany) Tobias Schurr (Weko, Germany), Rainer Tüxen (RotaSpray, Germany) and Felmke Zijilstra (DyeCoo, Netherlands).
European innovations
"It's fantastic that all of this innovation is taking place in Europe based on established know-how and forward thinking," said TMAS Secretary General Therese Premler-Andersson.
"Spray application technologies are a perfect illustration of how new digital technologies can lead to more sustainable production, in this case by replacing water-intensive processes with the highly precise and controlled application of dyes and chemistries as vapor.
"There was a major project by the Swedish research organization Mistra Future Fashion recently, involving many brand and academic institute partners. The project's Fiber Bible 1 and 2 reports conclude that it's very difficult to make assumptions that one fiber is better than another, because it's so much about how fabrics and garments are being produced from them. The study also found that 55 percent of the chemicals used in a garment comes from the dyeing. This is where a number of TMAS companies can make a difference.
"An organic or recycled cotton t-shirt is not automatically more sustainable than a conventional cotton t-shirt, or even one made from synthetics — the alternative fibers are a good start but you have to consider the entire life cycle of a garment, and that includes the smart technologies in textiles production.
"TMAS members — backed by Swedish brands and advanced research institutes — are playing an active part in pushing forward new concepts that will work, and I have no doubt that digitalization now goes hand in hand with sustainability for the textile industry's future."
Posted November 16, 2020
Source: the Swedish Textile Machinery Association (TMAS)