Germany-based Schlafhorst, a Saurer AG company, recently began construction on a 6,000-square-meter assembly and logistics hall at its site in Übach-Palenberg. The company is investing approximately $4 million
in the project, which is expected to open May 2015.
"In the new logistics hall, we can pick, store and send our machines that are ready for dispatch centrally and efficiently," said Jan Röttgering, Schlafhorst. "Three loading ramps will be available in the future, upon which up to 15 large freight containers can be loaded every day."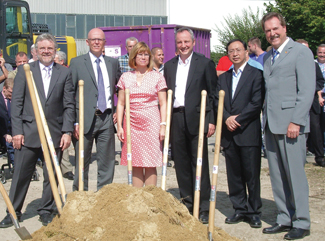 Schlafhorst and Saurer staff along with invited dignitaries at the ground breaking ceremony.
November/December 2014