Spain-based denim manufacturer Tavex Corp. recently installed a Montex 6500 tenter from
Germany-based A. Monforts Textilmaschinen GmbH & Co. KG. at its facility in Tlaxcala, Mexico,
to increase production of stretched denim. The tenter was delivered and installed by Sattex,
Monforts' distributor in Mexico.
According to Adalberto Avendano, manager for dyeing and finishing at the Tlaxcala plant, the
Montex 6500 has features that make it particularly suitable for denim production and eliminate
several traditional processing steps. "This really is a tenter that is perfect for denim," Avendano
said. "Monforts and Sattex installed and commissioned the machine, and trained our operators and
maintenance staff. Now the machine is practically handling itself."
The installed Montex 6500 has eight chambers and is handling fabric weights ranging from 290
grams per square meter (g/m2) to 460 g/m2 and widths from 170 centimeters (cm) to 180 cm. Avendano
noted that Tavex decided to split production of denim types evenly between its existing tenter at
the plant, which produces standard denim, and the Monforts tenter, which produces stretched denim.
The machines together are processing at a rate of 17 million meters of denim per year, Avendano
reports.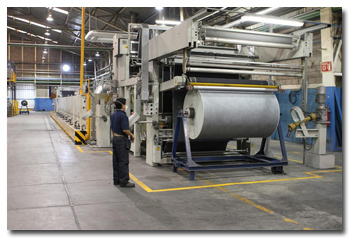 The Monforts 6500 tenter at Tavex Corp.'s denim manufacturing plant in Tlaxcala,
Mexico
Four years ago, Tavex acquired Mexico-based denim manufacturer Acotex and its plants in
Tlaxcala and Puebla, and now is upgrading those facilities in an effort to expand its stretch denim
business and increase sales to the U.S. market. According to Avendano, stretch denim is the largest
volume trend in the market, and Tavex's strategy is to offer denim that is comparable to premium
European stretches but manufactured closer to the U.S. market. He reports that total denim capacity
at Tavex's Tlaxcala and Puebla plants amounts to more than 20 million meters annually, and 90
percent of that production is sent to the United States, the world's largest market for denim. The
company also has denim production facilities in Spain, Morocco, Brazil and Argentina.

May 22, 2012