Switzerland-based Stäubli AG recently delivered its 300th Delta 100/110 automatic drawing-in system
to Nazar Textile Industry Co., Turkey. The company, a producer of cotton outerwear and shirting
fabrics, now uses the system for daily production in its weaving mill. A ceremony was held to mark
the installation, and Arif Balduk, mill manager, Nazar, received an award from Stäubli Istanbul's
sales crew.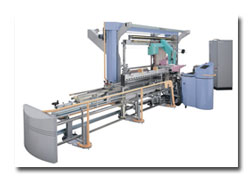 Staübli's Delta 110 automatic drawing-in system
The Delta 110 has the capacity to draw in six warps in an eight-hour shift. The machine can
draw in J/C-type or O-type heddles or a combination of the two. Warp threads are drawn in from the
warp beam — which can be up to 4 meters wide — into the heddles, drop wires and reed in a single
operation at a speed of up to 140 draws per minute. The Delta 110 can be fitted with up to 20
harness frames or up to 16 heddle carrier rods, and up to eight drop-wire contact rails, depending
on customer requirements.
December 16, 2008