Menzel (USA), Spartanburg, the US manufacturing subsidiary of Germany-based Karl Menzel
Maschinenfabrik, recently marked 40 years of service to the US textile industry by hosting a
barbeque for employees, customers and friends.
The facility was established in 1965 by Gerd Menzel, who was on hand to celebrate the
anniversary, joining his son Hans-Joachim Menzel, president, and Jochem Schoellkopf, general
manager, Menzel (USA).
The company introduced the first large-roll batching system to the US textile industry, and
now offers a wide range of custom-designed machinery. Over the last 20 years, it has expanded into
the nonwovens, industrial fabrics, coated materials and plastics sectors.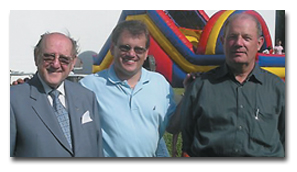 Left to right: Gerd Menzel, Hans-Joachim Menzel

and Jochem Schoellkopf at Menzel (USA) celebration


July/August 2005