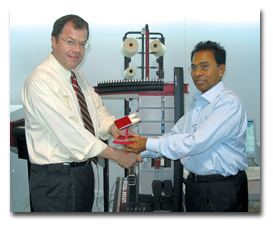 Switzerland-based
Uster Technologies AG took the occasion of India-ITME 2004, held last month in Mumbai, India, to
celebrate delivery of the 1,000th USTER® Tester 4.
During a ceremony in Uster's booth at the exhibition, Geoff Scott, CEO, Uster Technologies,
presented a trophy representing the Uster Tester 4 capacitive sensor to P.V. Chandran, managing
director, Ambica Cotton Mills, India. Ambica is a longtime Uster customer.
Introduced in 1998, the Uster Tester 4 uses capacitive and optical sensors to measure and
test yarn quality.
January 2005