England-based textile testing
instrument maker James H. Heal and Co. Ltd. has installed new equipment in its plant to provide
improved efficiency and cost-effectiveness in its production department. In addition to a Vertical
Machining Centre for processing metal parts and a punching machine for its sheet metal department,
the company has purchased an LVD Press Brake that enables rapid prototyping prior to actual
production of a new instrument.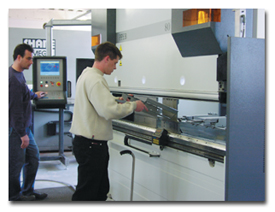 Heal employees bend parts for a Thermaplate

Thermal Stability Tester using the LVD Press Brake.

The company also has received
approval from England-based retailer Marks & Spencer (M&S) for three products from its
Quality Assured Consumables line: the Multifibre Adjacent Fabric Type DW; Cotton Lawn and Crocking
Cloths; and Grey Scales for Colour Change and Staining. These instruments are available globally
through Heal's representatives.

August 2004