Paris-based Lectra recently
celebrated its 30th anniversary. The company was established in 1973 as Lectra Systèmes in
Bordeaux, France, by Jean and Bernard Etcheparre, developers of the LECteur-TRAceur 200 system for
automatic calculation and tracing of all sizes for an apparel style.
Lectra began expanding in 1976, when investment banker André Harari, current chairman,
assisted the company in forming a business plan and securing financing for future growth. André and
Daniel Harari, current CEO, took control of the company in 1991 following a financial setback, and
merged their investment firm with Lectra in 1998.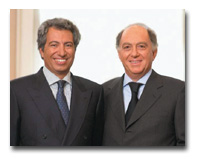 Daniel Harari, CEO (left); and André Harari, chairman, Lectra


During the 1990s, the company debuted
the Vector computer-aided cutting system, which it now offers for specific market sectors. It also
expanded into aerospace, automotive, footwear, and furniture and furnishings markets, as well as
internationally.
The company shortened its name to Lectra in 2001. It has continued to grow, and today claims
the number-one position globally for CAD/CAM software and equipment for textile and composite
end-users.




January 2004