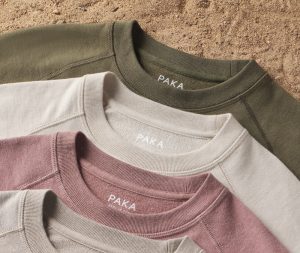 Apparel brand Paka recently introduced Tri-Blend Terry French terry garments to its line of alpaca-based products.
By Rachael S. Davis, Executive Editor
Los Angeles-based Paka is a young and fast-growing apparel company founded in 2017 by Kris Cody. He was inspired when he learned about the soft, warm and hypoallergenic properties of alpaca fiber on a trip to Peru where he purchased an alpaca sweater handmade by a Peruvian grandmother. Seeing an opportunity, Cody put his studies on hold to launch a sweater that was funded by a Kickstarter campaign.
Today, the company is a successful certified B-Corp. business that works directly with non-governmental organizations alongside the indigenous people in Peru. Paka operates with the mission: "… to create natural, all-purpose clothing for people who love the outdoors … by innovating with alpaca fiber and other materials that are healthier for people and the planet, so that consumers can connect to our natural world, make more conscious choices, and support the communities where our products come from."
After the alpaca are sheared — a process performed at least once a year to maintain the animal's health and hygiene — the traceable fiber used by Paka is hand sorted by skilled women trained to differentiate between the varying diameters of the natural fiber based on feel. Then the fiber is dyed when necessary, carded and spun into yarn, and finally knit and sewn by Peruvian artisans who sign every sweater they make.
Paka works with the Peruvians to develop sustainable fiber blends featuring alpaca. The company's newest introduction is the Tri-Blend Terry Collection. The yarns are made using an all-natural blend of 50-percent Tencel™, 35-percent organic Pima Cotton and 15-percent Royal Alpaca fiber. Tencel confers moisture-wicking and wrinkle-resistance, premium cotton adds durability, and the Royal Alpaca — with a fine fiber diameter of 17 to 19 microns — imparts softness, as well as temperature regulation and anti-odor properties to the French terry fabric.
Paka currently offers a unisex crewneck and drawstring shorts for both men and women in the Tri-Blend Terry fabric. The garments are available in four earth-tone shades — sandstone, iron oxide, Andean moss and timber — and all components are OEKO-TEX certified, including the dyes. The garments are even shipped using fully biodegradable packaging.
One unique feature included on all of Paka's garments is a handwoven Inca identification label that is created by the company's team of Quechua weavers in Peru. These women are paid more than 4 times the family living wage for their work.
"Sourced directly from the Peruvian Andes, our alpaca fiber comes from animals that roam free in their natural environment," said Paka Founder Kris Cody. "By merging functionality with sustainability, Paka is providing an alternative in performance-based clothing for consumers and helping them make choices that are better for the environment's wellbeing as well as their own. Our line is as soft and cozy as cashmere, but so breathable and performance based that you can work out in it!"
---
For more information about Paka's Tri-Blend Terry Collection, visit paka.co.
---
November/December 2022