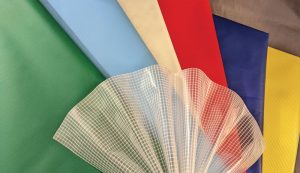 Renegade Plastics is attempting to reduce the amount of plastic waste sent to landfills with its polypropylene-based industrial fabrics.
By Rachael S. Davis, Executive Editor
Golden, Colo.-based Renegade Plastics Corp. was started with the mission to "reduce plastic waste one practical step at a time." Eventually, the company would love to offer a biobased industrial fabric once the technology is durable enough to be used in demanding industrial and agricultural applications. But in the meantime, Renegade has focused on an environmentally friendly alternative to polyvinyl chloride (PVC)-coated or laminated fabrics. The focus is to reduce the use of toxic and non-recyclable materials as a first step.
Renegade's industrial fabrics are a proprietary polypropylene (PP)-based formula. The core product line features an opaque fabric with a woven scrim as the base, and a translucent fabric with an open knit scrim base. Because the fabric is not a mixed mate-rial like PVC-coated scrim, it is fully recyclable at the end of its useful life. According to the company, the fabrics are free of lead, dioxin and phthalates; and have an 80-per-cent lower carbon footprint compared to PVC-coated and laminated fabrics. The fabrics also are just as strong, but between 30- and 40-percent lighter than equivalent PVC-coated and laminated fabrics.
The opaque fabrics may be used in a myriad of industrial applications. "We are focusing on our tent and ski resort industry products to start," said Curran Hughes, president. "But we are currently engaging customers across industries like upholstery, automotive, construction, fabric structures, fumigation, outdoor sports and tarps, among other industries." Two early adopters of the opaque products include Idaho Sewing for Sports, Grangeville, Idaho, and American Tent, Green Bay, Wis.
The initial collection offers a limited selection of colors and weights, but the company plans to gradually expand its portfolio and work with customers on customized options.
"Depending on fabric weight, we are starting with white, black, blue, gray and red colors," Curran said. "Many customers have requested different colors on each side of the fabric, which also is an option!"
While the translucent fabrics may be used in any application, Curran notes considerable interest in those products from the agricultural industry as a replacement for polyethylene (PE) films. Renegade's translucent products features high ultraviolet, thermal and chemical resistance and may last two to 10 times longer than PE films.
"Most of our fabric's advantages compared to other polymer coated fabrics stem from its non-toxic PP formulation where both the scrim and the coating are made from the same base polymer," Hughes said. "The formulation is unique because no harmful plasticizers are used. This means no fumes from welding, and the product can withstand cleaning using harsh cleansers such as bleach."
The company's long-term vision includes a recycling program. "Until  we have sufficient scale to build our own program, we commit to customers that we help them find a recycler for their scrap and/or waste fabrics," Curran said.
The second step for Renegade is to add recycled content back into the process and close the loop on its supply chain. "But our first priority is to get these novel fabrics into the market and build the foundation for that long-term goal," Curran said.
---
For more information about Renegade Plastics' industrial fabrics, contact sales@renegadeplastics.com; or visit renegadeplastics.com
---
July/August 2022