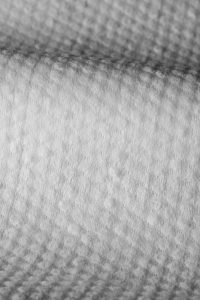 Suominen's BIOLACE® Ultrasoft is the  company's latest addition to its sustainable nonwoven fabric portfolio.
By Rachael S. Davis, Executive Editor
Helsinki-based Suominen is a producer of nonwoven roll goods used for wipes and other applications. Baby wipes, flushable wipes, household wipes, medical wipes, workplace wipes … name it, and Suominen has the market covered.
The company's global manufacturing platform comprises eight production plants on three continents including three manufacturing locations in the United States — Bethune, S.C.; Green Bay, Wis.; and Windsor Locks, Conn.
On its website, the company states: "… we don't just exist to make things. Our purpose is also to develop nonwovens and expand their possibilities. We make nonwovens better." And in 2019, the company pledged to focus on improving its profitability through innovative and sustainable nonwoven products.
The latest addition to Suominen's sustainable product portfolio, BIOLACE® Ultrasoft, was developed with sensitive skin as well as sustainability in mind. The fabric — made using plant-based, biodegradable and compostable materials — is aimed at personal care and baby products. Suominen reports that the nonwoven remains soft to the touch when it is both wet and dry and offers excellent absorbency.
"Our strategy is put into action with the new innovative and sustainable products such as BIOLACE Ultrasoft," said Lynda Kelly, senior vice president, Americas & Business Development.
"In 2020, the sales of sustainable products increased by more than 20 percent
compared to the base year of 2019."
BIOLACE Ultrasoft is made using a viscose/lyocell blend, its basis weight range is 50 grams per square meter and it can be customized with a "big dot" pattern. The product also is certified Standard 100 by OEKO-TEX®.
According to the company, testing showed the structure and composition of BIOLACE Ultrasoft enables a 25-percent higher cleaning efficiency compared to a product with the same basis weight made using 100-percent viscose spunlace, and a 38-percent higher cleaning efficiency compared to a polyester wipe.
"BIOLACE Ultrasoft with viscose and lyocell fibers performs better than a typical spunlace wipe made using only viscose because of the blend and the manufacturing process we are using," said Johanna Sirén, manager, Category Management.
"BIOLACE Ultrasoft is a sustainable product with great cleaning efficiency and exceptional softness," Sirén added. "It is a perfect solution for baby and personal care products, such as cosmetic wipes and baby wipes. The softness makes it also suitable for gentle skin products."
---
For more information about BIOLACE® Ultrasoft, contact Johanna Sirén, johanna.siren@suominencorp.com; suominen.com.
---