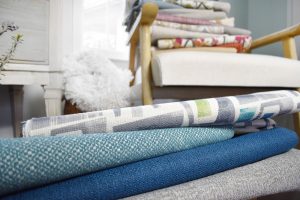 LiveSmart Ultra™ and LiveSmart Barrier Plus™ offer clean home performance in a luxury fabric.
By Rachael S. Davis, Executive Editor
Compelled by the pandemic and a growth in demand for products that keep the home clean, High Point, N.C.-based Culp Inc., recently expanded its LiveSmart® fabric line with the addition of LiveSmart Ultra™ and LiveSmart Barrier Plus™. The new products join existing LiveSmart, LiveSmart Outdoor®, and LiveSmart Evolve® — a fabric made using at least 30 percent or more of Unifi Inc.'s REPREVE® yarn.
According to Tammy Buckner, senior vice president of design and marketing, all LiveSmart fabrics comprise low denier, high-performance polyester fibers that are encapsulated in a nano-based stain repellent, water repellent finish.
LiveSmart Ultra builds on the stain fighting protection of LiveSmart with the addition of a permanently bonded silver ion-based antimicrobial* technology for mold, mildew and odor protection.  Culp partnered with a leader in the health field to adapt its Environmental Protection Agency-approved antimicrobial product to Culp's fabric constructions to better protect the fabric.
"With the onset of the coronavirus pandemic, keeping the home clean has been top of mind for everyone," Buckner said. "LiveSmart Ultra goes that extra step for a deeper clean that continues working to kill the odor-causing bacteria, mold and mildew that come into contact with your fabric and furniture. LiveSmart Ultra is recommended for any area of the home where keeping your furniture clean and protecting the fabric from degradation and mold and mildew is a concern."
LiveSmart Barrier Plus incorporates a polyurethane barrier layer that forms an integrated moisture barrier to safely seal the fabric and take it from water repellent to waterproof. The fabric is easy-to-clean and prevents spills from penetrating into underlying furniture fibers and foams.
"Lift chairs and pet beds both are growing markets and LiveSmart Barrier Plus is the perfect waterproof fabric for these end uses," Buckner said. The fabric also is suitable for dining chairs, nursery rockers and other high-use furniture that requires extra protection.
"We were already utilizing antimicrobial technology in our contract and hospitality lines to protect the fabric against mold, mildew, and odor-causing microbes, so adding it into our residential fabrics was an easy transition," Buckner noted. "We believe you shouldn't have to sacrifice soft and luxurious fabrics for the sake of performance in any environment. Our new lines are offered in the latest designer choices and in a wide array of colors, patterns and styles for your home. This new technology will help preserve your design vision easily and affordably while also delivering lasting performance you can count on."
Consumers can locate the fabrics by the yard on online outlets including Amazon, Houzz and Overstock as well as on finished furniture sold by online and brick and mortar retailers Target, West Elm and Pottery Barn, among other retailers. For hospitality and commercial end-uses, the LiveSmart fabrics are sold under the Iclean brand.
 *Anti-microbial properties protect fabric against mold, mildew, and odor-causing bacteria but do not protect against viruses or other germs.
---
For more information about Culp's LiveSmart fabrics, please contact Tammy Buckner 336-290-8532; TGBuckner@culp.com; livesmartbyculp.com or culp.com.
---
January/February 2021