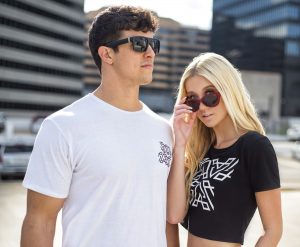 Accel Lifestyle offers "anti-stink" fitness apparel that is soft, durable and ethically  produced using its Prema™ fabric.
By Rachael  S. Davis,Executive Editor
Fitness clothing can still smell after washing because bacteria contained in sweat may get trapped in the fabric and is difficult to remove using traditional detergents. Biochemist Megan Eddings got tired of throwing away her smelly workout clothes and decided to develop her own technology to produce a fabric that is soft, durable, "anti-stink," and produced ethically in the United States. After collaborating with multiple fabric, yarn and antimicrobial specialists for approximately three years, Eddings had exactly what she was looking for — Prema™ fabric. Accel Lifestyle, with Eddings as founder and CEO, recently launched a line of tees and tanks featuring Prema, which is a a Supima® cotton/polyester blend with a trade-secret silver-polyester anti-stink antimicrobial component that is incorporated during the yarn production stage. The Supima contributes durability, softness and color retention to the fabric; and the polyester offers wicking attributes. The 4.4-ounce-per-square-yard knit fabric is 100-percent sourced and "Made in the USA" using a sweatshop-free supply chain.
According to the company, Prema prevents the odor-causing bacteria from entering the fabric in the first place. The silver Accel Lifestyle uses inhibits the growth of the smell-causing bacteria focusing on Gram positive and Gram negative bacteria. All ingredients are Environmental Protection Agency-registered and formulated to be gentle on the skin and kind to the environment. The fabric has undergone extensive wear and antimicrobial testing. Wear tests, during which fitness enthusiasts wore Accel Lifestyle products for months with some washing only the garments every few weeks, showed anecdotally that the fabric performed and remained odor-free. Additionally, the fabric was tested for colony reduction against Staphyloccus aureus ATCC 6538 and Klebsiella pneumonia ATCC 4352.
The technology withstands laundering because it is embedded during the yarn production stage and is designed to last for the lifetime of the garment. The initial launch featured six styles of tees and tanks in black and white colors. More recently, Accel Lifestyle added the City Slick Crop Hoodie for women and the Urban Zip hoodie for men to its offerings. The company plans to scale to a full fitness apparel line with most items incorporating science into the fabric to improve odor, cleanliness and performance.
"While there are other antimicrobial products on the market, none check all of the boxes that I was looking for," Eddings said. "It is very important to have the antimicrobial technology embedded in the fabric. It is also important that no sweatshops are use in the making of any part of the Prema fabric. We are an ethical company and I have personally visited every mill and cut and sew facility myself to make sure I am only working with an ethical supply chain.
"Also, most antimicrobial fabric is made from primarily or 100-percent man-made fibers," Eddings added. "It is very important that we use the world's best cotton, Supima, for the luxurious hand, while also being optimal for sweat and performance."
---
For more information about Prema™ and Accel Lifestyle, contact info@accellifestyle.com or visit AccelLifestyle.com
---
November/December 2019