By Janet Bealer Rodie, Contributing Editor
Hologenix LLC, Santa Monica, Calif., has been developing and manufacturing what it calls "bio-responsive" textile materials since the early 2000s — first offering its mineral-infused products under the Holofiber® brand and more recently under the Celliant® brand. The technology involves a blend of thermo-reactive minerals ground to a size of less than 1 micron and embedded in a man-made fiber or filament. The minerals capture the body's radiant heat and convert it into infrared (IR) energy that is directed back into the tissue. Celliant materials have been proven in clinical testing to promote blood circulation and oxygenation and offer regenerative healing in activewear, bedding, veterinary and medical applications.
Celliant fiber can be used alone or blended with other natural or man-made fibers. Originally, the minerals were embedded in polyester, but Hologenix now has succeeded in embedding the minerals in nylon as well, and is introducing the technology, which it calls Celliant 6.6, into new markets in which softer-hand nylon is the fiber of choice.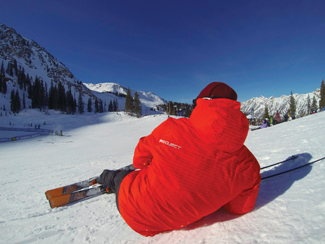 Project Clothing's new Arctic line of technical jackets and pants features Celliant 6.6 inner sleeves (below) and hood linings as well as ThermaDown™.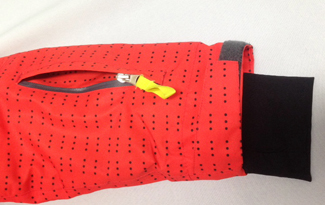 According to Trenton Horinek, director of business development at Hologenix, the company worked for several years to develop Celliant 6.6 nylon, noting that it was necessary to fine-tune the size of the mineral particles to make them work with nylon. "We partnered with Far Eastern New Century Toung Loong [Textile Mfg. Co. Ltd.], yarn manufacturers in Taiwan, to achieve the blend, and they will be the sole providers of the yarn for now," he said.
"Celliant 6.6, available in 70- and 40-denier drawn-textured or air-textured yarn, has allowed us to increase our product range within the activewear market, including yoga wear, rash guards and compression wear," Horinek continued. "It has been difficult to introduce polyester into the yoga market, where consumers are used to the soft hand of nylon. Celliant 6.6 enables us to effectively broaden our customer base, while also increasing sales to current customers."
Celliant 6.6 launched earlier this year at the Outdoor Retailer Winter Market (ORWM) in Salt Lake City, where Hologenix shared a booth with Australia-based Project Clothing, a newcomer to the U.S. market. Project debuted its Arctic line of technical jackets and pants featuring Celliant 6.6 inner sleeves and hood linings, and ThermaDown™ — a Celliant-coated high-performance down insulation codeveloped by Hologenix and Allied Feather & Down Corp., Montebello, Calif. Horinek said Project is also developing a running tight using Celliant 6.6.
At ORWM, Hologenix also showed two new blends — Celliant/Pima Cotton, codeveloped with Portland, Ore.-based The S Group and manufactured by Peru-based Cofaco Industries SAC, and Celliant/ Merino wool. Horinek noted that the Pima and Merino blends could be made using either Celliant Polyester or Celliant 6.6.
March/April 2015