By Janet Bealer Rodie, Contributing Editor
There's more to sustainability than just using eco-friendly materials and processes; conserving water, energy and other inputs; and recycling or composting. Good design; the use of high-quality, durable materials and construction; commitment to the wellbeing of workers engaged in the process; and consumer behavior and awareness regarding product care and disposal also come into play.
San Francisco-based Levi Strauss & Co.'s Dockers® Wellthread men's apparel program incorporates all of the above considerations — all while cutting manufacturing costs and retail prices, and increasing the company's profitability, according to Paul Dillinger, senior director of
color, concept and design, Dockers brand.
Dillinger believes constraining creativity at the start of the design process not only drives beautiful design, but also improves profitability. By limiting the number of fabrics and styles and only using a few factories that are committed to workers' wellbeing, Levi Strauss can realize greater efficiencies and cut costs. Using processes that reduce water and energy usage also lowers costs. And the durable construction and recyclability of the Dockers Wellthread khakis, jackets and T-shirts provide extra value for the consumer.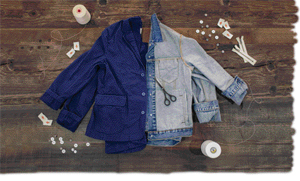 The Dockers® Wellthread Casual Blazer was created through a collaboration between Dockers
designers and factory engineers. It is made in a factory that offers worker programs, but was set
up to make jean jackets and not blazers.
"We've focused our creativity on engineering durability and real service and value for the consumer, and that kind of got lost in the fashion industry to an extent," Dillinger said, referring to today's constantly changing fast fashion trends. "We really want to celebrate the craftsmanship and create a market venue where durability and lasting value have a place."
The garments feature reinforcements at stress points, stronger buttonholes and more durable pocketing. The 60/3 yarn in the twill fabric used in the collection is made with extremely long-staple cotton that is more easily recycled into virgin-quality material than are shorter
staples. Thread, pocketing and labels also are 100-percent cotton, and metal rivets, buttons and closings are easily extracted using magnets. All pieces are garment-dyed, which improves operational efficiencies, Dillinger said, "and also allows us to control all of the environmental
impact of the dye process because we have influence and visibility at the garment factory versus further out in the supply chain, where we have less control. We're putting our label on the garment, and we want the impact to be as positive as possible."

To encourage energy conservation and garment preservation by consumers, the company provides care instructions that recommend cold-water washing, and it has included a locker loop on the pants
so they can be hang-dried.
Dockers Wellthread's pilot Spring 2014 collection will launch at dockers.com in mid-February.
---
For more information about Dockers® Wellthread, contact Kris Marubio +415-501-6709; kmarubio@levi.com; dockers.com
---
November/December 2013