S
witzerland-based Litrax AG, manufacturer of mechanically processed Litrax 1 (L1) bamboo fiber, also offers several man-made fibers and yarns that incorporate additives comprising pyrolized bamboo activated carbon particles and several minerals to provide specific performance
benefits.The additives include L2 for insulating/warming, L4 for ultraviolet (UV) protection, L5 for cooling, and L7 for heating and blood circulation enhancement. These additives can be incorporated into a range of man-made polymers including polyester, nylon, polypropylene and polyurethane, and the company can create customized masterbatches as well as fiber blends and yarns to combine various benefits. Litrax recently developed Dry-Balance® technology to combine L2 polyester and L5 nylon filament yarns to use in ultra-lightweight garments such as T-shirts and underwear worn by people involved in physically demanding work or other activities. The two-sided jersey fabric
weighs less than 100 grams per square meter (g/m2), and Litrax reports the L2 and L5 additives help balance the wearer's body temperature, providing warming or cooling in relation to the degree of
activity; and wick moisture from the body to the outer side of the garment to keep the wearer dry. The L2 additive also provides UV protection. According to Litrax, in wear-testing by athletes and other individuals, the shirts have received very favorable performance assessments, and the company is continuing to conduct performance trials.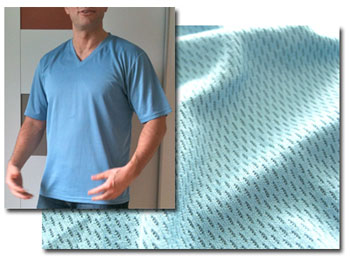 The originally launched Dry-Balance® fabric weighs less than 100 g/m2. The two-sided jersey
fabric features knitted structures that are fashion-related, while the L2 and L5 filaments provide
the temperature-balancing, moisture-wicking performance.
"I think our new Dry-Balance T-shirt will change the way people think about underwear," said Felix Stutx, president, Litrax, describing it as being like a second skin and noting that the shirt is not just for athletes, but for people engaged in other physical, stressful activity as well,
"especially construction workers, medical personnel and such, to keep them completely dry during hard work — and not too cool, not too warm, but simply balanced."

Pyrolized bamboo is the main ingredient in L2 and provides the insulating/warming function as well as the UV protection, Stutz said. L5 contains several minerals that contribute to the cooling function. Fiber geometry contributes to the moisture-wicking function and also is a factor in the cooling function. The shirt is constructed so that the L2 filament is placed next to the skin and the L5 filament is on the outer side, although Stutz noted that the shirt could be designed to be
reversible.
Stutz said France-based sports apparel and accessories retailer Decathlon is preparing to launch a Dry-Balance product and mentioned that Litrax is beginning to introduce the brand to targeted markets in the United States. He also noted that the technology has potential applications in woven apparel as well as knits, pointing out possibilities for outerwear and denim jeans.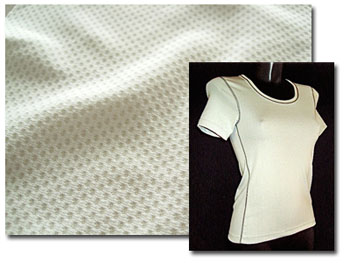 The shirt pictured here features a 130-g/m2 Dry-Balance fabric developed to meet a customer's
specifications.
Dry-Balance fabrics can be dyed in a range of colors. However, as an activated carbon material, pyrolized bamboo imparts a grayish color to the L2 fiber or yarn, which normally would preclude its use for white fabrics, and Litrax has created an L2 XRB additive that can be
incorporated into fibers and textured yarns that could be fully white-dyed. "We embed the particles into another material that essentially creates a different refractive index," Stutz said. "Basically, it's an optical illusion — you don't see the black anymore because it's embedded with a neutralizer that changes the refractive index." The company developed the XRB variant for a French retailer that wanted to be able to use L2 for white garments.
Stutz also mentioned that there is interest in using L2 fiber as part of a multi-component insulation for construction applications. "The product provides better insulation than glass fiber or stone wool, and the amount of L2 fibers used would be significantly less than the amount of
conventional insulation fibers," he explained.
---
For more information about Dry-Balance and Litrax's additive technologies, contact Felix Stutz +41-41-450-4944;
felix.stutz@litrax.com; or Jack Ganis +508-876-1070;
jack.ganis@litrax.com; www.litrax.com.
---
April 2011