Antron® nylon 6,6 products for commercial carpet applications, manufactured by Wichita, Kan.-based Invista through Kennesaw, Ga.-based Invista Performance Surfaces & Materials (PS&M), is available in a number of iterations including dyeable and solution-dyed lines, and with the options of including recycled and/or bio-based content. Since the late 1990s, Invista has conducted several life cycle analyses (LCAs) to assess the brand's environmental footprint and has worked toward improving that footprint in terms of energy efficiencies in manufacturing and also in terms of the use of environmentally preferable raw materials such as recycled and bio-based fiber. The brand has been certified as an Environmentally Preferable Product (EPP) by third-party environmental, sustainability and food quality certifier Scientific Certification Systems, which this year renewed Antron's certification at a more stringent EPP level than previous certifications.
Come January 2011, Antron Lumena® — the brand's solution-dyed line — is set to
celebrate 20 years in the market. Antron Lumena's latest introduction, marketed as Antron Lumena solution-dyed nylon with TruBlend™ fiber technology, contains up to 22.5-percent pre-consumer and 2.5-percent post-consumer recycled nylon 6,6, and up to 5-percent bio-based nylon 11 derived from castor beans. According to Diane O'Sullivan, global marketing director for Antron carpet fiber, the bio-based nylon — produced by France-based chemical company Arkema — is very compatible with nylon 6,6, and at the end of a carpet's useful life, the TruBlend carpet fiber is recyclable using nylon 6,6 recycling methods to convert it back into polymer for fiber.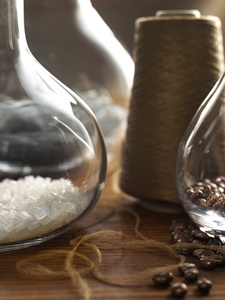 Antron® Lumena® solution-dyed nylon with TruBlend™ fiber technology is a nylon 6,6 carpet
fiber that contains up to 25-percent pre- and post-consumer recycled nylon 6,6 and up to 5-percent
bio-based nylon 11 derived from castor beans.



Invista originally introduced nylon 11 content in its Antron Bio_Legacy™ line of
white dyeable carpet fiber at NeoCon 2009, but O'Sullivan said solution-dyed products are gaining in popularity, and the company launched the TruBlend technology at this year's NeoCon, with Atlanta-based carpet and modular tile manufacturer Interface Inc.'s Interface FLOR division showing products containing TruBlend. The new fiber currently is offered in seven colors, and the color palette will expand in the first half of 2011 to include close to 25 colors.
"People like the fact that TruBlend has renewable and recycled content and can
be dropped into existing styles," O'Sullivan said, noting that the TruBlend technology is something of a work in progress. "We named it TruBlend because it is not locked into one recipe," she explained. "Over time — as we discover new approaches and new materials, and the spinnability of some post-consumer materials improves — we could change the content. The name gives us a lot of flexibility to think about what's next as our scientists work on innovating and incorporating more post-consumer materials into our product. As long as the color and the performance in use matches, we can launch different varieties in this blend going forward."
As with all Antron products, the TruBlend variety offers DuraTech™ soil
resistance as well as bleed, household bleach and crock resistance; and color fastness to light and atmospheric contaminants, Invista reports. The company also notes that in LCA terms, TruBlend — also like all other Antron products — offers longer-term performance than many competitive carpet fibers and, therefore, is better from a sustainability standpoint.
"Nylon 6,6 has a larger environmental footprint when new than nylon 6, but it
also lasts longer," O'Sullivan said, noting that Antron's longer life cycle means that less energy and raw materials are expended to make replacement products. Mentioning the conventional notion of a seven-year lifetime for many carpet products, she added: "We think sustainability begins with products that last. If I don't have to use a new pound of material to make a replacement product, I'm saving that resource and the energy needed to convert that resource, not to mention the disruption in the organization when it's time to change the carpet. Maintenance is still required, but Antron carpet can look great forever, and there have been many case studies showing that."
Antron's longer life cycle is but one aspect of its sustainability profile, as
Invista has worked steadily to reduce the environmental footprint of its manufacturing operations across all of its product lines. The company reports that since 2007, Invista PS&M has cut its fuel energy intensity by 13 percent, fuel carbon dioxide (CO2) intensity by 21 percent and CO2 emissions intensity by 6 percent. It has set a new goal of reducing energy intensity from its manufacturing operations by 20 percent between 2011 and 2020.
Carpet products made with Antron Lumena solution-dyed nylon with TruBlend fiber
technology can contribute to Materials & Resources Credits — including Rapidly Renewable Materials and Recycled Content Credits — as well as an Innovation in Design Credit for projects certified under the U.S. Green Building Council's Leadership in Energy and Environmental Design (LEED®) program.
For more information about Antron® Lumena® solution-dyed nylon with TruBlend™ fiber technology, contact Sarah Wilson +770-420-7753, cell +404-314-7846; sarah.j.wilson@invista.com; www.antron.net

.

December 21, 2010