D
RIFIRE® Comfortable FR Wear™ — a line of flame-resistant (FR) fabrics and apparel featuring moisture-wicking, quick-drying dri-
release
®
with FreshGuard
®
anti-odor technology — first appeared in late 2006, with the technology initially being used in knitted base layer garments and a few outerwear garments and accessories. The
technology — offered by Columbus, Ga.-based Drifire, an Optimer Brands company — was conceived as an alternative to polyester-based technology because it can provide the same moisture-wicking,
quick-drying performance benefits but won't melt when subjected to sudden extreme heat such as that generated by an explosive device. First targeted uses were for military personnel fighting in Iraq and Afghanistan.Drifire fabrics are made with a blend of 85-percent inherently FR, hydrophobic modacrylic and 15-percent hydrophilic cotton, Tencel
®
or other natural fibers. Modacrylic is a self-extinguishing fiber that doesn't melt or drip, and Drifire apparel now is offered not only for military applications, but also to first-responder and industrial personnel who risk exposure to explosions, fire and/or arc flashes.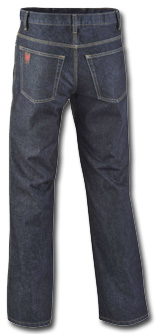 DRIFIRE® FR Denim Fabric provides inherent FR protection, dri-release
® with FreshGuard
® moisture-management and odor-neutralizing performance, and superior abrasion
resistance for jeans, jackets and shirts to dress electrical and utility workers in style.
One of the newest offerings in the line is Drifire FR Denim Fabric, a modacrylic/cotton blend for pants, jackets and shirts for electrical and utility workers. According to Dustin Cohn, chief marketing officer, Optimer Brands, the fabric complies with National Fire Protection
Association (NFPA) 70E electrical safety standards and also hazard/risk category (HRC) 2 standards for arc flash protection, achieving a 16.2-calories-per-square-centimeter Ebt arc rating.
"There are other FR denims, but they are 100-percent treated cotton," Cohn said, noting that the FR treatment will eventually wash or wear out of the denim. He added that Drifire FR Denim Fabric has a very comfortable hand and feel. "The hand and feel of a Drifire jean are phenomenal. You would never know it's a FR jean, and the look aspect is also important. Americans love their jeans, and it is important to make denim look and feel like denim."
Cohn provided test data showing that, compared with traditional FR denims, Drifire denim provides superior performance in the areas of moisture wicking, water release, drying rates and abrasion resistance.
"In Drifire denim, the next-to-skin filling yarn provides the moisture wicking away from the skin to the outer fabric surface," said Rob Hines, vice president of product development, Drifire. "The filling has the dri-
release hydrophobic/hydrophilic ratio, with the inherently FR modacrylic providing the hydrophobic performance and cotton providing the hydrophilic function," he explained, adding that the modacrylic in the filling is sufficient to provide the FR self-extinguishing performance to the whole fabric. There also is a bit of nylon in the mix to contribute to the fabric's abrasion resistance.
The denim fabric is woven by Columbus-based Denim North America, one of the largest denim manufacturers in the United States, Cohn said. "We wanted to partner with someone who does regular denim and can provide the denim look and hand level of quality, so workers don't have to sacrifice what they love about their regular jeans to have this FR product." Although Drifire FR Denim has been designed primarily for electrical and utility workers, there are other potential markets as
well, including petrochemical workers and fire fighters who happen to be wearing jeans, he said.
---
For more information about DRIFIRE® FR Denim Fabric, contact Ana Torres +1-312-878-0806; atorres@optimerbrands.com.; drifire.com.
---
October 19, 2010