T
he Netherlands-based polyester fiber manufacturer Advansa has brought its Thermo°Cool™ hybrid thermoregulating, moisture-management technology to North American apparel market. Launched
earlier this year in Europe, Thermo°Cool made its US debut at the 2008 Summer Outdoor Retailer Show in Salt Lake City.According to Advansa, the techology involves the intimate blending of hollow-core fibers – to provide a thermobuffering function to insulate the wearer from temperature changes and protect against chills following periods of high activity – and multi-channeled fibers – to provide moisture management and evaporative cooling as well as help with ultraviolet resistance – all without the use of finishes. The hybrid fiber, offered in both staple and filament form, is the first and only combination of the two fiber types available on the market today. In testing, Thermo°Cool fabrics have been shown to provide 48-percent better moisture management and 53-percent better evaporative cooling than other performance fabrics.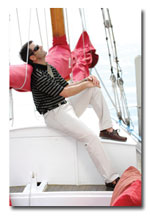 Club of Comfort® is using Thermo°Cool™ in its line of casualwear.
First introduced in polyester, the technology also is offered as Thermo°Cool ECO using bio-based DuPont™ Sorona® polytrimethylene terephthalate (PTT) polymer. PTT chemically is similar to polyester and offers that polymer's printable and dyefast attributes, but it behaves more like nylon in terms of its fluidity, softness and drape. Additional benefits of the ECO version include its dyability at lower temperatures than for polyester and its quick-drying properties, both of which reduce energy usage. Because it is highly durable, it is not biodegradable, but it is recyclable, and it has qualified to carry the Oeko-Tex® label.
In addition to its standard polyester and renewable Sorona PTT variants, Thermo°Cool also is offered in a blend with Tencel® lyocell from Austria-based cellulosic fiber manufacturer Lenzing AG. According to Tricia Carey, merchandising manager, Lenzing Fibers Inc., the addition of Tencel – which is derived from eucalyptus pulp in a closed-loop process – brings enhanced moisture management to the blend, as well as the soft hand and other aesthetics associated with a natural fiber. Tencel's own capillary action and moisture absorption allow moisture to spread over the fabric and evaporate quickly from its outer surface, while Thermo°Cool's multi-channel component quickly wicks moisture from the body. Tencel also contributes antistatic properties to the blend.
Thermo°Cool fibers and yarns are produced at Advansa plants in Germany and Turkey. Fabrics, manufactured by licensed mills, are certified for performance by the company.
Denine Woodrow, president, DP Woodrow & Co. LLC, which represents Advansa in North America, said Advansa is targeting the Thermo°Cool product line to sports-, athletic- and performancewear; hosiery and socks; and casualwear markets. European brands that have adopted the
program include Alpine Pro, Czech Republic; Club of Comfort®, Germany; and Spain-based Grifone® and Lurbel. US brands are currently sampling fabrics.
---
For more information about Thermo°Cool™, contact Denine Woodrow (704) 650-5872; advansa@deninewoodrow.com, www.thermocool.net.
November/December 2008