Milliken & Company, Spartanburg, has brought out a new variant of its VisaEndurance® odor-control technology for apparel, first introduced in 2004 with a silver-ion-based antimicrobial component. VisaEndurance Shield™ odor-adsorbing technology has been fine-tuned to adsorb only human body odors, while still offering the original technology's moisture-wicking, breathable, stain-release and quick-drying properties.
The company reports Shield's specialized adsorption function provides advantages over comparable technologies such as activated carbon, especially in hunting apparel that aims to camouflage the wearer not only visually, but also in terms of scent suppression.
Describing Shield as a specially tuned, hyperbranched polymer with a large surface area for adsorption, Jim Rogers, Milliken's development director, Performance Apparel Fabrics, explained the advantages: "We're not adsorbing everything in the environment, so it doesn't fill up as quickly as carbon, which adsorbs everything." He noted also that many carbon-based alternatives used in hunting apparel comprise a bulky layer of activated carbon sandwiched between two fabric layers.
VisaEndurance is a topical finish that can be applied to a wide range of fabric substrates using Milliken binding systems. "We haven't seen any substrate limitations yet through our testing," said Piyush Shukla, advanced development chemist with Milliken's Apparel and Specialty Fabrics Division.
Noting that the finish is durable for the life of the fabric, he added, "In the case of Shield, a simple wash will remove the majority of odor molecules bound to the polymer, and then it can be worn again."
Shield and VisaEndurance Ion™, the silver-ion-based version of the technology, comprise an odor-control system, said Brenda Burris-Drake, merchandising director, Apparel and Specialty Fabrics. "Ion is a very good technology to wear in base-layer form, and when combined with Shield, it adds another layer to the ability to control odor," she explained.
Morgan, Utah-based Browning, a supplier of outdoor, hunting and fishing gear and apparel, is the first company to offer Shield in a line of apparel. Browning's ScentSmart™ hunting apparel, introduced for Fall 2008, includes a 7.5-ounce spun polyester twill pant and shirt and a 4-ounce spun polyester knit T-shirt. The ensemble may be worn over Browning's NTS™ (Next to Skin) OdorSmart™ base-layer shirts and pants featuring the Ion technology and introduced in 2006.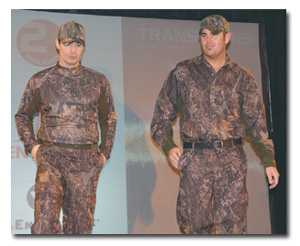 "VisaEndurance Shield is truly the next generation in scent control, taking us away from the standard bulky suits," said Rafe Nielsen, Browning's product manager, Apparel. "Now we can do it in more comfortable, lighter-weight fabrics for pants and shirts."
---
For more information about VisaEndurance® technology, contact Mike Earley (864) 503-2385; mike.earley@milliken.com
For more information about ScentSmart™, contact Rafe Nielsen (801) 876-2711 Ext. 328; rafen@browning.com

March/April 2008