The conventional wisdom that white is preferable to black for summer apparel because of the ability of white to reflect rather than absorb the sun's warming rays is being challenged as a result of new finishing technology that provides reflective properties to black fabrics and extends their range of applications and functionality for warm weather. Switzerland-based technical fabrics weaver Schoeller Textil AG launched its ColdBlack™ technology earlier this year at Techtextil in Frankfurt, targeting motorcycle suits – including police motorcycle uniforms – as the first application. The company also presented the technology to European and American outdoor markets at the recent OutDoor trade fair in Germany – where it received kudos as a "groundbreaking innovation" and won a Silver OutDoor Industry Award – and at the Summer Outdoor Retailer Show in Salt Lake City – where it also garnered quite a bit of attention, according to Tom Weinbender, president, Schoeller Textil USA, Seattle.
"People are very interested in ColdBlack – a lot of people like to wear black in the summer," Weinbender said, noting that apparel makers in the mountaineering segment are now sampling ColdBlack fabrics, and that there is also an interest for footwear. Schoeller is promoting the
technology for equestrian apparel applications as well, and Weinbender added that there is also potential application for the technology in the industrial market.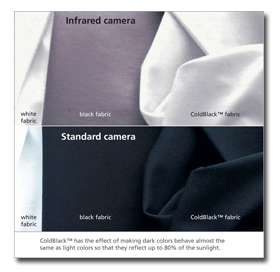 As shown in infrared (IR) and standard photographs comparing a black fabric treated with
Schoeller's ColdBlack™ technology to an untreated black fabric, the ColdBlack-treated fabric
reflects the IR rays and appears almost as white in the invisible IR spectrum, while it retains its
black color in the visible spectrum, while the untreated fabric absorbs the IR rays and retains its
color in both spectra.
While white will reflect as much as 100 percent of the sun's heat and light, black — at the opposite end of the brightness scale — reflects as little as 0 percent. According to Schoeller, the ColdBlack technology works within the invisible infrared light spectrum to increase the
reflectivity of a certain shade of black to as much as 80 percent without affecting the color in the visible spectrum. This reversal of behavior, from absorbing the sun's energy to reflecting it, means black garments that utilize the technology don't hold the heat and therefore will be much more comfortable in warm weather than untreated black clothing.
According to Weinbender, the technology is applied during the dyeing process. Schoeller currently is using the technology in stretch and nonstretch wool and nylon woven fabrics including schoeller®-dynatec high-tensile protective, schoeller®-dynamic multipurpose, schoeller-prestige two-way-stretch and schoeller-dryskin performance soft-shell fabrics. ColdBlack can be combined with Schoeller's self-cleaning, oil-repellent and abrasion-resistant NanoSphere® finishing technology; and also with its stain-repellent, moisture-wicking and quick-drying 3XDry® finish. The technology also complies with the bluesign® environmental health and safety standard with regard to manufacturing processes and materials used. Weinbender said combinations with other Schoeller technologies, including its c_change™ bionic climate membrane, are in development.
Schoeller anticipates the first apparel products will be available at retail in time for the Fall/Winter 2008-09 season.
---

For more information about ColdBlack™, contact Tom Weinbender, Schoeller Textil USA (206)283-6991, info@schoellerusa.com; or Dagmar Signer, Schoeller Textil AG 41-81-786-0835, dagmar_signer@schoeller_textiles.com

---

October 9, 2007