Alpaca and silk tend to be associated more with elegance and luxury than with the rigors of extreme sports, yet both fibers are well-suited for activewear because of their inherent lightweight, insulative and comfort properties. Latitude 15 — a line of "smart" shirts for such
activities as skiing, hunting, trekking, sailing and other arduous sports — combines a baby alpaca/silk-blend knitted face fabric with an underlayer of Wilmington, Del.-based Optimer Performance Fibers Inc.'s dri-release® moisture-wicking fabric with FreshGuard® odor-eliminating treatment. The dri-release layer is further enhanced by the addition of X-Static® silver-based antimicrobial, antistatic, temperature-regulating fibers from Noble Biomaterials Inc., Scranton,
Pa.
Americas International Consultants Inc., Vergennes, Vt., produces and markets the Latitude 15 line, whose name refers to the latitude of the alpaca's native habitat in Peru. According to the company, the shirts are comfortable in temperatures ranging from below zero to room temperature. Bob Hardy, an alpaca farmer and president of the company, said they are intended to be worn as a base layer — hence the description as a shirt rather than a sweater — so that the wearer may take advantage of all the performance benefits provided by dri-release — a microblend of hydrophilic natural fibers that contribute a soft hand to the fabric and absorb moisture from the body, and
hydrophobic man-made fibers that force the moisture through the fabric to evaporate on the surface. At the same time, the shirts — designed by David Stensland, sweater designer and owner, RedMaple Sportswear Co., Kittery Point, Maine — also offer comfortable style for wearing in casual settings.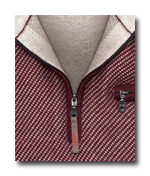 Latitude 15's open-mesh alpaca/silk face fabric structure reveals the
dri-release®/X-Static® underlayer and also traps air to insulate the body.
"The structure enhances and enables all the different elements of the garment to maximize the performance," said Karen E. Deniz, managing director, marketing, Optimer. She explained that the underlayer functions as intended next to the skin, but the open character of the alpaca/silk layer allows the moisture to be released out the face of the fabric.
Dri-release replaces the shirt's original polyester moisture-management underlayer. Hardy said the new version of the shirt is more comfortable and performs better than the original.
The Latitude 15 shirts are made in Peru and are offered in the United States through retail outlets including alpaca farm stores. Available in two styles and four colors, they may be dry-cleaned or hand-washed.

November/December 2006
---
For more information about Latitude 15, contact Bob Hardy (802) 475-2440.  For more information about dri-release, contact Karen E. Deniz (908) 771-0769.