Warwick Mills, New Ipswich, N.H. – manufacturer of puncture-resistant TurtleSkin® products – has introduced MultiGuard, a new iteration of its TurtleSkin protective glove that delivers enhanced dexterity and comfort, and is targeted particularly to full-force jobs such as waste-handling.
Warwick is a fully vertical manufacturer, from yarn preparation through finishing, including finished end-products. The operation also includes research and development and engineering activities.
The company developed a precursor of TurtleSkin in the 1990s for use in an air bag system to protect the National Aeronautics and Space Administration's Mars rovers as they crash-landed on the Red Planet. More recently, Warwick has developed a family of TurtleSkin fabrics for a range of down-to-earth protective applications including safety and law enforcement gloves, body armor, outdoor clothing to protect against snake bites and briars, water armor for industrial water jet operators and bike tire liners.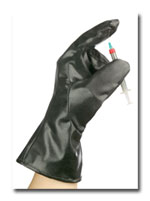 Tests conducted by Warwick Mills show TurtleSkin® prevents penetration by objects as small
as a 28-gram hypodermic needle.
The fabrics feature a very tightly woven construction and are made with aramid yarns or a combination of aramid and polyester yarns. According to Warwick, the construction prevents penetration by fine, sharp objects such as needles, glass splinters and metal shards. By comparison, standard knitted cut-resistant gloves may allow such materials to penetrate the knitted construction or even gaps between the aramid fibers.
Describing the newest TurtleSkin glove, Matt Keenan, safety apparel specialist and sales manager, said: "It's a very exciting development. TurtleSkin MultiGuard has a very thin coating on an equally thin material. The fabric offers enhanced dexterity and comfort in addition to puncture resistance, and the coating helps with the grip. We also are able to achieve different levels of protection without sacrificing dexterity and flexibility."
Pharr Yarns, McAdenville, N.C., supplies the very fine aramid yarns used in TurtleSkin products. In addition, MultiGuard features a Lycra® shell with a very unique neoprene coating that Keenan said enhances the durability and abrasion resistance of the fabric. He also said Warwick has adapted its machinery to facilitate the patented weaving and coating technologies used in making TurtleSkin.
Keenan said MultiGuard has generated a lot of interest, especially in Europe. "Currently, there are limited offerings for puncture-resistant gloves. Most are so uncomfortable, they can only be worn 10 to 15 minutes at a time because of cramping."
TurtleSkin products have achieved CE certification based on European mechanical test EN388 using a 4.5-millimeter puncture probe. Going beyond that certification, Warwick has modified EN388 to test even smaller sharp objects in its own lab, which is ISO 9001-certified and also is approved by the US Department of Defense, according to Keenan. He said the company's tests show TurtleSkin will prevent penetration by objects as small as a 0.05-inch sewing needle or a 28-gram hypodermic needle.
---
For additional information about TurtleSkin®, contact Matt Keenan (603) 878-1565, Ext. 255; mkeenan@warwickmills.com.
---
November/December 2005