New technology that uses cupric oxide to fight microbial infection and promote healing now is available from Cupron Inc., Greensboro, N.C., for a broad range of textile applications including health care and food handling. The company reports Cupron® is effective against a broad spectrum of microbes, deactivating viruses such as SARS, HIV, avian flu and West Nile; and eliminating fungi, yeasts, dust mites and bacteria.
"It is our intention to put Cupron into bedding, drapes, uniforms, masks, bandages — every textile used in the hospital environment," said O. Lee Gordon Jr., president, North and South America. "We are positioning the brand with that kind of image so that it trickles down to other products, and we are establishing exclusive licensing relationships in each sector — gloves, socks, underwear and so forth — to offer this technology."
Cupron is incorporated into the polymer melt of polyester, nylon and polypropylene; and plated onto cellulosic fibers such as cotton and Tencel®, according to Jeffrey Gabbay, CEO. Unlike silver, it does not oxidize, and the protection is permanent, he said, noting it has been tested through 50 industrial launderings.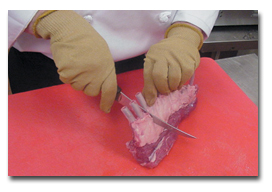 Polygenex International Inc. knits cut-resistant gloves containing Cupron® for use in the
meat, fish and poultry processing industry.
The technology interrupts a microbe's ability to duplicate or reproduce, causing it to die naturally and preventing creation of resistant strains. It also promotes healing of sores and wounds because it binds amino acids and helps create
collagen.
"There are no toxicity issues because the body metabolizes copper very well, but it does not metabolize silver," Gabbay said.
Not only does the technology pose no threat to human health, but the company recycles 100 percent of its process water and chemicals. Cupron's product claims are now being evaluated by the Food and Drug Administration and the Environmental Protection Agency.
Cupron and Polygenex International Inc., Cary, N.C., a manufacturer of specialty gloves, have partnered to develop the first gloves utilizing the technology, including cut-resistant knitted gloves used in the meat, fish and poultry processing industry. Other gloves and liners will be worn by livestock and produce handlers, and for health care and cosmetic purposes. The technology also can be applied to latex and nitrile gloves.
Polygenex previously manufactured bacteriostatic gloves using silver-based technology. "The Cupron technology is far superior and solves problems for some very pressing issues, such as avian flu," said Joseph D. McGarry, president and CEO, Polygenex, adding that gloves containing Cupron " feel so good."
Cupron also has licensed the technology to a major sock manufacturer for anti fungal socks that Gabbay said will cure athlete's foot.
Gabbay is enthusiastic about Cupron's potential. "We can take textiles and change people's lives," he said. "By eliminating microbes at the source, we will reduce greatly the incidence of microbial infection."
---

For more information about Cupron, contact O. Lee Gordon Jr. (336) 339-8561,
lee@cupron.com.
For more information about Polygenex, contact Joseph D. McGarry (919) 380-8100, joe@polygenex.com

June 2005