S
huford Mills LLC, Hickory, N.C. – in collaboration with Kappler Inc., Guntersville, Ala. – has developed a waterproof version of its Outdura™ solution-dyed acrylic fabric for outdoor applications. Outdura Trio is targeted primarily to the marine industry, but it also has potential
applications for awnings, and outdoor furniture and equipment covers, among other uses.The original Outdura fabric is breathable and water- and ultraviolet (UV)-resistant. In developing Outdura Trio, Shuford has improved on the original, replacing water resistance with waterproofness by sandwiching Kappler's ProVent® breathable, waterproof, microporous membrane between an Outdura canvas top fabric and a brushed tricot polyester fabric, which provides a finished headliner look to the underside.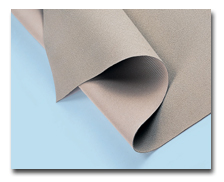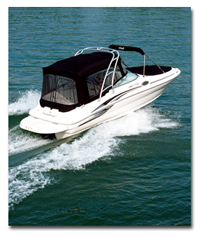 Outdura™ Trio combines Shuford Mills' original Outdura canvas, Kappler's ProVent® membrane
and brushed tricot polyester in a fabric suitable for boat enclosures, among other
applications.
"Until now, manufacturers who wanted rich, long-lasting color had to choose between a waterproof fabric that cannot breathe or a water-resistant fabric that can breathe," said Jeff R. Jimison, director, sales and marketing, Outdura Fabrics. "Now, with Outdura Trio, they can have it all in a waterproof, breathable blended fabric that protects from both external and internal moisture while still resisting UV damage and fading. That is an unprecedented combination."
Kappler adapted its ProVent technology – originally developed for non woven protective barrier fabrics – to suit marine applications. "Our history and work with nonwoven composites for a wide range of protective uses led us down the path of working with woven fabrics," said Dennis Sanders, vice president, fabric sales, Kappler Inc. Kappler experimented with different bonding processes to find the best process for bonding the film to the Outdura woven fabric and the tricot fabric.
Jimison and Sanders both stressed that all Outdura Trio components are produced domestically. The sturdy, 12.5-ounce fabric is available in nine standard canvas colors, with other colors available, and carries a five-year fabric replacement warranty. It is easily cleaned and will not mildew if kept clean.
Although it was designed primarily for marine products such as boat and cockpit covers, and convertible and Bimini tops, among other products, Jimison said other outdoor product makers have expressed interest as well. "We have been amazed at the different ideas suggested when we showed Trio to people outside the marine industry, and we anticipate adding jacquards and dobbies to the line," he said. Among the suggested uses are pavilions; grill covers; fireplace pit covers; and
covers for high-end outdoor furniture made from teak, wicker and other such materials. "Outdura Trio is a very rich fabric, and there are a lot of possibilities," Jimison said.
---
For more information about Outdura™ Trio, contact Jeff R. Jimison (866) OUTDURA.
February 2005