Researchers at The Institute for Environmental and Human Health at Texas Tech University (TIEHH), Lubbock, Texas, have developed a flexible, drapable nonwoven composite substrate for a decontamination wipe that is effective in neutralizing toxic chemicals used in chemical warfare and pesticides. Seshadri Ramkumar, Ph.D., who heads up the research project, said a patent has been applied for in connection with this application. The research is supported by a grant from the US Army Research, Development and Engineering Command, Aberdeen Proving Ground, Md.
The composite was developed using Austria-based Fehrer AG's H1 needleloom technology. The H1 system uses an oblique, asymmetrically curved needling zone and straight movement of the barbed needles, causing them to penetrate through the fiber mat at an angle, pushing from opposite sides to interlock the fibers in a criss-cross pattern. Ramkumar said the process requires fewer needle penetrations than traditional needling processes and provides superior web properties, and the technology enhances the construction of composite and hybrid products. He also said the process is very practical and cost-effective. "Needlepunch productivity is higher than weaving, plus intermediate processes such as spinning are eliminated, which lowers production costs," he explained.
The composite substrate developed for the wipes comprises a needlepunched prefilter layer, an adsorption layer and a needlepunched base layer. The three layers are needlepunched together in a final interlocking. "The resulting fabric needs no other means of bonding, which would make it stiff. That is the beauty of needlepunching," Ramkumar said, noting that the fabric's drapability allows it to follow body contours and get into crevices of objects that must be decontaminated. He also said the fabric could become the inner layer of a protective suit.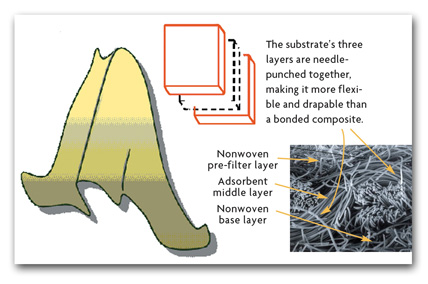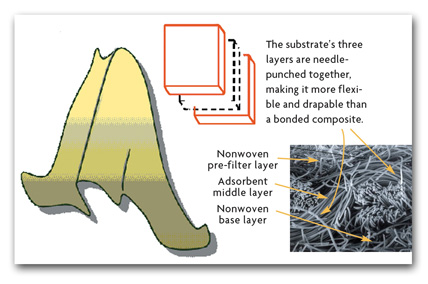 The prefilter and base layers contain a "skin-friendly" fiber such as cotton or polyester, Ramkumar said. "In the middle layer, I have used a special activated fiber, which gives adsorption and also is flame-retardant," he continued. "We have proved that the top and bottom layers do not affect the adsorption/protection characteristics of the middle layer. My Ph.D. student Utkarsh 'Kar' Sata has worked under my supervision and proved this statistically."
Ramkumar is using the H1 technology to develop a variety of other fabrics as well. He is receiving support from the National Cotton Council, Cotton Incorporated and the Texas Food and Fibers Commission for the development of lightweight and ultra-lightweight cotton and natural fiber nonwovens for value-added products.
---
For more information about TIEHH's research project, contact Seshadri Ramkumar, Ph.D., (806)
885-0228;
s.ramkumar@ttu.edu.

---

April 2004