The HammockSource®, Greenville, N.C., has introduced DuraCord® weather-resistant, solution-dyed rope hammocks, offered through The Original Pawleys Island Rope Hammock® and Hatteras Hammocks® lines. Touted as a durable, colorfast, affordably priced alternative to cotton or polyester hammocks, DuraCord also offers the softness and comfort associated with those fibers. It is available in five colorways and is cleaned easily using soap and water and/or bleach.
The yarn used in DuraCord was developed for the company by Chapel Hill, N.C.-based American Fibers and Yarns Co.'s (AF&Y's) Technology Center in Bainbridge, Ga. It is one of a series of value-added products in which all performance properties are incorporated directly into the
filament. Inherent properties include approximately 0.05-percent moisture regain; moisture transfer; colorfastness; light weight; and stain, abrasion, chemical and bacteria resistance. AF&Y has applied its Marquésa® technology to modify a basic man-made industrial yarn and
improve the aesthetics and hand, adding ultraviolet inhibitors and further antimicrobial enhancements to prevent degradation from outdoor exposure.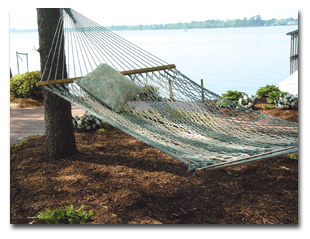 DuraCord® hammocks dry quickly and withstand the degrading effects of sun and
rain.
"AF&Y has capitalized on the technology used in industrial yarns, changed the properties and brought it into new markets," said Jim Morelli, executive vice president, AF&Y. "Through a series of modifications, we have developed a product that has the look and feel of a cotton product." AF&Y also has created yarns that mimic the aesthetics and hand of acrylic, rayon and polyester. The products offer environmentally friendly alternatives to those fibers because they require less energy and water to manufacture.
Jay Branch, president, The HammockSource, explained that customers expect cotton-like softness in a hammock, but cotton is not especially durable when left outdoors for long periods. Man-made fibers such as polyester and acrylic may be soft and offer certain durability advantages, but they also are lacking in others.
Branch said The HammockSource worked with several companies to find a yarn that would deliver cotton-like softness in a durable, colorfast material. "We finally went with AF&Y because it was the most responsive and had the best product," he said. "In fact, DuraCord is so similar to cotton in feel that even a veteran cotton salesman was fooled when shown a selection of cords that included a cotton sample among all the DuraCord samples.
"The first DuraCord hammocks were introduced to dealers last summer, and they're going like gangbusters," Branch said. Their success has prompted the company to introduce hammocks made with DuraWeb® webbing, and it is developing designs for a quilted hammock made with DuraWeave® fabrics. The company's DuraWeb hammock recently won a Design Excellence award from the International Casual Furniture and Accessories Market in Chicago.
---
For more information about DuraCord®, contact Jay Branch (800) 334-1078.
For more information about American Fibers and Yarns Co., contact Nikki Rainey (864)
235-5651.
January 2004