W
hen Rockville Centre, N.Y.-based contract fabrics maker Carnegie introduced Xorel® Fabrics in 1981, the new product was hailed as an environmentally friendly alternative to vinyl in interior wallcovering and upholstery applications. Woven from solution-dyed Xorel polyethylene tape yarns, the fabrics are free of chlorine, plasticizers, heavy metals, toxic dyes and ozone-depleting chemicals; low in volatile organic compounds (VOCs); and disposable through recycling, or through
incineration to produce energy without emitting toxic gases. They are inherently flame-retardant, stain-resistant, antimicrobial, strong, durable, non-absorbent, breathable and easily cleaned. Xorel fabrics also have a range of reflective qualities and can add light to a room without requiring increased electricity use.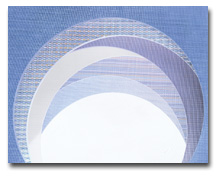 Xorel® Surfaces is available on a made-to-order basis, with choices possible from
Carnegie's line of Xorel patterns and colorways, as well as a range of thicknesses.

New Textile Format

Carnegie now has introduced Xorel Surfaces, a hard-surface architectural product in which Xorel fabric is thermofused to Spectar®, a copolyester resin manufactured by Kingsport, Tenn.-based Eastman Chemical Co. Cliff Goldman, Carnegie's president, said this new product uses a textile in a unique format.
"When you're dealing with hard-surface resins, pattern and design are usually encapsulated within the resin, and the products don't have a tactile quality," Goldman said. "In the case of Xorel Surfaces, we have a tactile, dimensional material on the surface. In addition, the woven
product accepts light differently, especially in vertical applications. And a lot of people are interested in backlighting it because of its translucent properties." He mentioned such vertical uses as dividers, wall accents, retail visual displays and a variety of other uses. Ceilings and table tops are other possible applications.
Carnegie produces Xorel Surfaces according to customer specifications, offering more than 40 Xorel patterns and 500 colorways, as well as six thicknesses ranging up to 0.5 inch. Dimensional embossings, textures and a variety of back finishes are available as well, and the resin can be
translucent or opaque. Xorel fabric also can be bonded to both sides of the resin.
Xorel Surfaces is flexible, yet stronger and lighter-weight than glass. The non-crystalline, shatter-resistant Spectar resin also is resistant to chemicals and does not produce toxic fumes when burned. It can be cut, drilled, tapped into, or cold-bent. Like Xorel Fabrics, the hard-surface product also can be incinerated to produce clean energy, or the fabric and resin can be separated and each recycled.
---
For more information about Xorel® Surfaces, contact Cliff Goldman (516) 678-6770.
April 2003