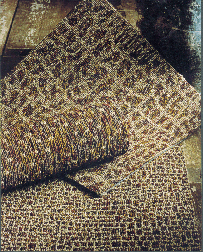 W
hen Lees Carpets showed its products recently at NeoCon 2000 in Chicago, it racked up several honors, including three "Best of NeoCon 2000" awards for product design and a Buildings Magazine Innovation Award. Lees, a division of Greensboro, N.C.-based Burlington Industries Inc., won the Gold "Best of NeoCon 2000″ award for modular carpet for its Celtic Collection. First introduced in 1999 and subsequently refined, the collection is used primarily in corporate and retail settings and other large public environments. It is available as 18-inch-square modular tiles through Lees Squared, the company's modular carpet division, and also as a 12-foot broadloom product through its broadloom division."To better meet the needs of the architecture and design community, we adjusted the colors and face weight of this offering," said Alex Jauregui, vice president, Lees Squared. "It's a strategically colored collection that continues to build on the Lees color story by coordinating
with other products, such as Truth in Color, which is the anchor product for our broadloom division, and Essence, the anchor for our modular division. The Celtic Collection's aesthetic and performance attributes, combined with competitive pricing, are sure to make it one of our most
versatile products."
Designs By Clodagh
Three small-to-medium-scale patterns in 16 running-line colorways were created by New York City-based Clodagh Design Signature, a division of the acclaimed Clodagh Design International. The original colorways have been modified by the use of multicolored space-dyed yarns, which add visual depth and richness to the carpet and make it suitable for use in many different environments. Because the three patterns share the same colorline, they can be coordinated to differentiate specific areas, while color consistency is maintained throughout the facility.
The carpet is constructed of DuPont Antron® Legacy nylon. Lees' Elumicolor™, an accent yarn with a metallic luster, adds depth and dimension to the carpet's appearance. Permanent stain, soil and fade resistance is integrated into the fiber using Duracolor®, Lees' exclusive, patented stain-resistant dye technology.

New Triax® Technology

The Celtic Collection makes use of Lees' new Triax® tufting technology to provide texture to the carpet surface and to create a lighter-weight but denser carpet that is also moderately priced. According to Bob Hutchison, vice president, styling and design, Lees Carpets, the technology involves an ultra-sophisticated yarn-feed control that enables the drawing of more accurate and detailed figures and also results in clean, precise edges like those found on woven carpet — all with no loss in performance.
The broadloom carpet features Lees' Unibond™ backing system, which has a bond three times stronger than that of latex carpet backing. Modular tiles feature Lees' Integrated Cushion Thermobond™ backing system, a thermoplastic coating with reinforced fiberglass construction that is moisture- and mildew-proof. Both backings carry lifetime warranties.

Self Lock™ Adhesive

Lees Squared's Self Lock™ patented, environmentally friendly, factory-applied, pressure-sensitive, releasable adhesive system — a feature specific to the division's modular tiles — received the Buildings Magazine Innovation Award in the Workplace Flexibility Solutions category. Self Lock allows clean, easy installation and immediate access to the newly carpeted area. The tiles are particularly suitable for raised-access floors, as they can be taken up without weakening the adhesive, and repair and replacement of the tiles are easily accomplished.
---
For more information about Lees' Celtic Collection, contact Michele Kottcamp, director of
marketing and communications, Lees Carpets, (336) 379-4546.
---
October 2000