DuPont, Wilmington, Del., has announced a new Kevlar® technology that is designed to protect law enforcement officers, corrections officers and military personnel against multiple weapon threats. Kevlar is a DuPont brand which is used in most bullet- and stab-resistant vests.
According to the company, this new Kevlar technology defends against threats from fire arms, commercially manufactured knives and puncture-producing weapons such as ice picks in a concealable,
soft body armor.

The Ice Pick Test

Unlike heavier garments worn on the outside of clothing, vests using this patent-pending technology are designed to be comfortable and flexible for everyday wear, and provides the same level of protection across the entire vest.
According to DuPont, multi-threat body armor made with the new Kevlar provides the wearer with ballistic protection for NIJ levels II, IIA and IIIA, and have surpassed the "California Ice Pick Test" using a standard ice pick and a Russell boning knife.
In the ice pick test, an ice pick or boning knife is attached to a 16.2-pound weight and dropped from a height of five feet. The energy level — measured at 81 ft.-lbs. or 110 joules — is equal to that of a tossed javelin or a golfer driving a ball 250 yards. The knife and pick failed
to puncture the Kevlar fabric.
The fact that this fabric can stop commercially manufactured knives and puncture-type weapons is important because these weapons are harder and sharper than hand-crafted knives, and are therefore more dangerous to law enforcement officers on the street.
Law enforcement officers never know what kind of weapon will be used against them," said John Dottore, business segment leader at DuPont. "Knives and other sharp instruments are often the weapons of first opportunity in a given situation, such as a domestic dispute or crimes of passion.
"Under certain circumstances, such as courtroom security or prisoner transfer in a corrections or jail facility, a perpetrator may favor a knife of puncture-type instrument because it can be easily concealed and used surreptitiously. And there is always the ballistic threat. That
is why a multi-threat vest is the best protection for specific assignments in law enforcement and corrections."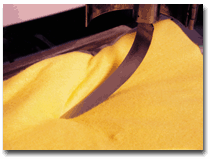 The force of 110 joules bends the blade of a Russell boning knife during the California Ice
Pick Test, but fails to pierce the multi-threat body.

Taking It To The Streets

The International Association of Chiefs of Police (IACP) and DuPont recently formed the Kevlar Survivors' Club® to recognize and honor law enforcement and corrections officers who have survived potentially fatal/disabling injuries by wearing personal protective body armor. The partnership reported more than 2,300 documented cases where law enforcement officers were saved by their body armor.
The partnership is dedicated to reducing death and disability by having all law enforcement professionals wear body armor 100 percent of the time while on duty. Membership is open to any law enforcement or corrections officer who has survived a potentially life- or disability-threatening incident by wearing body armor. Officers are nominated by their chief, sheriff, warden or supervisor.
---
For more information on multi-threat level vests made with Kevlar, call (800) 4-KEVLAR
(453-8527).

---
December 1999